Artists Talk: 
John Craig Freeman
& Will Pappenheimer
7 p.m., Tuesday, October 18, 2011 
Gallery Theatre, 3rd floor ELC
John Craig Freeman 
& Will Pappenheimer, members of the artist collective MANIFEST.AR, will discuss their new media artworks in the current Samek Art Gallery Exhibition, Not Here [link: http://www.bucknell.edu/x70622.xml].
Augmented Reality is the art of overlaying virtual content on top of physical reality. Using AR apps on smart phones, viewers look at the real world around them through their phone's camera lens, while the app inserts additional images or 3D objects into the scene. These objects, however, are not simply "online"; rather they are sited at a specific physical spot in the real world using GPS coordinates.
MANIFEST.AR became infamous in 2010 for playfully "hijacking" an art exhibition at the Museum of Modern Art by using Augmented Reality to site their virtual artworks, uninvited, in the museum. For the Samek Art Gallery exhibition, MANIFEST.AR sited several works around the campus of Bucknell University; invisible to the naked eye, and viewable only through one's smart phone equipped with a free app.
Will Pappenheimer is an artist and professor at Pace University, New York. He has exhibited nationally and internationally at Fringe Exhibitions in Los Angeles, the ICA and Museum of Fine Arts in Boston, Exit Art, Florence Lynch, Postmasters, Vertexlist and Pocket Utopia galleries in New York, San Jose Museum of Art in ISEA 06/ZeroOne, Kunstraum Walcheturm in Zurich, the Golden Thread Gallery, Belfast, Ireland for ISEA 09, FILE 2005 at the SESI Art Gallery, Sao Paulo and Xi'an Academy of Art Gallery in China in conjunction with the Digital Art Weeks 2010.
John Craig Freemanis a public artist with over twenty years of experience using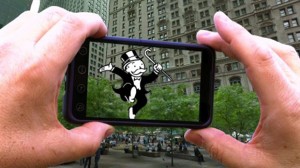 to produce large-scale public work at sites where the forces of globalization are impacting the lives of individuals in local communities. His work seeks to expand the notion of public by exploring how digital networked technology is transforming our sense of place. He has produced work and exhibited around the world including in Xi'an, Belfast, Los Angeles, Beijing, Zurich, New York City, Taipei, São Paulo, Warsaw, Kaliningrad, Miami, Bilbao, Havana, Atlanta, Calgary, Buffalo, Boston, Mexico City, London and San Francisco.