There's been a lot of buzz and excitement swirling around the Samek Art Gallery these days… and with good reason! With the opening of a new Downtown Art Gallery just around the corner and welcoming artist, Tracey Snelling to campus; we certainly have a lot to be excited about!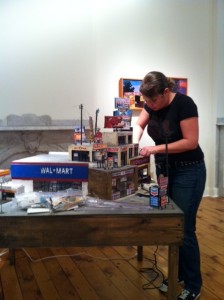 On a personal note, it has been an especially gratifying past two weeks for me. I just joined the Samek team as the new Operations Manager. I'm getting acquainted with the charming town of Lewisburg and its cultural gems tucked away in the heart of Pennsylvania.  With Lewisburg in the midst of a cultural revitalization, I'm thrilled to come on board just as the Downtown Art Gallery is set to open.
Tuesday morning our staff welcomed California- based artist, Tracey Snelling to town. Her exhibition, "Tracey Snelling: Another Day in Paradise" narrates the polarity found within American landscape. The roadside highway attractions memorializing the "Clark Griswold" vacations of childhood's past and the "big buck" corporations, like Wal-Mart, that have since devoured these sites of classic Americana. Snelling's miniature city-sculptures model the quirky personalities of each destination. Their sense of place reminds us that as we drive down the local interstate, we are surrounded by remnants of a small-town paradise clouded by company chains and billboard advertisements punctuating each exit.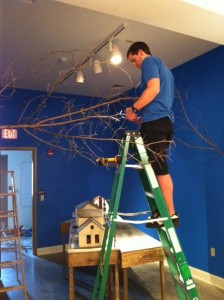 As we anxiously await the opening of our downtown doors, I thought what better way to wet your art palettes than to reveal a couple "teasers" to hold us over! During installation week, I captured a few highlights of our graduate fellows and Tracey making final preparations for the exhibition.
Like what you see? Want even more of a sneak peak?! Stop by The Downtown Art Gallery in person at 416 Market Street to see Tracey's window installation of "Hotel Roosevelt" on view now!
For more information on Tracey Snelling:
Grand Opening Weekend Gallery Hours:
March 31 & April 1- 12:00-5:00pm