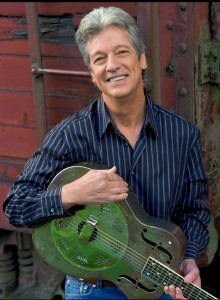 The Weis Center for Performing Arts at Bucknell University, in conjunction with the Lewisburg Downtown Partnership's First Friday events, is proud to welcome blues musician, John Hammond to the Campus Theatre on July 6th @ 7:00 pm.
This free performance marks the beginning of future co-programming opportunities between the Weis Center, The Art Galleries at Bucknell, and the Lewisburg Downtown Community.
The Art Galleries at Bucknell encourage the public to attend this free public program at the Campus Theatre. And, while blues and time-honored culture is on your mind, The Downtown Art Gallery invites you to walk right across the street and relive our exhibition, Tracey Snelling: Another Day In Paradise. What relationships/parallels do the visual and performing arts intermingle? What memories can you activate from these two independent exhibits of iconic American sensation? Share your thoughts with a comment on our blog!
His bluesy notes spanning over the course of three decades, John Hammond is known as key player in the 1960s revival of American folk music. Known to have a guitar slung over his back and a harmonica in hand, he is the portrait of a classic American grassroots artist. Grammy winning, internationally acclaimed and with a powerhouse voice to back it up, the Bucknell and Lewisburg communities are thrilled to welcome him to town.
For more on Tracey Snelling, please visit: TraceySnelling.com
For more on John Hammond, please visit: John Hammond @ The Campus Theatre