This piece from the Museum Collection is currently on display in the hallway case outside the Samek Art Gallery main entrance. We encourage you to participate in the dialogue started by our Gallery Intern and comment below.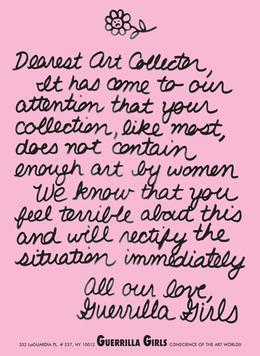 The Guerrilla Girls are an anonymous group of women who, through posters, brochures, billboards, and other media, work to illuminate issues of discrimination across cultures. While their works deal with the heavy issues of such topics as sexism and racism, they employ humor in an effort to deconstruct these themes and to generate interest in their cause. Of the works by the Guerrilla Girls within the Samek Art Gallery's collection, many utilize text in a way that demands reflection and response.
This particular example of the Guerrilla Girl's work, entitled Dearest Art Collector, satisfies the conventions of a feminist work in addressing the lack of female representation in the history of art. With little room for misinterpretation and just a hint of passive aggression, the Guerrilla Girls insist that art collectors award women the same amount of acknowledgement as men. After reflecting on this strong accusation, I began to consider exactly how valid this statement is. Are women really excluded from the history of art? Perhaps women just haven't created as much work as men. Further, could the Guerrilla Girl's reference to women's inferior status in the history of art be translated to other disciplines or even to other minorities?
Morgan Slade '13, Samek Intern
For more works by the Guerrilla Girls, please visit our online collection database
If you wish to see the works in person, contact Tracy Billet at tag010@bucknell.edu to schedule an appointment.