Don't be too surprised if you see students aimlessly walking around campus with their iPads and mobile devices held out infront of them. They are participating in an exciting new exhibition on campus called Manifest.AR: Seeking Silicon Valley that uses augmented reality to bring interactive artwork to various points on campus and around the Lewisburg community. The interesting thing about this exhibition, is that it is not confined to the Samek or Downtown Art Galleries, but can be seen at a variety of locations, including at my house on Market St!
If you want to learn more, join us for a tour at 10 a.m. and 1 p.m. on Friday, September 14th in the Samek Art Gallery. We will be demonstrating how to use the layar app and QR code reader to view these works around campus, and answering any questions you may have.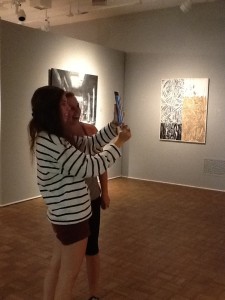 If you are unable to attend either of these tours, please contact Laura Hildebrandt at lkh007@bucknell.edu to schedule an alternative time. The exhibition will be on view through the end of next week, so make sure to check it out soon!