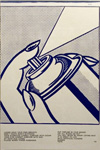 Have you seen this piece of art in the hallway in the 3rd floor of the ELC?
Roy Lichtenstein, one of the most influential Pop Artists of the 1960s, made a series of lithograph prints of images taken directly from newspaper clippings and romance comic books. Pop Art is an art movement that challenged traditional art by including pop-culture imagery in the art, sometimes completely out of context or combined with other material which may be completely unrelated. Pop art uses images from popular culture, like advertising, comic books, and everyday items. The focus is on the popular culture, rather than the elitist culture.
This print is a page from One Cent Life, a book of 65 original color lithographs. Some (like this page) were even printed double sided. The book featured most of America's top Pop Artists of the early 1960s. These artists included Andy Warhol, Mel Ramos, Jim Dine, Robert Indiana, Robert Rauschenberg, James Rosenquist, and Tom Wesselmann.
How do you feel this print relates to pop art? Does the poetry seem out of place?
How does the poetry paired with an image of spray paint portray ideas of pop art?
How do you feel when you see a piece of art? What do you think when you see it? Are your thoughts so jumbled that others, if they could read your mind, may not be able to understand them? Or, are they flowing and clear like a poem may be?
Do you think that art and poetry should remain separate? Or do they complement each other?