Santa's Secret Workshop: Gift Wrapping! Holiday Treats! Caroling!
Co-sponsored by Multicultural Student Services at Bucknell University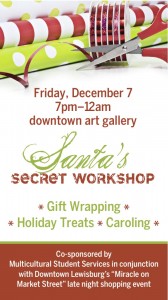 During downtown Lewisburg's annual "Miracle on Market" late-night shopping program, the Downtown Art Gallery (416 Market Street) will partner with the office of Multicultural Student Services to present: Santa's Secret Workshop! The gallery will transform into a bustling site of gift wrapping, holiday treats, and caroling for this one-night only holiday event.
Our co-programmers, the Office of Multicultural Student Services, will provide a group of "Santa's Helpers" to assist Lewisburg late-night shoppers with gift wrapping. The public is welcome to drop off their purchases and return later to pick up their packages wrapped and ready for the tree! If you'd like to take a shopping break with us, the gallery will be serve holiday treats and hot cocoa, all set within our current exhibition, "The Travelogue of Dr. Brain Damages."
No box is too big, no gift is too small for these elves! Our thirteen helpers welcome the opportunity to assist the Lewisburg community in preparation for the Season of Giving! Donations for all gift wrapping services will help fund The Unfinished Journey: A Civil Rights Alternative Spring Break Trip to Memphis, Tennessee. This travel opportunity offers Bucknell students the rare and exciting chance to explore the ongoing legacy of the Civil Rights Movement through performing community service and visiting historic sites such as: The National Civil Rights Museum and the Stax Museum.
The gallery will also welcome several of Bucknell University's acapella groups. They will perform your favorite holiday carols under the glowing marquee of the Campus Theatre. Performances/request to begin at approximately 7:30pm.