The Kress Gallery, Bucknell University
Open daily during regularly scheduled hours; By Appointment: 570-577-3282
Holiday/Winter 2013 Hours: December 3-12, M-F 12:00-3:00pm; Sat & Sun 1:00-5:00pm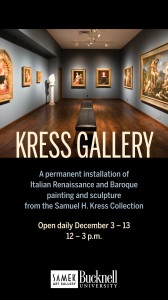 A History of the Kress Collection
In the depths of the Great Depression, a touring exhibition of 50 pictures from Samuel Kress's private collection introduced Italian art to an eager public in 24 American cities, and throughout the 1930s his gifts of art placed the first Old Master paintings on the walls of local museums in many parts of the country. By 1941, his role as a Founding Benefactor of the National Gallery of Art reaffirmed both the value of his collection and his constancy of purpose.
A more expansive vision evolved as a staggering number of incomparable European masterpieces entered the Kress Collection during and after World War II. Rearrangement of the 34 Kress galleries at the National Gallery made a large quantity of museum-quality paintings available for viewing elsewhere. This opportunity gave rise to a novel, generous, and logistically complex program that offered representative surveys of Italian art to selected museums across the country. Through this national program in art philanthropy, the Kress Foundation ultimately donated more than 700 Old Masters to regional museums in eighteen American cities during the 1950s. Another 200 paintings were divided into study collections for twenty-three colleges and universities. Major gifts of special collections were also bestowed on the Metropolitan Museum of Art (French porcelains and furniture, and a complete Robert Adam room with Gobelins tapestries), the Pierpont Morgan Library (drawings and illuminated manuscripts), and the Philadelphia Museum of Art (thirteen tapestries based on designs by Rubens and Pietro da Cortona).
The Kress Collection encompasses European art of the principal continental schools from the 13th to the early 19th centuries. The collection's greatest distinction lies in the extraordinary abundance of its Italian pieces – more than 1,000 Italian paintings, 500 period frames, 1,300 small bronzes, medals, and plaquettes, and representative sculpture, drawings, and furniture. Many of the greatest Italian artists – Cimabue, Duccio, Giotto, Botticelli, Fra Angelico, Filippo Lippi, Verrocchio, Raphael, Andrea del Sarto, Pontormo, Correggio, Bellini, Carpaccio, Giorgione, Titian, Lotto, Tintoretto, Veronese, Carracci, Bernini, Strozzi, Tiepolo, Guardi, Canaletto, and Bellotto – appear in the Kress Collection, as do numerous fine works by less familiar masters. The French schools are also well-represented, from the early Renaissance to Poussin, Claude, Watteau, Chardin, Boucher, Fragonard, Houdon, David, and Ingres. The art of German-speaking lands includes Dürer, Grunewald, Altdorfer, Holbein, and Cranach. Flemish and Spanish tastes intermingle through Petrus Christus, Bosch, Memling, El Greco, Rubens, Van Dyck, Zurbaran, and Goya. All of these, and hundreds more, constitute the Kress gift to the nation, shared with the public in more than 90 institutions in 33 states, as listed in The Kress Collection section of the KressFoundation.org main site.
–