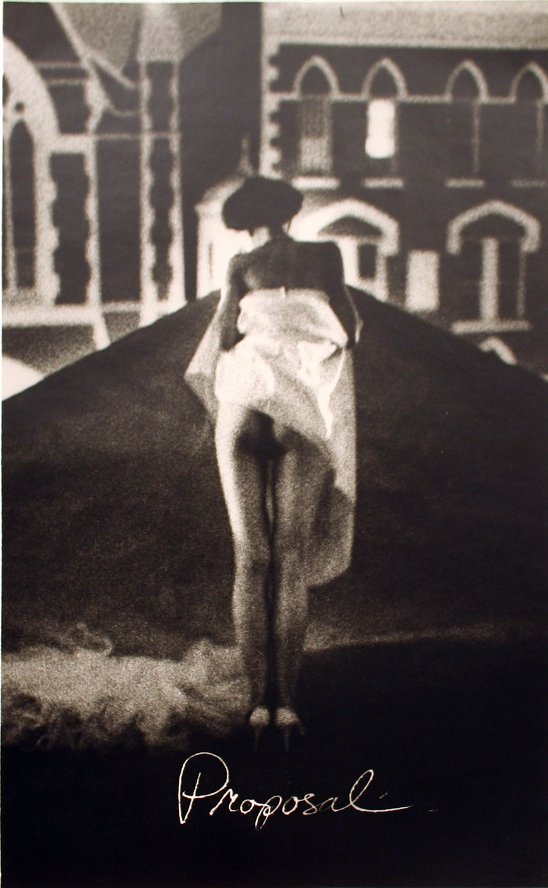 This Print is currently on display in the Collections Case located in the hallway outside of the Samek Gallery entrance.
This photograph Proposal by David Seltzer explores the social controversies involving the sexuality of women. The sexual nature of this photograph is meant to create a discussion about the meaning of the term "proposal" in this context. Not only is she revealing her naked backside, but also the suggestive language of the word proposal is written directly underneath her figure. It is unusual to find a woman in this predicament given the urban setting of this composition, and the woman's formal gown. This piece seems to suggest that the woman is making a sexual proposition.
This piece resonates with the current topics of conversation that are going on around the Bucknell campus and the recent climate report. This photo correlates most with the topic of female facilitation in terms of sexual assault. Female facilitation is the idea that women essentially behave in a way that put them in harm of sexual assault. It can be by consuming alcohol, dressing provocatively, engaging in risky sexual behavior and the pressures to engage in these specific activities. Female facilitation is not meant to become an excuse for male perpetrators of sexual assault, but it is an issue that is worth discussing. In what ways does this photo represent female facilitation?