Thursday, April 18: 6-7pm- Artist Talk with Elliot Anderson @ The Downtown Art Gallery
Artist Talk with Elliot Anderson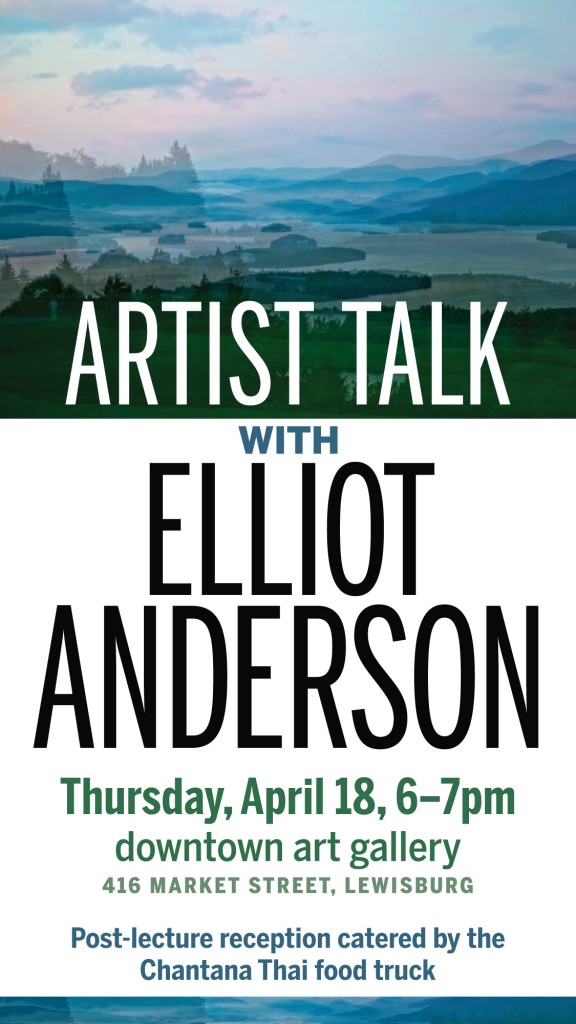 Thursday, April 18    6:00 PM – 7:00 PM
The Downtown Art Gallery, Bucknell University- 416 Market Street, Lewisburg
Reception catered by ChantanaThai

The Downtown Art Gallery, Bucknell University is pleased to welcome artist, Elliot Anderson for an artist talk on Thursday, April 18th.  Anderson's work incorporates a wide range of media including video, sound, computer interaction, animation, and digital imaging.  His work includes interactive computer sculptures and installation, public art, interactive video for performance, and digital photography. He has created and performed computer controlled interactive video sets for New Music and Dance performance.
A reception will be held immediately following the artist talk at the Downtown Art Gallery. The evening will be catered by popular local food truck, ChantanaThai beginning at 7:00 PM.
Anderson is currently exhibiting work in the exhibition, Makeover on view April 10- June 30th at the Downtown Art Gallery, Bucknell University. The exhibition is a makeover of found landscape imagery and archival film footage. Anderson is joined by fellow California-based-artist Bill Domonkos, an experimental filmmaker and video artist. His work combines computer animation, still photography, live footage and manipulated archive film footage. Domonkos will participate in the BU Film/Media Studies Films Screening on Tuesday, April 16th at 7:30 PM at the Campus Theatre.