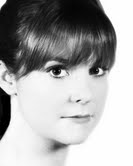 Featuring: Anastasia Peterson, Class of 2008
The Where Are They Now? project is continuing with another recent graduate.  Graduating in 2008, Anastasia Peterson majored in Theatre while at Bucknell.  Anastasia Peterson now performs at the Bloomsburg Theatre Ensemble in Bloomsburg, PA as her full time occupation. Moreover, starting this fall, Anastasia will be attending Penn State University's MFA program in acting.
Opportunities during College: London Dramatic Academy, Atlantic Acting School in NYC, Senior Honor Thesis Project
During her collegiate experience, Anastasia took a semester abroad at the London Dramatic Academy. During this time, she worked intensely and was provided a scholarship to take a summer intensive at the Atlantic Acting School in NYC.  Following that summer, Anastasia worked with her advisors on her Senior Honor Thesis project. For her thesis, she worked with a Bloomsburg Theatre Ensemble (BTE) member, Laurie McCants. Laurie became her mentor for the project which turned out to be a one-woman show.
Post- Graduation: Internship at BTE, actress in the BTE
After graduating Bucknell in 2008, Anastasia moved directly into a year-long acting internship with the BTE. This connection was possible due to her involvement with Laurie McCants and the Bloomsburg Theatre Ensemble during her senior thesis project. After this year long internship, Anastasia moved around central Pennsylvania, New York City, and Connecticut to pursuit her acting career. Now she is a full time actress for the BTE and has performed in many productions such as Jon Jory's Emma, In the Next Room, or the Vibrator Play. She is currently touring with BTE around Pennsylvania in an educational children's show centering on coal mines.
–          Masters: Anastasia is heading back to school this coming Fall to pursue her masters. She has been accepted in the Penn State University's MFA program in acting.
 **Tips For Undergraduate Students who aspire to work in the Art Field**
Anastasia was nice enough to supply the Where Are They Now? project general tips for anyone that is applying themselves to the Art field. Although she is a theatre major, her tips are applicable for anyone graduating Bucknell University. These include:
-The best advice she has is to always seek advice. Bucknell professors and alumni create such a vast network of support and help to anyone who is willing to ask and work hard.
– Keep in touch with advisors and classmates via LinkedIn, email, etc.
-I t is okay to be uncertain after college- go out and take each day one step at a time. As long as you keep focus, apply your Bucknell education in everyday settings, and pursue the career that makes you happy, things will fall into place.