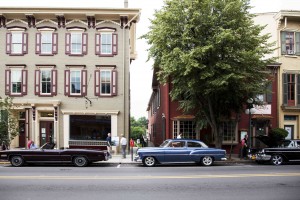 On Saturday the 27th, the Downtown Art Gallery hosted a pop up car show to celebrate the opening of its new exhibit, Cheryl Kelley: Detailed. The public event included classic cars on display in front of the gallery and traditional picnic fare. A number of people braved the foreboding skies to enjoy the art, food, and vote for their favorite car.
Cheryl Kelly's works consist of photorealistic paintings of vintage American cars on display. The photographic quality of the paintings is impressive, and speaks to Kelley's technical ability. However, Kelley's work offers something greater than a simple demonstration of skill.  She brings a unique feminine perspective to a subject matter often dominated by a masculine mythos. I personally enjoyed the reflections on the cars. They often contain fellow spectators bringing a level of intimacy to the pieces.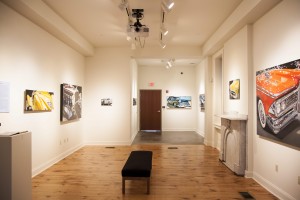 The event provided the perfect atmosphere to appreciate Kelley's paintings through a blend of classic cars and summer themed refreshments. The classic cars shown, a 53 Chevy, 57 Chevy Belair, and a 64 Cadillac El Dorado, provided examples of the muscle that long represented the American automotive industry. A painting in the show even depicted one of the displayed cars. In the presence of the actual cars, her perspective was a great deal easier to discern. At first it was difficult to imagine how within these masculine machines, where every aspect appears to focus on size and power, there exist feminine forms. Yet after a brief moment of viewing the cars in person, the smooth curves highlighted in Kelley's work began to materialize. Having the subject matter at hand not only allowed for a better glimpses into the artist's inspiration, but also made for great fun.
The event was a success in large part to everyone who attended. Thank you. Cheryl Kelley: Detailed will be exhibited until September 29th at the Downtown Art Gallery on Market St. across from the Campus Theatre.