Scavenger Hunt in the Samek
Last Tuesday, 65 students from the Arts College held a scavenger hunt in the gallery as part of their First Common Hour event.  After a brief introduction by Director Richard Rinehart, students combed through the gallery's exhibition Summer Salon: 160 Years of Art Collecting.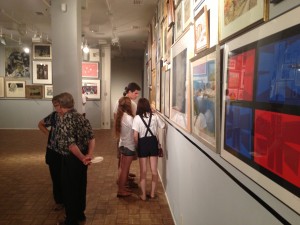 The search included completing a number of tasks such as finding the painting with the most text and counting the number of ties in the collection (bow ties counted, but not cravats). The event was a great way for the students to become acquainted with both each other and the Samek Art Gallery.