The "Do It Fridays!" series continued last Friday with Tasha Hall and Matt Lamparter's installation of Black Lines by Hassan Sharif. The work's instructions (posted below) describe a wall painting composed of alternating straight and wavy horizontal lines that increase exponentially with each cycle.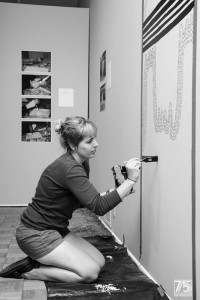 For the installation, the Samek was briefly transformed into a studio space distorting the gallery's traditional role. However, in accordance with the ideology of "do it" the piece was not without their personal interpretation.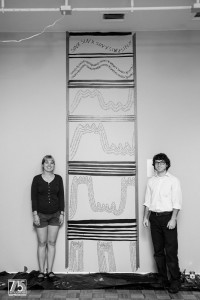 The use of mathematical formulas to compose the wavy lines exemplifies the incorporation of their professional experiences into the process.
This aspect of the work highlights the question of authorship.  This work blurs the lines of conventional authorship as Hassan Sharif created the original instructions, but Tasha and Matt preformed the process. Authorial conundrums aside, the finished piece is wonderful and now on display.
Thank you Tasha and Matt for your participation.
More photos of the event can be viewed here.
"Do it Fridays!" will continue next Friday at noon.