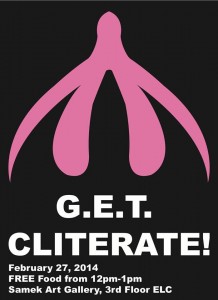 The Gallery Engagement Team (GET) promotes the discussion and honest reflection of overlooked topics like sexuality, the female body, and specifically: the female genitals. Yes, this week G.E.T. is g.e.t.-ting controversial by confronting a taboo topic posed by conceptual artist Sophia Wallace. Sophia Wallace is a contemporary artist who recently lectured at Bucknell in partnership with the Women's and Gender Studies Department and the Women's Resource Center about her current exhibit installed at the Samek gallery: The Cliteracy Project. During this artist talk, Bucknell students and staff were exposed to an evident lack of information and were informed on the anatomy of the female genitals, specifically the clitoris. Simply, the talk and Wallace's The Cliteracy Project helps the viewer become literate on the clitoris. The Cliteracy Project is an installation displaying three confrontational pieces. The conceptual artist uses words in her text panel entitled 100 laws of Cliteracy to verbally expose significant information about the female body and lack of research surrounding half of the population's body parts. To Wallace, her art is a political message. Her larger than life 100 laws of Cliteracy and the large clitoris shaped sculpture purposely is scaled to make the viewer feel small.No matter the size of the individual both works overpower and confront the viewer.
In the spirit of Sophia Wallace's direct manner of discussing this taboo topic, the Gallery Engagement Team has scattered across campus hundreds of cards. These pieces of paper showcase quotes from Wallace's 100 Laws of Cliteracy and information about the exhibition on display. Furthermore, G.E.T. throws down a challenge.  G.E.T. pushes you to attempt to draw the clitoris.
As you see these cards floating around campus, pick one up and draw the clit. Then, come up to the third floor of the LC to the Samek Art Museum and Check out The Cliteracy Project. Compare your drawn image with the clitoris shaped sculpture and not that you would need any further incentive however, join G.E.T. on Thursday, February 27th from 12- 1pm for some food and a chance to discuss and compare participant's drawings with the clit shaped sculpture. Check out the text panels and feel free to talk to G.E.T. members your reactions. We look forward to seeing you all there!
For more information: please feel free to check- http://museum.bucknell.edu/2014/02/06/the-cliteracy-project-artist-talk-with-sophia-wallace-212/