In addition to the works on display in the gallery, Yeon Ji Yoo has also written profiles for each of the characters which inhabit her artwork. Read her writings below.
Ophelia
Ophelia is every girl who wishes everyone around her will miss her when she is gone. She throws herself into the water impetuously and selfishly.
She married her sweetheart young. Before that, she was loved as a child, and still loved after she became a thief. She ran away with stolen money on several occasions, breaking her parents' hearts. When she married, she thought her sins and past life could be forgiven and forgotten when she settled down. But her new mother-in-law hated her and made Ophelia's life hard to bare. One day, she climbed onto the top of her building and threw herself off. She died of the disease of "too many good dreams."
Ophelia is the drowned princess, daughter, younger sister, the unfortunate girl. She is the suicide cousin, the discarded girl child. She can be found laying under the surface of the water being eaten by fish (that her family fishes and eats later on). She melts into the pond life. Sometimes, she clings onto the branches above, her toes not quite touching the bottom of the pond. At other times, she is already dead but her strong body keeps her sitting or standing above the water while the pond life grow over her. She knows she is dying and her face and body are closed.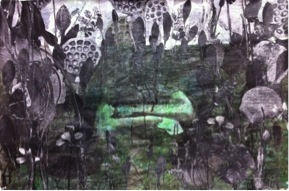 Yeti Woman
The Yeti Woman is sometimes lurking behind trees and just stands there very sad. She does not recognize what she is seeing. She appears young but is ancient, and not just old. She is mistaken for wise but she is really a fool for believing wrongly that someone else was actually wanting for her.
Her torso is a burnt pine tree and she has the use of her limbs, meaning she can walk but is usually stagnant or frozen into one place and stands. She is lonely and wishes for companionship although if she is ever really encountered by anyone else, it is only her lonely self again. When she looks out at you, she doesn't really see. She is lost in her own mind, clues and hints darting away from her.
Yeti Woman is a legend and a tall tale. She is the deer that drowns itself after it cannot untangle itself from a fight. She is sorrowful but with power, living in the forest and is of wood. She is broken, especially when burnt, but never really is dead. She feels, thinks, and wants to remember things she forgot because the sensations of those memories, memories of the memories, are still in the cells and water of her trunk.
Yeti Woman became Yeti Woman after she left her children to die when she had lived as a regular woman. When she was cold and hungry, she cut off her own children to save herself, as if pruning deceased branches. But she was too young to withstand this kind of death she exposed herself to, as winter is the worst time to prune trees. She was infested by a real disease and she became lost. The new frontier of her selfish future became her hell home and she is forever wondering the landscape with her lost mind.
Yeti Woman may sometimes be seen with her face hidden and hooded head. She may have the head of a sparrow, head of a plane, of a mountain or of a tree. Her head may be fungus or moss, or ferns. Or she may have the head of a telephone pole, of leaves and grass, or a deer with antlers. She may have the face of a doe with slick wet nose. She may sometimes be with the body made of tangled sparrows nest.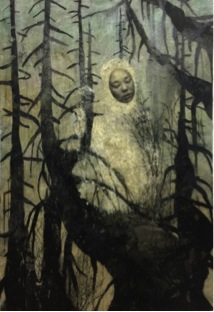 Moth Woman
The Moth Woman is preserved in death, a mummy. Or she is being released from death or hibernation and when she is released, she has metamorphosed. She is a reluctant sad person, not having chosen her current midway state, having died angry or feeling wronged and bitter. She herself believes she was once beautiful and assumes she still is. Mold spores and fungi swarm around her, breathed in and overwhelms her. Or at times, she is the one releasing them into the air to punish and stricken everyone else.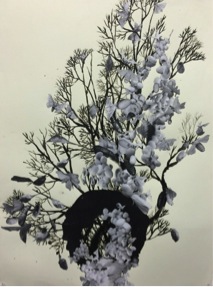 Lost Soldier
The lost soldier is a handsome youth, hunter, farmer, woodchopper and fisherman when he is not a soldier. The lost soldier is my father and my brother. He is the unattained future disciple of Jesus. He was a fisherman, fishing men, fishing destroyed warplanes. He had done the dirty work that no one else thought about. He cuts down Yeti Woman with an ax. He catches sparrows in nets. He eats chick children, even though he himself used to be one. He is not angry but always has a slight slouch because he remembers the shame of being poor and hungry, and eating tree bark. When he is caught in battle, he surrenders with arms up. He is buried in a mound of dirt and moss. There are no tomb stone but a tuft of tall grass. He does not fear his fate.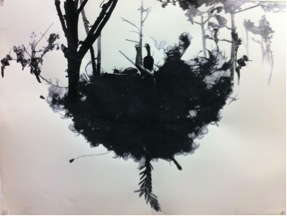 City People
City People actually live in the shantytowns choked by alleyways. They have unused or clumsy legs and torsos with obsolete fossilized cities growing on them or from them. The city people are resigned, defeated, consumed and are the perfect nurse logs for these kinds of decaying urban growths. The City Person usually floats around in boundless space until catastrophe enmeshes them into another distant landscape of a different scale.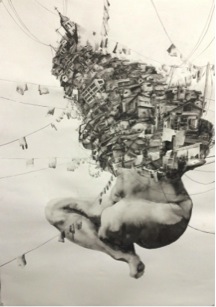 Chick Children
Chick Children are bird heads, ignorant and powerless. They are funny and harmless, flitting around, lost in the moment, forever children. But when in flight as a swarm, sometimes are caught in nets. They will eventually be eaten but until death, they can be seen pushing up against the nets.
This is the origin of the Chick Children. It was during the occupation, after the war. The nation, landscape, economy and food supply succumbed to the fight. Even the weather gave up and turned to winter. Everything was dehydrated and drained. Everyone breathed in desiccated death. Their mother had given birth to them while running through the winter woods and hiding from hunger, cold, and left over war amongst the trees in the mountains. Finally, she gave them up to the middle of the road and walked away. When the baby bodies stopped living, starved and frozen, the mother hoped the children would fly away like sparrows. But there is no sparrow heaven.