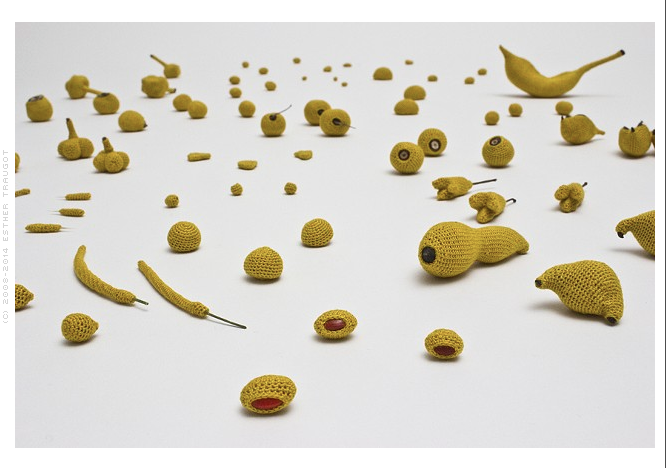 November 18, 2014 through March 1, 2015
Downtown Gallery
416 Market St., Lewisburg
This solo exhibition presents artworks by Esther Traugot – meticulously crafted installations that combine crochet, roots, seeds, and shells – which investigate our conflicted impulses to nurture and control nature.
Artist's Statement
"Through the media of painting, sculpture and installation, my work investigates a personal connection with the natural world. This interdisciplinary approach allows me to create works that play between seeing oneself as an intrinsic part of the natural landscape, as well as an observer of it.
I cover objects of nature with crocheted threads in an attempt to 'prop up' or 'put back' what has been abandoned, broken. As bandage or cozy, these support structures investigate the relationship between nurturing and controlling nature. The meticulous act of crocheting mimics the instinct to nurture and protect what is viable, what is becoming precious. As in gilding, these false 'skins' imbue the objects with an assumed desirability or value; the wrapping becomes an act of veneration. Although futile in its attempt at archiving and preservation, it suggests optimism. My interest in the objects extends from the notion of landscape and how we not only experience, but also negotiate with the natural world. Do we feel warm and fuzzy, or do we distance ourselves? How do we 'care' for that which we depend upon?"
-Esther Traugot, 2014
More information on Traugot can be found here. Exhibition courtesy of Chandra Cerrito Contemporary.
Related Events
Reception for Esther Traugot: Arboretum
January 28, 8pm
Downtown Gallery, 416 Market St.
Join us after the Weis Center's presentation of Tanya Tagac in Concert with Nanook of the North for a celebration of Esther Traugot's solo exhibition at the Downtown Gallery. Refreshments provided.
Esther Traugot: Arboretum Family Art-Making Activity
February 7, 1-4pm
Downtown Gallery, 416 Market St.
As part of the Lewisburg Ice Festival, you are invited to make crocheted arts and crafts inspired by the Downtown Gallery exhibition, Esther Traugot: Arboretum. Fun for all ages. Refreshments provided.
Samek Knitting Circle
Every Friday, January 16 – February 27, 3-5pm
Downtown Gallery, 416 Market St.
The Knitting Circle returns! This semester, we'll be at Downtown Gallery in conjunction with the exhibition, Esther Traugot: Arboretum and have opened the circle up to crocheting as well as knitting. Even if you've never done either, an expert from Bucknell's 7th Street Studio (formerly the Craft Center) will be on hand to guide you.