April 21, 2015, at 6pm
Forum, 2nd Floor Elaine Langone Center
An Entrepreneurial Vision for the New Crystal Bridges Art Museum
Introduced by Bucknell President John C. Bravman.
John Wilmerding is the former chairman of the board of the National Gallery of Art, previously senior curator and deputy director of the National Gallery, and currently emeritus Christopher Binyon Sarofim, professor of American Art at Princeton University. He is also a visiting curator in the department of American art at the Metropolitan Museum of Art and a member of the boards of trustees of the Guggenheim Museum, New York, and the College of the Atlantic in Maine. Additionally, he serves on the Committee for the Preservation of the White House.
Wilmerding will discuss his role in advising Alice Walton (heir of Walmart Stores Inc.) on creating the collection for the new Crystal Bridges Museum of American Art in Northwest Arkansas. His talk also focuses on the Museum's impact on rural America and his entrepreneurial vision for this 21st-century institution on a national scale.
Wilmerding's talk marks the launch of the new Samek Distinguished Art Lectures that annually invite world-renowned artists, scholars, and notable thinkers to engage with students and the public. As part of his visit to campus, Dr. Wilmerding will also meet with students for a master class session the day after his lecture. The series is presented with generous support from Edward and Marthann Samek.
His public lecture on the 21st, titled "An Entrepreneurial Vision for the New Crystal Bridges Art Museum," will take place in the Forum on the 2nd Floor of the Elaine Langone Center at 6 pm. A reception in the Samek Art Museum follows the talk.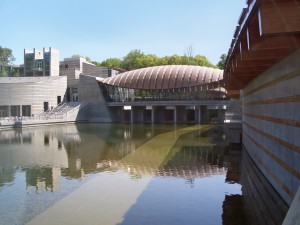 Crystal Bridges Museum of American Art.