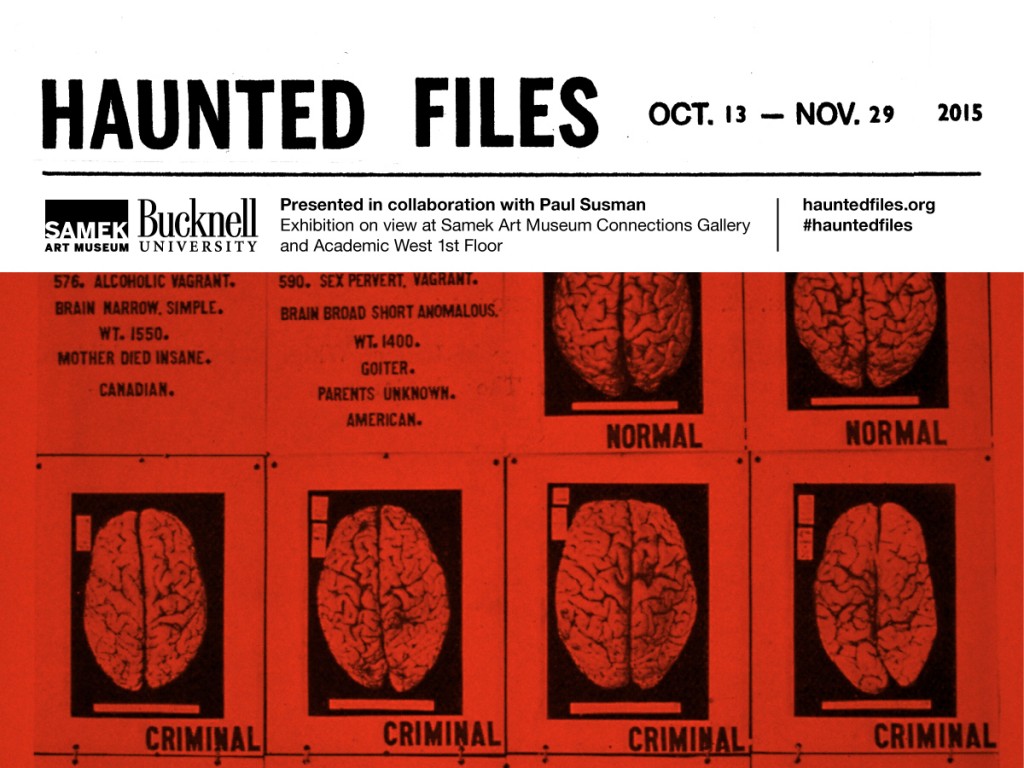 In collaboration with Bucknell Professor Paul Susman, the Samek is hosting the exhibition, Haunted Files: The Eugenics Record Office in our community-curated space, the Connections Gallery. The exhibition takes the form of a re-creation of the original American eugenics office in Long Island, New York which, from 1910-1939 conducted pseudo-scientific research and pursued legislation based on the abhorrent and since-discredited principles of eugenics. Visitors to the Samek can leaf through reproductions of documents produced by the office in a setting reminiscent of the office's interior in the 1920s. The exhibition also consists of posters hung in Bucknell's Academic West building. Together, the two parts of the exhibition serve as a disturbing reminder of just how close we are in time and space to the ideas validated by this American government-sanctioned program.
Curated by Noah Fuller and John Kuo Wei Tchen
Associate Curator: Mark Tseng Putterman
Curatorial Talk: John Kuo Wei Tchen
November 17, 7pm
Gallery Theatre, 3rd Floor Elaine Langone Center
—
More about the exhibition:
Enter a 1920s office with oak tables, rows of file drawers, forms, and reports, an Underwood typewriter clacking away… Sift through the files, the desktops and index cards; take in the genteel pastoral surroundings….
Lurking within every detail of this immersive installation are the faces of American eugenics: the progressive leaders who crafted a vision of mass sterilization, mental institutionalization, and immigration restriction; the young field workers who gathered mountains of data in service of "social progress"; and the targeted persons whose lives would be altered by the eugenic project of "better breeding."
Drawing from primary source material, Haunted Files: The Eugenics Record Office reimagines the Eugenics Record Office, transporting visitors to the epicenter of American eugenics research and propaganda. Here, eugenicists channeled Progressive Era ideals of rational thought, social progress, statistics, and state management towards the pursuit of "race betterment" and the defense of Anglo-American racial purity.
Haunted Files explores how anti-Asian policies and legislation set the groundwork for the "scientific racism" of modern American politics. This exhibition brings the "relics" of eugenics out of the buried archives, confronting us with the legacy that continues to trouble today's national conversations about race, immigration, intelligence, norms, and belonging.