Oct. 25, 2016-Feb. 12, 2017
Downtown Gallery, 416 Market St., Lewisburg
This exhibition of works by Stephanie Rothenberg is a series of interactive gardens and schematic/network drawings that examine the intersection of social media, finance and philanthropy.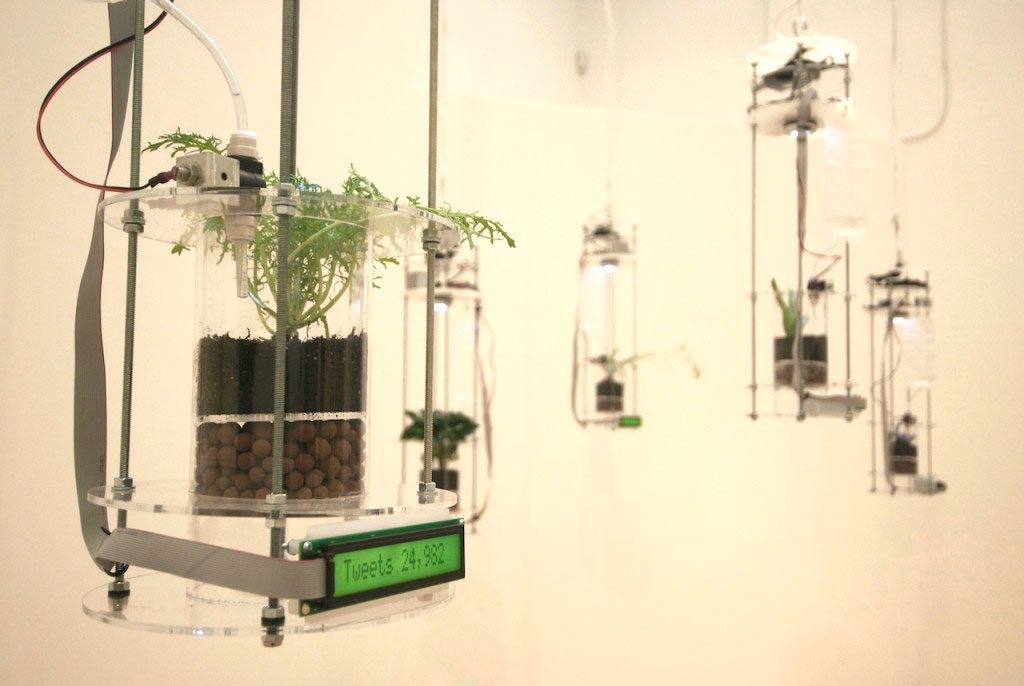 Artist's Statement
Reversal of Fortune is a series of robotic gardens and related network maps that visualize the intersections of social media, finance and philanthropy. Plants in the gardens represent human lives, creating a more sensorial experience with data. Circuits of exchange enabled through crowdfunding platforms illuminate the complex relationship between human life and economic growth. By viewing each plant's struggle to survive, the project reflects on what it means to be charitable through the click of a button.
Garden of Virtual Kinship resembles a tiered aquaponic system merged with a bank. The centerpiece is a global map containing 650 pill size containers holding seeds. These seeds represent borrowers of micro loans. An overhead, automated watering system is connected to the Internet. The amount of water the plants receive is dependent on crowdfunded, online financial transactions collected from a social media charity website. Successful transactions trigger appropriate nourishment while failed ventures may lead to dying plants. The outcome is a continuous live mapping of the flow of micro finance capital as it travels from the Global North to South and back to the banks who ultimately profit.
Planthropy is a garden of glowing, digital hanging plants that respond to actual Twitter messages posted by donors to various charities. Each plant represents a charity such as breast cancer or refugees. When the plant receives a Twitter post, its electronic system is activated. The plant is watered while the tweeted messages are played aloud through a computerized voice – "I donate because I'm a survivor,"  "I donate because it's a tax credit." The result is a global "heartbeat" of synthetic voices emoting the feelings of donors from around the world.
– Stephanie Rothenberg
Reversal of Fortune: Opening Reception
Thursday, October 27, 6pm
Downtown Gallery, 416 Market St., Lewisburg
Join Stephanie Rothenberg for the opening reception of her solo exhibition at the Downtown Gallery.
The Business and Art of Crowdfunding and Microphilanthropy
Wednesday, Nov. 16, 11:30 a.m. – 1 p.m.
Small Business Development Center, 3rd Floor Conference Room
416 Market St., Lewisburg, PA
The Samek is teaming up with its neighbors, the SBDC, to host a roundtable discussion on crowdfunding and microfinance from the perspective of local business owners and Bucknell student entrepreneurs in conjunction with the exhibition, Reversal of Fortune. A reception at the Downtown Gallery follows the panel. Space is limited. To attend, please RSVP.