Our Tuesday's Objet series (pronounced "OB-JAY" from the French word for "object") intends to highlight pieces on display outside the physical confines of our gallery spaces, to draw attention to the art that surrounds us on a daily basis.
Huzzah, it's Tuesday! Time to introduce you to another gem from our collection. Over the summer the Samek's main gallery and administrative offices got a face lift: a brand-spankin'-new ceiling and HVAC system. When it was time for the staff to move back in after renovations were completed, Andy (our preparator) and I decided to install some new work in our shared office. Previously, our walls housed large-scale prints which, while fantastic, needed to be put back in storage because they can be damaged by excessive exposure to light. This time, we combed collection storage to find bold, colorful paintings that hadn't been displayed for a while. We wanted to brighten the place up a bit!
And, since Andy and I share an eccentric sense of humor, we wanted at least one piece that encapsulated our tongue-in-cheek mirth.
Behold the "whacky and irreverent artwork"[1] of Randy Stevens!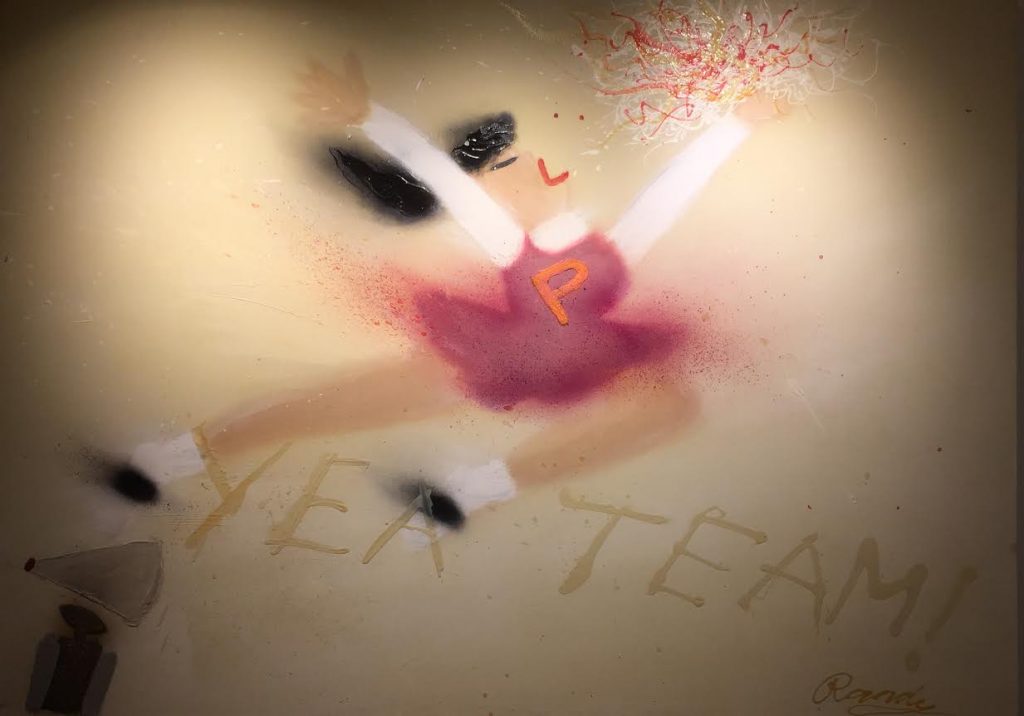 Randy Stevens received her B.F.A and M.F.A from Tufts University in 1988 and 2010, respectively. She spent decades participating in the New York art scene, represented by topnotch galleries, her work finding its way into notable museum and private collections. She now lives on a 70-acre farm in central Massachusetts with her husband, and still maintains a loft studio within view of Mt. Wachusett, 50 miles away.
Louis Hornick and Co. Inc gave The Yea Team as a gift to the Samek in 1987. This acrylic on canvas depicts a stylized cheerleader in an enthusiastic jump. She wears a fuchsia uniform with an orange P emblazoned on the front. She thrusts an orangey-pink pompom aloft. The words "YEA TEAM!" are scrawled across the canvas, overlapping the figure's feet, in a pearlescent paint similar in hue to the canvas itself. Stevens placed a bullhorn in the lower left hand corner of the composition, and signed her first name on the lower right. The textures of the paint range from the flat, airbrushed effect of the cheerleader's dress, to thick, raised lines of paint in the bullhorn and her pompom, giving them a three-dimensional quality.
As a 20-something artist coming up in the art world in the 1980s, Stevens was described as a "glittery satirist." Her work from that time period was considered "giddy, caricatural and elliptic," gaudy compositions intending to poke fun at the socialites she served while waitressing to supplement her income.[2] Her interrogation of the decade's proclivity for opulent behavior extends to The Yea Team. This piece takes that same gleeful satire and applies it to athletic celebration. Then, and now, Stevens intentionally walks the (admittedly subjective) line between "good" and "bad."
If Randy's work tickles your funny bone, check out her website. You can find more info on her current work here.
[1] RNDYWRLD.COM, accessed October 3, 2016, http://www.rndywrld.com/index.html
[2] John Russell, "Randy Stevens: Glittery Satirist," The New York Times, January 2, 1981, accessed October 3, 2016, http://www.nytimes.com/1981/01/02/arts/randy-stevens-glittery-satirist.html.