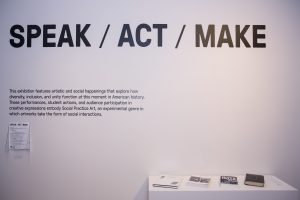 This semester we gave our gallery to the community. Our spring exhibition SPEAK / ACT / MAKE invited students, faculty, staff, and members of the larger Lewisburg area to do just that: speak, act, and make. An embodiment of Social Practice Art, an experimental genre in which artworks take the form of social interactions, SPEAK / ACT / MAKE encouraged reaction, dialogue, and expression in response to a tempestuous and at times vitriolic moment in American history.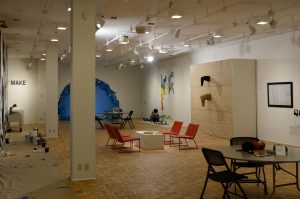 SPEAK/ ACT / MAKE was an exhibition that really wasn't finished until it ended. Initially the walls were largely empty, poised and ready like blank canvases. Over the course of the semester murals were painted, graffiti tagged, protest posters printed, and performances enacted on a stage designed by artist Diego Montoya, which was kept over from the previous exhibition. The space was realized in a gradual way through consistent activity. Looking back through images taken throughout the semester, and seeing the show's final form, I feel compelled to offer some reflections on the positive outcomes, and perhaps a pitfall, of a show of this nature.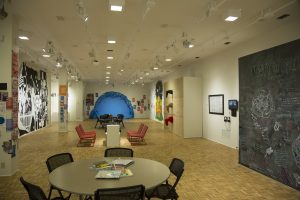 One of the first projects initiated was a collaborative mural by Bucknell's Painting II/III class. To generate content for the piece, students polled their community in whatever way they wished to gauge current concerns. One student utilized a google survey which asked respondents to whittle down their post-election feelings to one word, and based on that one word, to describe an image that came to their mind. During the show's opening reception, visitors drew on transparencies, which the students then incorporated into the mural's composition as best they could. Anything that caused alarm, concern, or anything that felt necessary to safeguard, made its way into the mural. The only caveat: No words, just images. It was painted in black and white, as both a visual exercise in positive and negative space, and a common aesthetic intended to bridge together potentially disparate subject matter.
Gallery images: Carly Hyde, Anna Kell, Lena Miskulin, Dylan Reynolds, Rebecca Reeve, Julieta Robinowitz, Chelsea Rosenberg, Kaitlin Salisbury, Clara Sandu, Dominic Scicchitano, Steven Sedig, Zachary Seger, Ariel Senackerib, Olivia Spaccasi, Kimberly Winter. MURAL, MIRROR, 2017. Latex paint on museum wall. Courtesy of the artists.
Additionally, a selection of works from the Samek's permanent collection were displayed with thought provoking questions posed within the accompanying wall text. We placed a chalk wall to the left of the vinyl copy, to facilitate written responses to the questions. There was a wall designated as a free graffiti space, and make tables with yarn, knitting and crochet needles, and sketchbooks for drawing. During our opening reception, local music artist Billy Kelly performed protest songs, visitors drew transparencies for the mural, and began covering the graffiti and chalk walls.
We also intermittently installed work by contemporary artists. A video piece by Bucknell student Jeong Woo Seo, showcasing his musical composition project called 100 Composers, went up initially.  Ciara Newton's piece, Black Bone, Yellow Bone, Red Bone, which addresses the active legacy of African diasporic histories in America by memorializing the displaced and implicating viewers in their own comfortable apathy, went up next. Local artist Julie Louisa Hagenbuch's audio recording, Our Issues Lie Between Us, was installed next. Inspired by the results of the 2016 election, Our Issues was a candid interview between the artist and an artist/photographer/journalist she met online, Kalen Goodluck, who is also a member of the Navajo, Mandan, Hidatsa and Tsimshian tribes.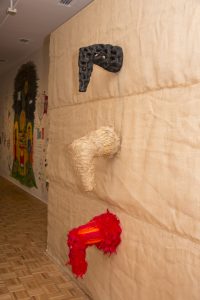 In addition to singular works, we invited professors from Bucknell and surrounding colleges to utilize the gallery for class instruction, creation, and performance. Lycoming's printmaking class installed a series of relief prints on paper. We hosted Bucknell Professor Anjalee Hutchinson's course Devising Performance, as well as a printmaking workshop with Assistant Professor Eddy Lopez's Printmaking II and Printmaking III courses. As the walls filled up, music professor Paul Botelho performed in reaction to the show as a whole, inviting audience members to record and play back sections of the performance.
The response was remarkable. The dynamic, changing nature of the space encouraged people to come back, and its inclusive breadth of activities and programming drew a lot of students, heretofore unfamiliar with the Samek, into its space.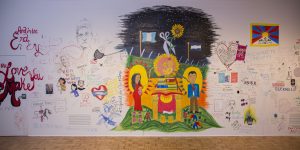 If I had to pick one potential drawback of SPEAK / ACT / MAKE, it would be its predilection for muddiness.
Social Practice Art, the movement which served as inspiration for this show, has existed since approximately the 1960s. Its scope is wide; it blurs boundaries between activism and art, and what constitutes art making. Social Practice artists co-create their work in collaboration with specific audiences, intending to elicit critique of certain social systems or stimulate social exchange. Recent publicized projects include a community development project in Houston that provides artist studios and low income housing, and Marc Bamuthi Joseph's project moving and passing, which used soccer to connect NYC-area youths to the arts, and awareness to issues facing immigrant communities. Though social practice art manifests in diverse and complex ways, its projects approach particular problems and specific concerns. At times, I think SPEAK / ACT / MAKE, through its broadly inclusive intention, lost itself among the noise of creation. The purpose of the chalk wall, for example, was a response space to the questions posed on the adjacent wall, but in the end it became an extension of the graffiti wall at the other end of the gallery.
Gallery images: Images from Samek's permanent collection, wall text with related questions, and responsive chalk wall. 
I interviewed several museum employees and visitors as I considered the overall success of this show, and one common critique described the gallery space as a bubble: separate, anodyne, and ineffectual outside its prescribed boundaries. Though the show did succeed in bringing in a number of students unfamiliar with the gallery space, its reach did not extend beyond the museum's walls. Perhaps that's an inevitable outcome of the kind of audiences art exhibitions generally engender. However, there are already administrative whispers that suggest our exhibitional framework has come under the curious eye of other academic galleries and college campuses. The potential conceptual reach of such a show speaks to its latent impact on this campus, so who knows? We may see a surge in social practice-inspired shows spring up around us in the coming years.
Ultimately, the show's intent was to "explore how diversity, inclusion, and unity function at this moment in American history." It intended to provide an unbridled canvas to express whatever was on the visitor's mind, and to find solidarity through the creative act in an otherwise intensely divisive climate. Despite its occasional ambiguity, when I scroll through the images, watch videos of the performances, and listen to the sound pieces, I see a well-rounded snapshot of our university's culture and its relationship to the larger community, reflective of this specific moment in time.