While most museums only allow service animals near their precious collections, some museums hire animals to do the jobs that humans cannot. The Museum of Fine Arts in Boston recently welcomed Riley, a three month old Weimaraner puppy who will be trained to sniff out possible collection-damaging pests. Bugs, rodents, and mold can cause serious harm to collection objects, and detecting such small threats in large storage areas can be challenging for human staff members, who rely on their eyes to look for signs of damage and infestation. Dogs like Riley can use their nose to sniff out the "bad guys" before busy museum staff members might have noticed, keeping the collection safe and making museum staff photos a lot cuter!
Riley won't be spending much time in the public eye — most of his work will take place in storage areas, outside of the galleries. But the museum has learned that visitors love a cute puppy, and have promised plenty of press events for visitors to catch sight of their newest team member.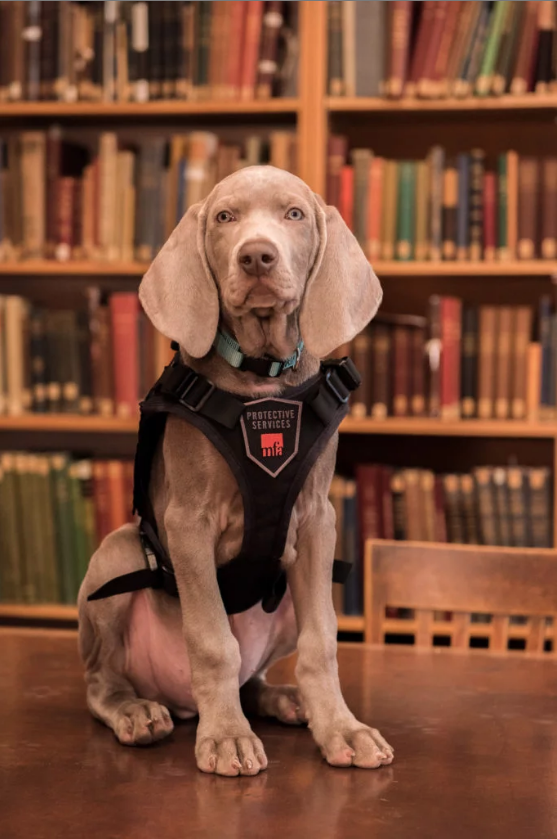 The MFA Boston is not the first museum to employ a four-legged friend; the basement of the Hermitage Museum in St. Petersburg, Russia is home to 74 cats, a tradition that started in the 18th century when Elizabeth of Russia requested cats to control rodent populations in the museum. The museum has since embraced the tradition, hiring full-time volunteers to help care for the cats, and adopting out some of their felines to loving homes. While the cats spend most of their time lazing about with staff members, they are still officially tasked with pest control.
Much like Riley, the cats are not often seen by members of the public. They spend most of their time in the basement, which is only open to staff members. But, as anyone with a cat knows, they can be sneaky and occasionally one will wander into the galleries, to the delight of visitors!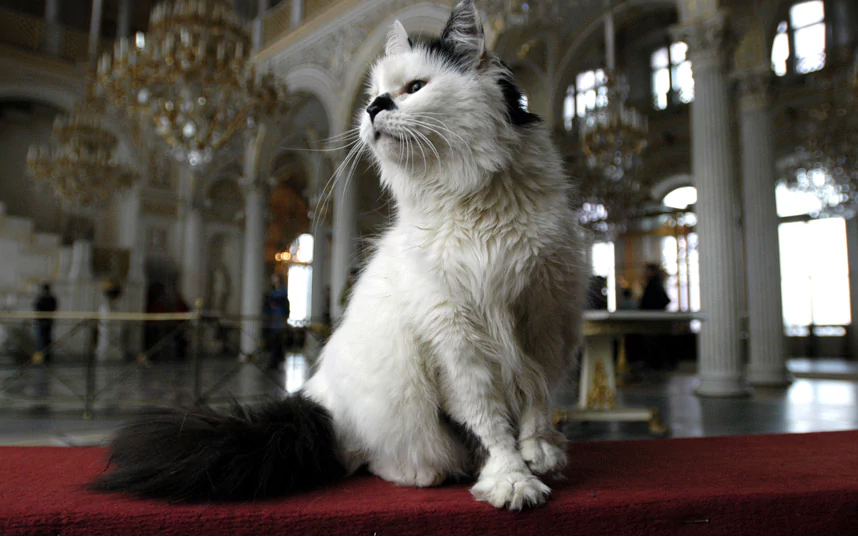 While it may seem unusual to have animals in the galleries, as they themselves might bring in pests and dirt or, possibly, cause damage from scratching and gnawing, museums in the early twentieth century took advantage of dog's natural guarding instincts. The Museum of Modern Art (MoMA) utilized a guard dog in the 1930s. He was trained to survey the galleries while closed at night. News of the dog spread quickly, making headlines in national newspapers. But Don, a German Shepherd, did not stay in the position long. Within one short month he became so friendly toward strangers as to be useless as a security measure. It was reported that Don was to be re-trained before resuming his duty, but little is known about what happened to him after his change of heart. Perhaps, like the Hermitage cats, he was simply left to nap amongst the beautiful collection.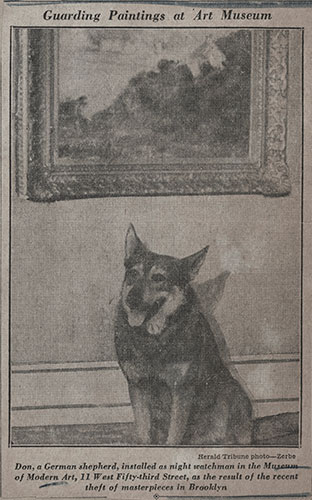 -Theresa Engelbrecht, Museum Fellow at The Samek Art Museum
_____________
To read more about:
The Museum of Fine Arts Boston's new puppy