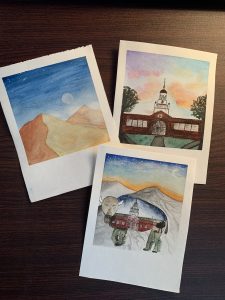 I am a current Junior at Bucknell (Class of 2021), and I have attached a photo of some polaroid-style watercolor paintings I recently completed.
I saw the idea of painted polaroids and I thought it was a fun little project while I'm inside. I have always treasured the classic Bucknell sunset and I have so many pictures from the quad of the sun setting over the mountain, so I wanted to recreate that feeling with these (plus another sand dune just for fun). I have loved seeing everyone's projects on the community art wall –  I think it is a fantastic idea.
Stay strong, Lewisburg, and I can't wait to see you again soon!