With many of us spending far more time at home, those of us with dogs have spent a great deal of time with our canine companions! The Samek Art Museum is home to its own hounds. Here are just a few artworks in our collection that feature dogs, and some fun activities inspired by them.  When you are done remember to upload your creation along with the inspiration image to our community art wall! 
The Samek has Gone to the Dogs Inspired Activities
Activity: Your Dog as a Masterpiece!
Inspiration Image(s):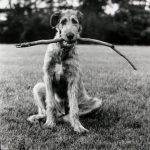 Take a look at the artworks above which each feature one or more dogs!
Select an artwork to recreate
Gather supplies from around your home, and then ask your canine best friend to join you! Don't have a dog? Feel free to use a stuffed animal or another pet!
Arrange the items and pose your dog to match the artwork.
Snap a photo!
Activity: What Was I Thinking?
Inspiration Image: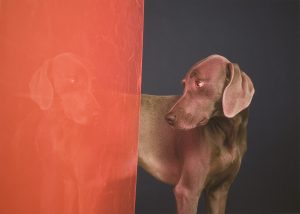 William Wegman
Portugal, 2005
Pigment print photograph
Gift of Judith Marvin
Samek Art Museum Collection,
2008.59
1. On a blank piece of lined paper, create a narrative about what the dog in the image is thinking.
2. Look at the dog's facial expression and take a guess.
3. Click on any of the images to enlarge them and check for any clues to help create your story.
Samek Coloring Sheets
Click to download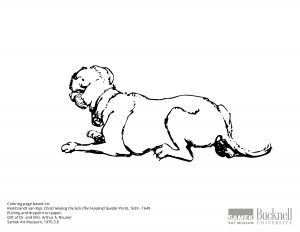 The Samek has Gone to the Dogs Crossword
Click to download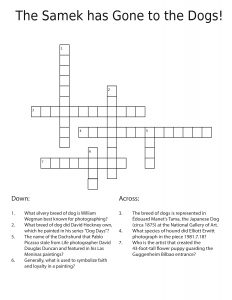 Below are some artworks from our collection for you to view.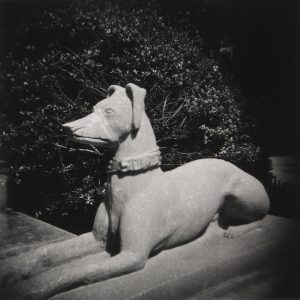 Jenny Lynn
Stone Dog, 2000
Gelatin silver print on paper
Gift of Douglas '84 and Ellen Smith
Samek Art Museum Collection,
2004.7.6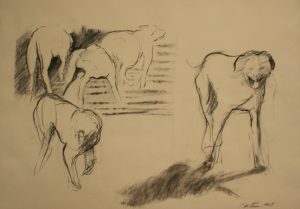 Don Cortese
Canidae, Animals of the Dog Kind, 1967
Charcoal on paper
University Purchase
Samek Art Museum Collection,
1968.3.3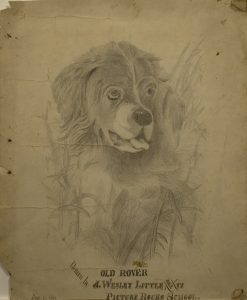 John Wesley Little
Old Rover, 1884
Pencil on paper
Gift of Jean Edkin Little '28
Samek Art Museum Collection,
1988.10.34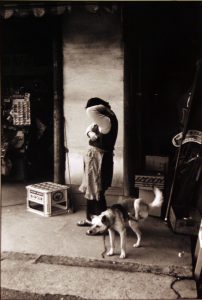 Elliott Erwitt
Dog and Woman, n.d.
Gelatin silver print on paper
Gift of Raymond Merritt
Samek Art Museum Collection,
1980.3.18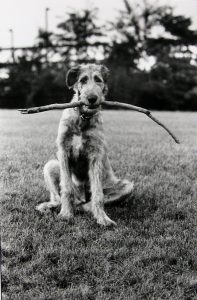 Elliott Erwitt
Irish Wolfhound with Stick, 1971
Gelatin silver print on paper
Gift of Mr. Robert Sutner
Samek Art Museum Collection,
1981.7.18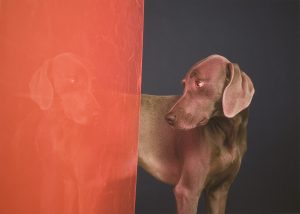 William Wegman
Portugal, 2005
Pigment print photograph
Gift of Judith Marvin
Samek Art Museum Collection,
2008.59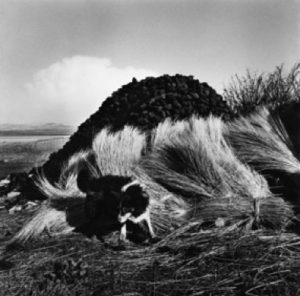 Alen MacWeeney
Sheepdog and Turf, Bloody Foreland, Donegal, 1965
Archival pigment print
Gift of Douglas and Ellen Smith
Samek Art Museum Collection,
2015.3.2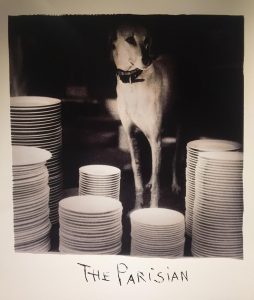 David Seltzer
The Parisian, 1988 (Capture date) 2014 (Print date)
Archival Pigment Print
Kevin and Delia Willsey
Samek Art Museum Collection,
2016.11.7