In the early planning stages of "What You Think You Know", set to open March 14th, 2023, I wanted to include the story of Zitkála-Šá  (Zit-ka-la-Sa) and the Sun Dance Opera in a section of the exhibition that focused on performance, music, and tradition-reclamation. But after talking to my co-curator Sierra Nizhonii Pete (Diné (Navajo)), who urged me to focus on more contemporary stories, Zitkala-Sa's photograph and her story were cut from the exhibition checklist. The Sun Dance is a very sacred ceremony, and there's a great deal of contextual knowledge surrounding it and its historic significance. We were concerned that we would get too focused on the details and in our attempt to explain both the ceremony and its importance, that visitors might get lost. 
That doesn't mean her story isn't worth sharing. 
 Zitkála-Šá (Red Bird/ Gertrude Simmons Bonnin) (Yankton Dakota Sioux) was born February 22, 1876 on the Yankton Indian Reservation in South Dakota.
At eight-years-old, Quaker missionaries recruited her for the White's Indiana Manual Labor Institute, a boarding school in Wabash, Indiana. It was here she was given the missionary name Gertrude Simmons. Though she found great joy in learning to read, write, and play the piano and violin, she experienced great grief and pain in losing her heritage by the forced assimilation and the cutting of her hair. In her autobiography, Zitkála-Šá stated that she hid from Institute staff, but upon finding her, they tied her to a chair and cut off her braids. She later wrote that staff didn't care about the children's feelings and treated them all like "little animals."
After returning to the Yankton Reservation in 1887 over a school break, she felt that she no longer belonged there after her time at the Institute, so she returned to the institute to further her education, graduating in 1895. For the next two years she studied at Earlham College in Richmond, Indiana before transferring to the New England Conservatory of Music in Boston to study violin, becoming the first Native American to do so.  
In 1899, she taught music at the Carlisle Indian Industrial School in Carlisle, Pennsylvania. The following year, the School sent her back to her reservation for "recruitment" purposes, only to find her community living in deep poverty while white colonists lived on reservation land. She later learned that the government paid the school for every child successfully removed from reservations, realizing that the schools were created for cultural erasure. Zitkála-Šá returned to Carlisle and began writing and producing works that portrayed Lakota people as generous and loving, actively fighting stereotypes in the mainstream that were used in arguments supporting assimilation. The curricula at Carlisle promoted the domination of Anglo-American culture over Native traditions, adding fuel to her fire. Her literary works were deeply critical of the boarding school system and were published in major magazines, such as Atlantic Monthly and Harper's Weekly; her writing got her fired from Carlisle in 1901 after "The Soft-Hearted Sioux" was published in Harper's.
She found work back on the reservation with the Bureau of Indian Affairs (BIA); she met her husband through the BIA, Captain Raymond Bonnin, and they would marry in 1902. For the next fourteen years (1902-1916), they were assigned to the Uintah-Ouray Reservation in Utah. 
In 1910, she met William F. Hanson, a professor of music at Brigham Young University. Hanson and Zitkála-Šá worked on the Sun Dance Opera for the next three years. She wrote the libretto (the text of the opera) and the songs for the story, while Hanson wrote the score. The songs were based on the sacred ritual that was federally outlawed from 1904 to 1978. This opera was the first of its kind and allowed Zitkála-Šá to bridge her worlds through music. The Opera premiered in February 1913 at Orpheus Hall in Vernal, Utah and performed by members of the Ute Nation who lived on the Uintah-Ouray Reservation.
In 1911, she joined the Society of American Indians whose purpose was to preserve traditional Native American culture and lobbied for full American citizenship. She became the Society's secretary in 1916 and grew more and more vocal against the Bureau's policies and practices of forced assimilation, particularly by reporting child abuse at boarding schools; her husband was fired from the BIA that same year and the family moved to Washington, D.C. where she continued her work with the Society. She edited their journal and lectured across the country promoting the preservation of Native cultural and tribal identities, criticizing assimilation, and advocating for citizenship. She argued that as original occupants of the land, Native Americans needed to be represented in the government in the same way that white society could vote representatives into office.
She and her husband founded the National Council of American Indians in 1926, an organization that worked to unite tribes across the United States to gain suffrage for all Native peoples as the federal Indian Citizenship Act (1924) didn't guarantee the vote for Native Americans. She served as president, fundraiser, and speaker of the Council until her death on January 26, 1938.
She is buried with her husband in Arlington National Cemetery.
 The Sun Dance Opera premiered in New York in March 1938 at the Broadway Theater performed by the New York City Light Opera. Hanson received all public credit, with no mention of Zitkála-Šá; there is no mention of her in the Library of Congress record for the work, either. The Sun Dance Opera was not well-received and ill-reviewed.
 Through her work as a writer, political activist, teacher, and musician, Zitkála-Šá created crucial changes to education, health care, and legal standing for Native peoples and the preservation of Native culture and tradition. Her work helped lay the foundation for the activism of the 1960s and 1970s with the Red Power and American Indian Movements which fought against systemic issues of poverty, discrimination, and police brutality, while fighting for self-determination (the ability for Native peoples to make policies and programs for themselves and maintain and control their own land and resources).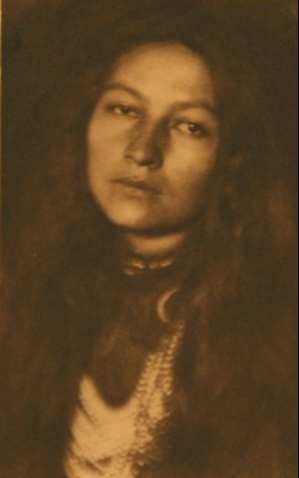 Joseph T. Keiley
Zitkala-Sa, 1898
Photogravure on paper
University Purchase
2007.33
Sarah Hixson (she/her) is the Museum Fellow for the 2022-23 academic school year. She is an artist, educator, and emerging curator from Selinsgrove, PA. In 2018, she received her B.A. in Art History from Susquehanna University, and her M.A. in Indigenous Studies from the University of Kansas in 2020. She co-founded Gallery Talk, a blog centered on connecting museums and society, and a small art business in 2020. Her scholarly and professional focus lies within the intersections of museum work and social activism, which includes repatriation, decolonization, and complicating historical narratives.