Downtown Gallery
October 24–February 11, 2018
This exhibition of sculpture and interactive artworks by artist Sidney Mullis playfully and incisively explores coming-of-age in a gendered society. Mullis' works break down social conventions into their component forms and behaviors and uses those raw materials to imagine something new.
Related Events:
Roundtable Conversation with Sidney Mullis and Erica Delsandro:
Wednesday, November 29, 6pm
Iron Front Cowork Space, 434 Market Street, 3rd Floor, Lewisburg
Artist Sidney Mullis and Professor Erica Delsandro, of Bucknell's Women's and Gender Studies Department, will host a roundtable discussion around themes from the show Who is Puberty and How Does She Hit? Come hear Sidney and Professor Delsandro discuss the construction of  gendered identities in a digital age. A reception in our downtown gallery to follow.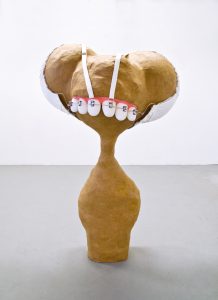 Sidney Mullis, Bra-ces, Bra-ces, 2016.
The Samek is currently seeking applications for a Museum Guide casual position, to work during university breaks and on an as needed basis. Duties include opening and closing museum spaces, monitoring the galleries during public and private events, and acting as a point of contact for our visitors.
The Samek Art Museum is a program of Bucknell University that creates meaningful encounters between artists, students, scholars, the public, and works of art. These encounters occur in the Samek Gallery, the Downtown Gallery, the Collection Study Room, and across campus in pop-up exhibitions and permanent art installations. Presenting visual fine art in critical contexts consistent with Bucknell's high academic standards, the Museum challenges students and extends the intellectual life of campus in an informal lifelong learning environment.
Application Deadline: Monday, August 21. Submit cover letter, resume and daily availability to Andy Gabrysiak / atg010@bucknell.edu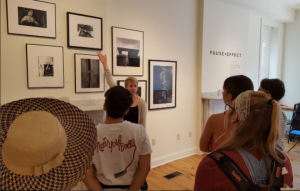 Main Gallery
August 8 – December 3, 2017
Drawing on the visual languages of Middle-Eastern and European cultures, artist Laleh Mehran creates a room-sized immersive and interactive multimedia installation. This installation invites viewers to consider the process in which we form our identities, ideologies, and allegiances and the rituals we perform to sustain them.
The images and materials of this work, the space of the installation, and its interactive behavior all offer different ways to model the formation of power structures. The arabesques, the tulip motif, and the heraldic crests comprise images that have been used to define historic ancestral identities from across the Middle East and Europe. The position of the viewer in the space, outside the small cube but inside the larger cube of the gallery, prompts us to consider the inside/outside binary that defines so many ideologies and identities. The projected avatars respond to the viewers' presence and movement in the gallery, signaling our relationship to the Other. Lastly, the viewer is invited to partake of an elemental resource of the exhibition in a social affirmation ritual (please see the Museum Guide.)
This work invokes the history of art as well as global culture, from the participatory interactions of Felix Gonzalez-Torres' works to Shirin Neshat's use of the confrontational gaze. This work reveals the shared language of material, objects, ritual, and images to art and to cultural identity. Bringing together these relevant social themes and artistic references, this works seems to ask whether identity, ideology, and allegiance are ultimately aesthetic choices.
Related Events:
Opening Reception:
Wednesday, September 6, 7pm
Samek Gallery, top floor, Elaine Langone Center
Join us in celebrating the opening of Inherent Control Cyphers and the beginning of the new semester.
Artist's Talk:
Friday, October 20, 6-8pm
Gallery Theater, top floor, Elaine Langone Center
The Samek Art Museum will welcome artist Laleh Mehran to our main gallery where she will unpack the depth of history and research behind her immersive, multimedia installation Inherent Control Cyphers. A reception in our main gallery will follow.