April 11 – 30
Samek Gallery, 3rd Floor, Elaine Langone Center
Presented in partnership with the Art and Art History Department, this exhibition showcases culminating work by graduating senior Art majors and Art Assistants.
—
Featuring the work of 6 graduating studio art majors and 3 assistants in the Department of Art and Art History, this exhibition is a study of the facade in all of its facets. Whether referencing the slick veneer of human artifice, or the cultural implications of brick and mortar, these nine artists approach the theme broadly, using a range of mediums.
At one moment, we are recipients of the quiet solace provided by thoughtful consideration of surface and material in works of formalist sculpture. At another moment, we are forced to confront the sense of fear and alienation induced by the physical spaces in our environment. A video piece reminds us of the body as an outer shell, linked to inner consciousness by an unsteady bridge built by personal experience. One artist illustrates the immaterial nature of facades as the shifting veils of human emotion through a display of layered transparencies, while another emphasizes the material, finding the cultural significance of a place embedded in the tangible objects found there. In this space, walk among miniature walls and consider the political ideologies which build massive ones. Join us as we share secrets, revealing truths concealed by daily deception.
Related Events:
Opening Snap Talks and Reception
Friday, April 14, 6 pm
Gallery Theater, 3rd Floor Elaine Langone Center
In partnership with Bucknell's Department of Art and Art History, graduating seniors will present their work. A reception follows in the Samek Gallery.
The Gallery Engagement Team Presents: Spring Gala
Friday, April 21, 7 – 8:30 pm
Samek Gallery, 3rd Floor Elaine Langone Center
The Samek's student organization, the Gallery Engagement Team, is throwing its spring gala at the Samek in celebration of the Annual Student Art Exhibition. This event is for students, by students.
"facade (/fəˈsäd/):
noun
the face of a building, especially the principal front that looks onto a street or open space.
an outward appearance that is maintained to conceal a less pleasant or creditable reality.
Whether we like it or not, facades surround us from the moment we wake up in the morning to the moment we close our eyes at the end of the day. Sometimes defined as "the front of a building", facades are also created by humans to temporarily fill internal emptiness, avoid judgement, or gain the public's acceptance. They come in many forms, and are desirable for the protective wall they form around one's emotions. Facades explores the meaning of its namesake through figurative black and white photography that attempts to capture something beyond the image presented. These figures are masked, disguised, covering their faces in some way. What might they be hiding? We hope that you are able to reflect upon your own facades throughout the exhibition, and question what might happen if those walls that are so easily built suddenly came crashing down."
Works in the study gallery were chosen from the Samek Collection by the Gallery Engagement Team. Curation inspired by the Senior Art Show, "Facades".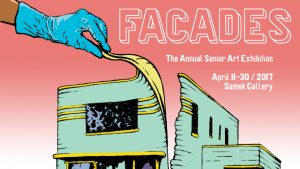 Exhibition checklist and Artist Statements
Our Tuesday's Objet series (pronounced "OB-JAY" from the French word for "object") intends to highlight pieces on display outside the physical confines of our gallery spaces, to draw attention to the art that surrounds us on a daily basis.
Today we're headed to the 3rd floor of the biology building. In the student lounge, to the right both entrance doors, lives Web, an oil painting by Rosalyn Richards.
Richards received her BFA from the Rhode Island School of Design, and her MFA from Yale University School of Art. She taught drawing and printmaking at Bucknell from 1982 to 2014. We have a multitude of her work in our permanent collection, and Web specifically was included in a recent exhibition curated by our Gallery Engagement Team.
Richards explores the inner world of natural elements and processes through painting, printmaking, and drawing. She's inspired by images culled from scientific disciplines such as biology, particle physics, satellite photography, biotechnology, radiology, and geological survey maps. Her work engages with our understanding of the natural world, a perspective that is largely mediated by technology. She describes her images as "metaphors for the human impulse to search for hidden meaning within… natural structures."[1] At first glance, Richards' work reads like an abstracted canvas in rich greens and blues. Looking closer, the saturated color palette juxtaposes organic forms in a collage-like manner. They are definitely reminiscent of organic structures like coral or webbing.
Richards' creative impulses reminded me of a class I took in graduate school, which paralleled the rise of empiricism in the early modern period with its visual depictions in prints. The class's theoretical framework focused on the epistemological shift of the practice of observation. Prior to the early modern period, observation was considered an anecdotal process, something associated more with divination than science. But, with the invention of the telescope and the microscope, we were no longer limited to what our naked eyes could sense. Whole worlds opened up, from the cosmic to the microscopic. Eventually observation was intertwined with experiment, as a fundamental component to scientific inquiry. With the aid of sense-enhancing instruments, this symbiotic pairing yielded a plethora of scientific discoveries, from Galileo's recording of the moon's surface to the beginnings of cell biology. I link Richards' interest in making the invisible visible to the inevitable reverberations of this larger culture advancement.
If you'd like to know more about Rosalyn and her work, check out her website. If the intricate history of observation intrigues you, check out this book, which was the epistemological backdrop of the course I took.
[1] "Artist Statement," Rosalyn Richards, accessed November 11, 2016, http://www.rosalynrichards.com/artist-statement/.
Our Tuesday's Objet series (pronounced "OB-JAY" from the French word for "object") intends to highlight pieces on display outside the physical confines of our gallery spaces, to draw attention to the art that surrounds us on a daily basis.
My thin Florida skin still shrinks from the customary winter chill, but I was determined to explore a piece of public sculpture on campus this week. Seven Generations, by artist/writer Frederick Franck, can be found just off 7th street, between Kress Hall and the Career Development & Human Resources building. It is a series of 6 figural outlines in steel, graduating in size, and painted black. They are spaced so that, when looking at the sculpture head on, each figure visually encases the smaller figure behind it.
Dr. Frederick Sigfred Franck (April 12, 1909 – June 5, 2006), was a painter, sculptor, and author who was deeply passionate about human spirituality. He was born in The Netherlands, trained as a dental surgeon, and became a United States citizen in 1945. From 1958-1961, he operated a dental surgery office with the Nobel prize winning humanitarian Dr. Albert Schweitzer in West Africa. His sculptures are in the collections of the Museum of Modern Art, the Whitney Museum of American Art, the Fogg Art Museum, the Tokyo National Museum, and the Cathedral of St. John the Divine. Perhaps his most well known creation is the sculpture garden/park/meditative space adjacent to his home in Warwick, New York, called Pacem in Terris, which is Latin for "Peace on Earth." Franck dedicated the park to Dr. Schweitzer, as well as to Pope John XXIII, and D.T. Suzuki, all of whom he valued as mentors. More than 70 of Franck's works are exhibited there, and it is currently run by a non-profit foundation.
A small plaque at the base of the largest figure of Seven Generations reads, "In all our deliberations we must be mindful of the impact of decisions on the next seven generations – From the Great Law of the Six Nations Iriquois Confederacy." Franck was inspired by the Constitution of the Iroquois Nations, part of which encourages a future-centric ethos, formatting it specifically within an environmental context. In a letter to the University, he wrote, "I am delighted that my Seven Generations will be on the Bucknell campus and that it may sharpen the awareness of students of our responsibilities to the generations to follow ours and to the earth itself. It may even last as proof to our successors, struggling with the tribulations we bequeath to them, that at the end of the twentieth century some of their predecessors were not unconcerned with this heritage."[1] The piece's dedication, in February 1992, was scheduled to occur in conjunction with a forum on the "Environmental Imperative," initiated by then University President Gary Sojka.
Originally, the sculpture had 7 figures. The smallest was an image of a human fetus, affixed to the sixth section. Unfortunately, within a month of its dedication, the fetus figure and the explanatory plaque vanished. At the time, faculty members and students were upset, claiming the thefts as acts of violence against Native Americans. However, rumors circulated that the sculpture advocated a pro-life stance, and a series of university-wide debates ensued. Though eventually returned, both components would go missing again, and while the plaque remains, the image of the fetus does not.
Recently, the sculpture briefly came to our attention again; earlier this year persons unknown adorned the figures with pink pussy hats. They've since been removed (again by persons unknown), but it is interesting to note that this sculpture continues to be a stronghold for political and civic expression.
[1] Dr. Frederick Franck, letter to Dr. Robert Metzger, January 20, 1992.