The Samek is currently seeking applications for a Museum Guide casual position, to work during university breaks and on an as needed basis. Duties include opening and closing museum spaces, monitoring the galleries during public and private events, and acting as a point of contact for our visitors.
The Samek Art Museum is a program of Bucknell University that creates meaningful encounters between artists, students, scholars, the public, and works of art. These encounters occur in the Samek Gallery, the Downtown Gallery, the Collection Study Room, and across campus in pop-up exhibitions and permanent art installations. Presenting visual fine art in critical contexts consistent with Bucknell's high academic standards, the Museum challenges students and extends the intellectual life of campus in an informal lifelong learning environment.
You can find more information on the position and apply by going to the Bucknell Careers page and searching for "Samek Art Museum Guide."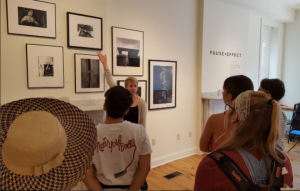 Downtown Gallery
June 27 – October 1, 2017
WWAD is an installation of war shirts that celebrate her-stories of seven warrior women from the African Diaspora. Lovell has used the traditional silhouettes of African warrior/hunter shirts as canvases, on which to handcraft cloth with surface embellished details that symbolically honor and protect each woman as a response to the battles she fought.
Related Events:
Opening Reception
Friday, June 30 6 pm
Downtown Gallery
Join Museum Fellow Laura Libert as she introduces her second curated show. Light bites and refreshments by That Kitchen Witch.
Artist's Talk
Thursday, September 21, 6-8 pm
Iron Front Cowork and Downtown Gallery
Meet with WWAD artist Precious Lovell at the Iron Front Cowork space to learn more about her work, and join us afterwards for a reception in the downtown gallery.
Precious Lovell: Warrior Women of the African Diaspora Gallery Guide
Installation views:
Course Title: Art, Museums, and New Media
Instructor: Richard Rinehart, Director, Samek Art Museum
CRN: 19693
Semester: Fall 2017
Time: Weds. 2:00-4:52pm
Location: 301 ELC
This course explores the impact of new media and networked society on art and museums in the 21st century. The course introduces students to the professional practices and functional areas of art museums (exhibitions, education, collections) and to institutional changes driven by new digital art and contemporary culture.