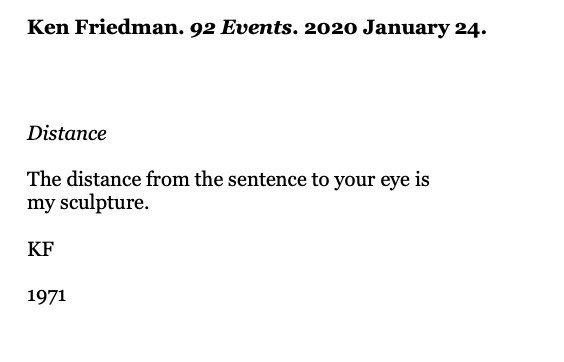 About:
From conceptual artist and previous director of Fluxus-West, Ken Friedman, this body of work comes from a time when artists around the globe struggled to free themselves from the idea of the artwork as a unique object and the idea of the artist as a genius.
Curatorial Text:
"Imagine a Life. Live it."
Ken Friedman, Centre Piece, 2003
Ken Friedman: 92 Events offers a window into the career of artist, theorist, and historian Ken Friedman, and through it, a view onto one of the strangest art movements of the twentieth-century: Fluxus. Born in New York City in the late 1950s from the ashes of Dada and in the wake of Abstract Expressionism, Fluxus aimed to reconnect art and life, with the utopian aspiration of using the former to make the latter more beautiful and more joyous. Lithuanian emigré, George Maciunas coined the term after witnessing (and participating in) a number of performances inspired by the infamous composer John Cage. Cage's 4 minutes and 33 seconds, first performed by pianist David Tudor in 1952 set the tone for Maciunas and others who wished to turn our ideas about art upside down and inside out. Tudor's instructions were simple: sit at the piano's bench, silently, for 4 minutes and 33 seconds. The music heard by the audience that evening consisted not of strings stuck by the piano's hammers, but of the ambient noises in the performance hall. The Fluxus artists who followed Cage took the idea and ran with it.
Friedman's 92 Events exemplify the Fluxus spirit from the very earliest of his scores (some of which were composed when he was just 7 years old!) to his last. By including among his oeuvre works that were not at the time recognizable as art (they were simply things little boy Ken did for his own pleasure), 92 Events makes the case that art and life become one at those moments when we abandon our insistence upon thinking of them as separate in the first place–that is, when we treat art with the purposiveness of life and life with the playfulness of art.
Exhibited Works:
Installation Images: