The Samek Art Museum is dedicated to providing valuable museum learning opportunities and operational experience to our students. The Samek Art Museum offers paid positions for students to serve as Museum Guides.
Museum Guides are trained to lead visitors through our permanent collection and special exhibitions. Each Guide is trained to greet and offer resources to our audiences. In addition, these Guides serve as gallery attendants, responsible for monitoring our spaces and securing the safety of our exhibitions. If you would like to be considered for the position of Museum Guide, please contact Tilton Widro (tmtw011@bucknell.edu) or stop by the museum and ask about the positions.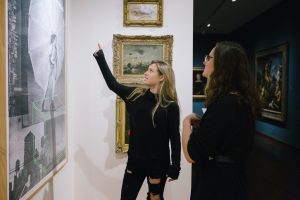 Student Museum Art Club (S.M.A.C)
The Student Museum Art Club at Bucknell University is a volunteer student group devoted to creating awareness and advocating community involvement with the campus' Samek Art Gallery. S.M.A.C members work closely with the Samek Art Museum Director, Richard Rinehart, as well as other members of the staff, to promote gallery exhibitions and events. The group is also in contact with many other student organizations, encouraging the use of the gallery as a unique space for art-related or unrelated events.
Interested in joining? Contact Tiffany Demmon (td011@bucknell.edu) to learn how!