This summer I am working as the Marketing Intern for The Shakespeare Theatre of New Jersey in Madison, New Jersey. As a high-school member of the Senior Corps- an actor-training program of the Shakespeare Theatre, I was familiar with their internship program. As I approach my senior year as a Bucknellian, I was exploring ways to spend my summer that could merge my passion for theatre and acting, with Marketing and PR. Although I have only been here for two weeks, the experience has been wonderful and I've already learned more than I thought possible.
Since joining the Shakespeare Theatre I have been exploring the "ins-and-outs" of their Marketing Department. I have been writing press releases, creating press packets, planning an approach to partner/advertise with local businesses, in addition to expanding my knowledge of Adobe Photoshop and InDesign. I will also be creating a weekly newsletter for the company- The Weekly Willie, which will highlight special performances and news stories at the theatre.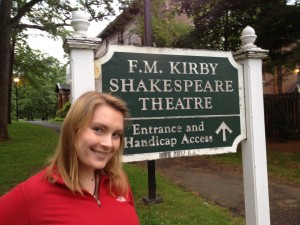 One of the biggest surprises since beginning my internship is witnessing the amount of work that extends beyond the stage. These plays wouldn't happen if not for the network of dedicated individuals running the show backstage. I am working alongside the head of marketing and the graphic designer, but I also work with our other departments for certain projects.  Because of this, I'm learning how to work as a collective team to achieve overarching goals set by the theatre.
The Shakespeare Theatre stresses education in everything it does, and runs many educational programs to teach young professionals about the theatre business. These programs are for actors, people interested in business, and those just want to understand the shows, production, and educate audience members.
This has been a wonderful summer internship so far, and while it is very demanding I know that my hard work will be worthwhile. I will leave this program knowing a great deal more about marketing, PR, and graphic design. I look forward to putting these skills to good use as I prepare to begin a semester long internship with the Samek Art Gallery at Bucknell University.
Currently being performed on the Main Stage is William Shakespeare's Henry IV, which opened this past Saturday, and the Outdoor Stage will host the production of Shakespeare's The Comedy of Errors, previews begin on June 20.
– Katrina Hefele
For more information on The Shakespeare Theatre of New Jersey, visit: Shakespeare Theatre of NJ