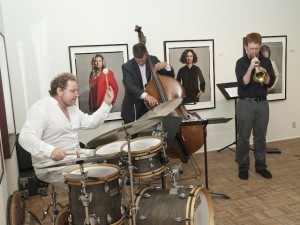 On August 24th, in conjunction with Arts Everywhere 2012, the Samek Art Gallery will host The Gallery Series featuring the Barry Long Trio, jazz ensemble.
The Gallery Series, a public program of experimental and performance art was designed by Assistant Professor of Music, Barry Long as part of his commitment to fostering new audiences for contemporary music. Over several years, The Gallery Series has continued to grow as an ongoing string of "pop-up" campus performances.
I'm thrilled to help reintroduce the Gallery Series back into the space for which it was initially conceived.  Look for music related to the Samek's fall show during our Arts Weekend performance, as well as a special appearance by new faculty member Paul Botelho who will be appearing on the Gallery Series later this year.
Director, Richard Rinehart of the Samek invited the musical series to return the gallery in honor of the fall exhibition, "Dusk to Dusk: Unsettled, Unraveled, Unreal." This event illustrates the aim of the Arts Everywhere festival: An integration of the arts into a wider community audience and enhance the visibility of all arts on campus.
The Barry Long Trio will perform in the main gallery (located on the Third Floor of the ELC, at Bucknell University) on August 24th during a public reception from noon to 2:00pm. This is a free event.