The show must go on! Please join the Weis Center for Performing Arts at Bucknell University for their FREE live music event tonight, October 30th featuring Theremin musician, Rob Schwimmer. The event will take place in the lobby of the Weis Center at 7:30pm.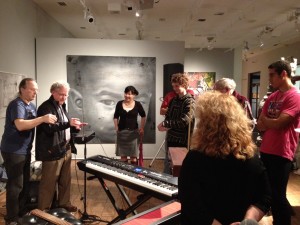 Tonight's Weis Center performance marks the mid-way point of Schwimmer's three-day residency with Bucknell University. Schwimmer has been a guest speaker for various BU classes (shown, left), musical training seminars and hands on teaching workshops for Bucknell's "First Year Seminars" for freshmen. Taught by Gallery Director, Rick Rinehart and Weis Center Director, Kathryn Maguet, the FYIS series focuses on exploring the Arts and interdisciplinary fields offered at Bucknell as young students explore future career paths.
Schwimmer will also be featured at the Samek Art Gallery tomorrow, October 31st during our public reception for the chilling exhibition, Dusk to Dusk: Unsettled, Unraveled, Unreal. The reception will take place from 5-7 pm and feature Schwimmer's hauntingly beautiful sounds on the Theremin.
Leave Sandy behind you and join us for two nights of the visual and performing arts at Bucknell University.
For more on Schwimmer at the Weis Center for Performing Arts, visit: Weis Center Events
For more on Schwimmer's appearance at the Samek Art Gallery, visit: Dusk to Dusk Reception feat. Rob Schwimmer