The Art Galleries at Bucknell University are pleased to unveil the Spring 2013 Exhibition Schedule!
Jim Campbell: At the Threshold
January 16 – March 24
Campbell's custom electronic sculptures and installation have made him a leading figure in the use of computer technology as an art form. Campbell combines traditional media, such as video, with his own inventions. He is expanding video in particular, as medium, using it to posit questions about time, memory, and perceived reality in the vocabulary of the electronic age or perhaps, more accurately, the post-electronic age. He welcomes viewers for whom the silent, static work of art is often no longer engaging, employing methods of communication familiar to people who grew up not only on television, but on Nintendo and the Internet. He is on the forefront of interactive work. Yet Campbell does not limit his viewership to the children of cyberspace. His work has a timeless quality in its ideas, its conceptual concision, and its apparent simplicity.
Anna Kell: Pentimenti
January 16 – March 22
What does nature look like in your living room? Are there flowers on the couch, butterflies in the wallpaper or seashells on a lamp? Artist Anna Kell asks us to consider how nature is depicted in our homes and question what that means. After a more traditional start painting images of nature as she saw it, Kell began to question this idea of "nature." Rather than looking at reflections of herself in the way a rock eroded or a plant grew, she realized that the unnoticed representations of nature in everyday objects might have something to say about society in general. "I am looking at these objects from almost an anthropological point of view," she says. "I am assuming that if I examine them in a certain way, they will tell me something about the culture in which they are made."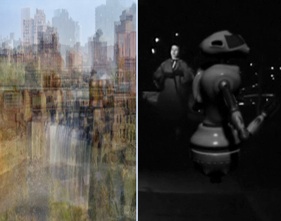 Makeover
April 10- June 30
The Downtown Art Gallery
Elliot Anderson is an artist working with interactive technologies, curator, educator and software engineer. He has been involved professionally in the field of computer technology since the early 1980's. Working as an engineer he developed interactive computer graphics for flight simulation, medical technology, cartography and industrial use. He is currently an Assistant Professor of Art and directs the Electronic Media program at the University of California Santa Cruz.
Bill Domonkos is an experimental filmmaker and video artist. His work combines computer animation, still photography, live footage and manipulated archive film footage. His work has been broadcast and shown internationally in cinemas, film festivals, galleries and museums.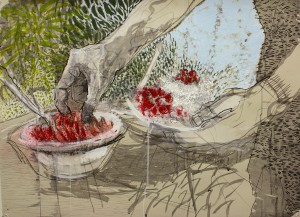 Splintered: The Annual Student Exhibition
April 8- April 30
The Samek Art Gallery
Works in sculpture, video, painting, and printmaking by seven senior undergraduate and three graduate art students at Bucknell University. Instructed by Assistant Professor of Art, Anna Kell. This year's Annual Student Exhibition is curated by the Samek Art Gallery's Graduate Assistant of Curatorial Studies, Alex-Rae Campbell.