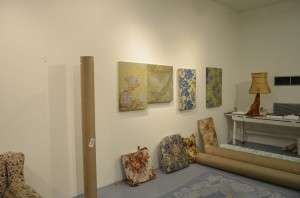 In preparation for her upcoming solo exhibition at the Downtown Art Gallery, Pentimenti, Anna Kell invited the Samek Art Gallery's Operations Manager Pam Campanaro and myself to her studio space yesterday afternoon.  During the meeting, the three of us enjoyed the peaceful seclusion of Kell's studio- located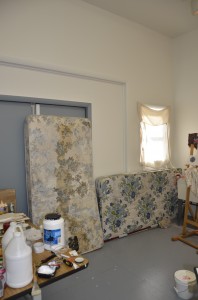 behind the art barn- and discussed layout ideas for Pentimenti.  So without giving away too much, envision painted box spring covers from discarded beds suspended between the fireplace mantels or an installed living room that is painted to blend into its surroundings.
In addition, we also brainstormed programming options that would draw the public and campus into the exhibition once it's installed.  While still in the administrative works, how does scouring Lewisburg or the local dump for found objects sound?  Perhaps not everyone would be into making a found object pilgrimage, so for those of you who don't want to get your hands dirty we are also attempting to implement two focus groups.  One with Kell's students and one with a community group, where participants would paint on textured items found in the home, i.e. quilted paper towels, oven mitts, wallpaper or carpet samples, etc.