Oct 5, 2013 – Mar 2, 2014
Downtown Art Gallery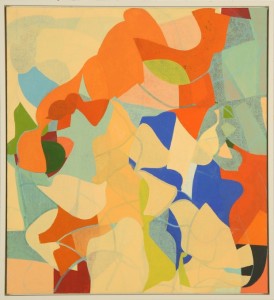 This exhibition will feature five major paintings and two to four works on paper by five prominent Pennsylvania artists. These artists incorporate a love of the process of painting with an interest in design, landscape, science and biology. Their painting practices are driven by: arresting time, curiosity, the linear mark, undercurrents that shape and reshape our world and atmosphere/location.
– Bridgette Mayer, Guest-Curator
Events
Oct 18, 6:00pm
Downtown Gallery, followed by reception
Bridgette Mayer, guest curator and Bucknell alumna will be interviewed by Richard Rinehart, Gallery Director, about her career in the arts and the role of abstraction in contemporary art.
Artist Panel Discussion
February 25, 6pm, Downtown Gallery
Hear from the artists represented in the exhibition, "Abstraction Today" as they discuss their works in person. Artists Neil Anderson, Tim McFarlane, Nathan Pankratz, and Rebecca Rutstein will be in conversation in the gallery. A reception follows the event.