The Study Gallery is currently exhibiting a selection of work for Bucknell Professor, Roger Rothman's Art 208 / Modern Art 1915 – now course. The Samek Art Museum collection includes pieces from the most prominent artists of the 20th century including Andy Warhol, Wassily Kandinsky, Salvador Dali, Jean Dubuffet and many more all of who are on display through the end of the semester.
As the Preparator and Operations Coordinator for the Samek Art Museum my responsibilities include the installation of our exhibits, from deliveries, art handling, hanging, lighting, and the design and production of exhibition graphics.
Professor Rothman selected quite a few pieces to be studied, particularly given the size of the gallery space. Our museum Registrar, Allison Stevens and I decided the best solution would be a salon-style installation such as the work exhibited in Summer Salon I at the Samek Gallery in 2013.
Salon-style refers to the Academy of Fine Arts in Paris practice of displaying the work of recent graduates of the School of Fine Arts in official exhibitions called Salons. First held in 1674 at the Salon Carré then the Palace of the Louvre beginning in 1725, the artworks were hung wall-to-wall, floor-to-ceiling in an effort to include as much as possible.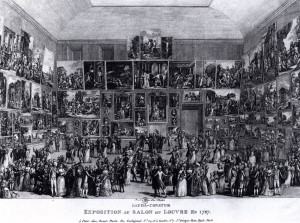 Martini, Pietro Antonio
Exposition au Salon du Louvre en 1787, 1787
Engraving
390 x 530 mm
Wildenstein Institute, Paris
http://www.wga.hu/html_m/m/martini/salon_87.html
There are multiple methods for planning to hang a contemporary salon-style gallery. Common approaches include laying the work out first on the floor and taking measurements or creating paper templates and arranging them on the wall. Due to the physical limitations of the gallery, as well as the brief one-week installation period, neither of these approaches was possible. Instead, we began by leaning the artwork upright against the wall around the perimeter of the gallery. The groupings of work were determined by setting the widest pieces side by side with three inches in between. After the location of the widest pieces was confirmed, columns of artwork were arranged by placing smaller works above or below each of the larger works. Each column was then measured for its total height. The center point of the group of work was hung at 60 inches from the floor giving the pieces maximum visibility. Centering artworks at 60 inches from the floor is standard museum practice for ensuring that work is viewed at a comfortable average adult eye-level.
Pulling collection work is always an interesting experience; even after multiple visits I always discover something new and Professor Rothamn's request to study over 50 pieces provided a great opportunity to explore every inch of the Samek's permanent collection storage.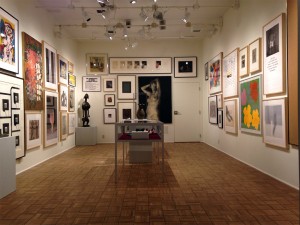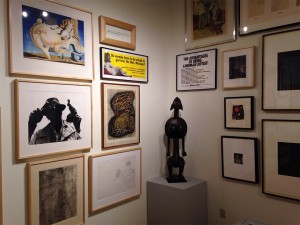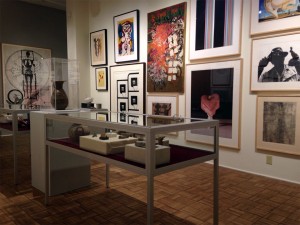 http://en.wikipedia.org/wiki/Salon_(Paris)