What: A workshop series which brings together museum professionals and experts in media-art technology, in order to educate one another, and collaborate to introduce and establish real-world guidelines for the preservation of born-digital art.
Where: The Guggenheim Museum, New York City
When: September 25-26, 2015
How: A Bucknell issued Subaru sedan that we now affectionately call "The Copper Goddess," and NYC's finest MTA line, the 6.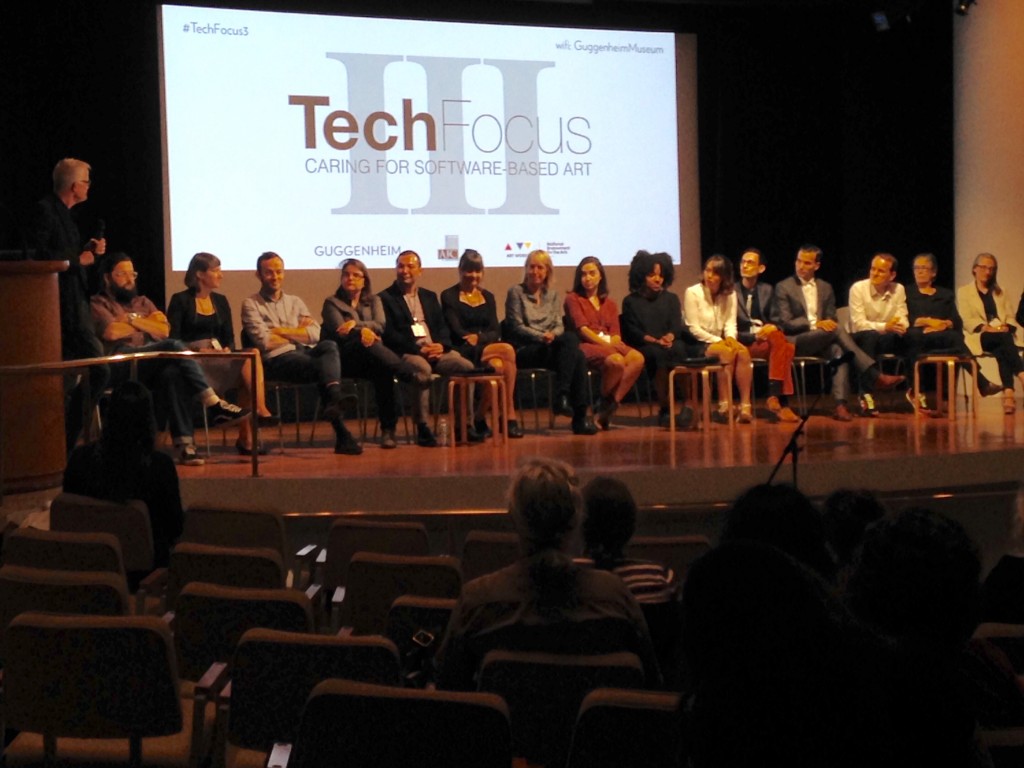 This past weekend Erin, our registrar and art protector extraordinaire, and I headed to New York for a conference called, you guessed it, TechFocus III: Caring for Software-Based Art. This 2-day workshop was organized by the Electronic Media Group of the American Institute for the Conservation of Historic and Artistic Works, and hosted by the Guggenheim. In essence, it was an immersion into the cornucopia that is media-art technology. We heard from a variety of key players in the field: conservators, registrars, artists, all passionately engaged in the preservation of a microcosm of our culture that is in real, constant danger of being lost to the annals of history. Why? In a word: the omnipresent problem of obsolescence. Hardware and software, the veritable canvas and oils of born-digital art, just don't have the shelf life of paintings; plus, unlike its cousins in the visual arts, virtual art lacks any established best practices for conservation. Compound this absence with how quickly these components age and deteriorate, and we've got quite a conundrum on our hands. All hope be not lost, however! That's the whole point of conferences like TechFocus. We received a wealth of information regarding the current preservation climate via exhibition case studies on artworks by Jürg Lehni, John Gerrard, and Feng Mengbo. On day 2 we got some practical, hands-on instruction: we learned the basics (very, very basic, haha) of code writing through a program called Processing. We even got to write our own code and create our own digital artworks!
The preservation for born-digital art fundamentally falls beyond traditional methods practiced by conservators. Its innate time-sensitive nature forces us to look beyond physical storage and climate control (common practices of preservation, up to this point). One of the techniques promoted by TechFocus is emulation. Essentially, emulation is the process of creating an audiovisual facsimile of a work, so that the work is not bound by the hardware with which it was initially built (you know, that hardware that was probably already on its way out when the work was first completed?) For example, emulators are responsible for our ability to play video games like Super Mario Brothers on the laptops of today, even though they were initially born on machines now older than the majority of college students. Additionally, with the power of disk imaging (an element of emulation), you can still view files on nearly-forgotten interfaces.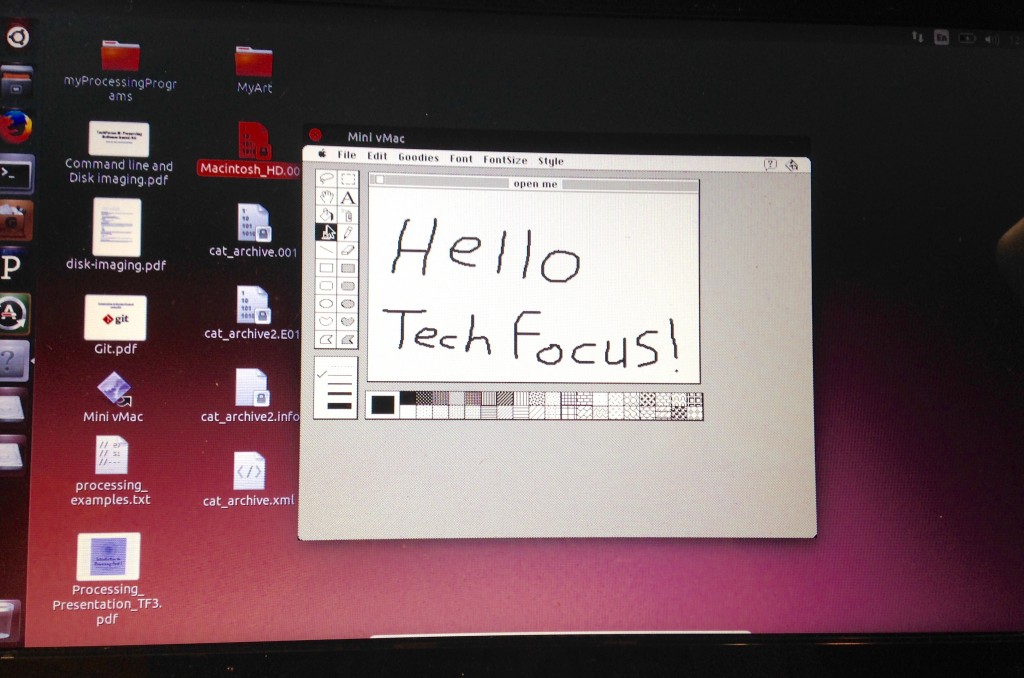 Disk imaging helps mitigate some the complications with migrating the contents of a hard drive: it reserves the entirety of a disk as delivered by an artist, it preserves a backup of a dedicated computer that may be integral to an artwork, it allows you to boot a dedicated computer in a safe virtual or emulated environment, and it preserves a deeper perspective of the artist provided media, including deleted files.
Despite the whirlwind of information presented, there were some key take-aways to keep in mind as the Samek begins to build our own born-digital collection. Initially, it seemed to me that these kinds of works are fraught with ephemerality because of the sheer intangibility of their existence, compared to established art forms. However, this conference taught me that the creative process a digital artist follows does not differ all that much from a painter or sculptor. There are preliminary sketches (an artist's source code), and we can still learn a lot about a work, how it behaves, and how to care for it, through its formal properties (or code analysis). We simply need to think of software as a new medium, one which requires a slightly different set of conservation tools. Luckily, workshops like TechFocus promote collaboration and open communication between museums, digital artists, and IT professionals. Fostering those relationships is paramount if we want to establish best practices to protect these rich cultural artifacts.
If this kinda thing really floats your boat, here are some additional sources for more info! :