Our Tuesday's Objet series (pronounced "OB-JAY" from the French word for "object") intends to highlight pieces on display outside the physical confines of our gallery spaces, to draw attention to the art that surrounds us on a daily basis.
TGIT! Today's objet can be found directly across the way from our buddy Brandon at the entrance to the Bertrand Library! It is a work of silkscreen on glass, by Joseph Kosuth, called Wittgenstein Untitled.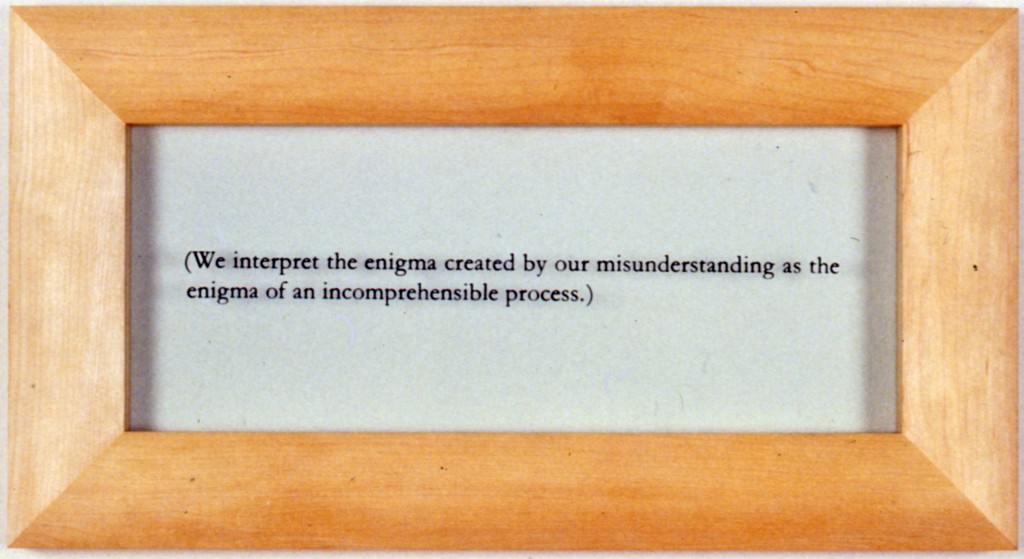 Joseph Kosuth was born in Toledo, Ohio, in 1945. Through the 1950s and 1960s, he attended the Toledo Museum School, the Cleveland Art Institute, and the School of Visual Arts in New York. Kosuth is considered a pioneer of conceptual art–an art movement which became prominent in the 1960s. Conceptual art privileges the concept or idea behind a work of art over its material form or aesthetic considerations.
His first exhibition of conceptual works was shown in 1967 at the exhibition space he co-founded, known as the Museum of Normal Art. In 1969 Kosuth held his first solo exhibition at Leo Castelli Gallery, New York and in the same year became the American editor of the journal Art and Language.
Kosuth's conceptual work explores the relationship between art and language; specifically, the role language plays in the creation of, and meaning within, art. Wittgenstein Untitled is one of Kosuth's famous word art creations, which he has been making since the early 1970s. The work consists of a framed piece of glass, upon which a quotation from 20th century philosopher Ludwig Wittgenstein is printed: "We interpret the enigma created by our misunderstanding as the enigma of an incomprehensible process." Deep, right? Incomprehensible, no?? Not entirely! Just bear with me…
Wittgenstein was concerned with how we use language to communicate our thoughts to each other. He was particularly perplexed by how, unfortunately, the lack of uniformity in language often results in miscommunication, like a round of telephone gone awry (or a-right, I suppose, depending on how you play the game). C'mon we've all been there: you have a fight with your significant other, you end up driving each other crazy because it feels like you're speaking two different languages, you say one thing and they hear another? It's a tale as old as time! Wittgenstein sought to solve this problem by intricately demarcating how language functions in relation to thought. Thus, he explored the "enigmas" of the thought process, its translation into language, and the transference of that translation from person to person.
In Wittgenstein Untitled, Kosuth pushes the philosopher's declarative statement into the context of art, questioning how "art" is defined and presented. His medium is language, rather than painting, pastels, or graphite. Words displace images and objects, in order to emphasize the process by which art is considered, perceived, and awarded cultural significance. Kosuth sought to demonstrate that the "art" component is not located in the object itself but rather in the idea or concept of the work. Kosuth has influenced and inspired younger artists to consider a deconstructive approach to art, which considers the production of meaning as much as the communication of that meaning.
This work was selected as a companion piece to the show currently in our main gallery space in the Elaine Langone Center, called R. Luke Dubois: Portraits and Landscapes. Like Kosuth, Dubois works within an unconventional medium (raw data). Also like Kosuth, he is deeply interested in language, and much of his work revolves around it. He gathers heaps of information about our use of language, and sculpts them into intimate portraits of our broader cultural landscape. A More Perfect Union displays the language from 19 million online dating profiles, a word's frequency of use replacing the name of a city on state maps. Hindsight is Always 20/20 boils down each presidential State of the Union address into a linguistic eye chart, once again highlighting frequency, and thus, perhaps intent. Dubois and Kosuth are both interested in the process of creation. The process is as integral to the work of art as the finished product.
If you're intrigued, or a little confused, or both (this is heavy stuff!), here's some additional rabbit holes to dive down: