When: January 23 – February 28, 2016
Where: Lore Degenstein Gallery at Susquehanna University
The task of defining oneself is… complicated, to say the least. It's an arduous undertaking, and something that we continually revisit and refine throughout our lifetimes. The intimate relationship we build with ourselves also informs our relationship to others; our family, our community, and the world at large. Several area artists explore these intricately entwined concepts in a group show titled, appropriately, Identity and Place, now on display at the Lore Degenstein Gallery at Susquehanna University. Exhibited works are by Amy Abbattoir, Kelly Blevins, Jeremiah Johnson, Anna Kell, Joanne Landis, John McKaig, Howard Tran, and Sanh Tran.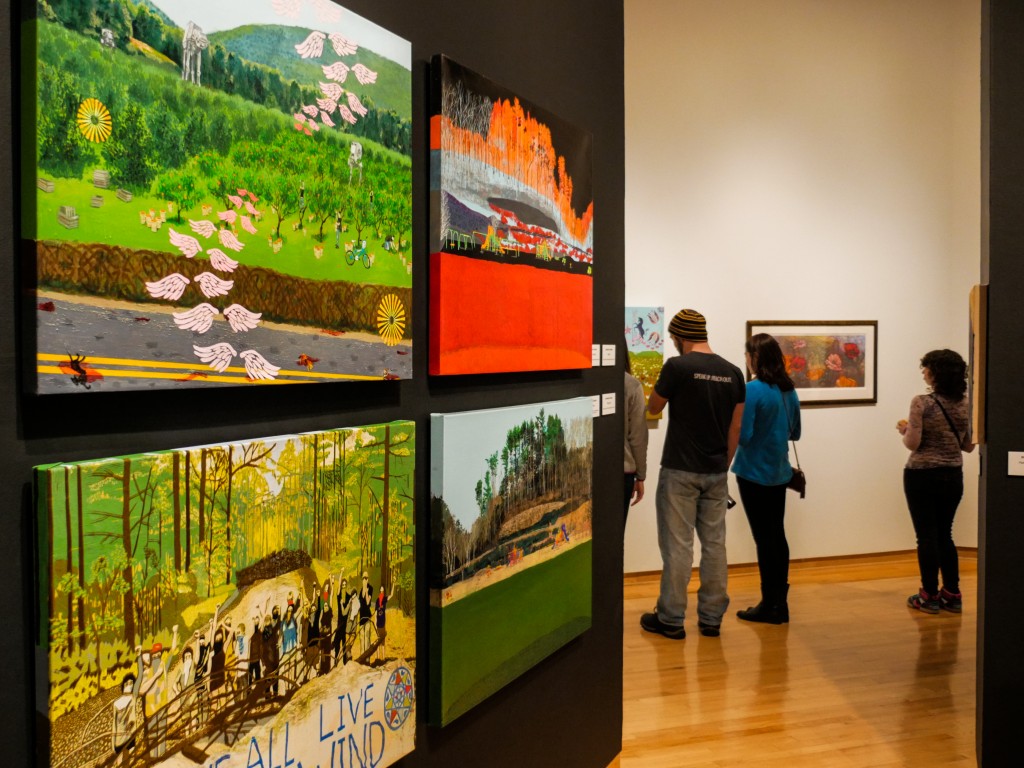 This exhibition features a rich array of mediums, including painting, drawing, printmaking, sculpture, photography, and mixed media. Interspersed artist statements explicate their approaches to the themes of the show, and provide details on their unique backgrounds. Generally, the layout is organized by artist, with some variation. However, the more time you spend in the space, the more the demarcations blur. Soon it feels like pieces from different artists are in dialogue with each other. They converse and debate, comparing how they approach these questions in similar and different ways. Some explore nearby locales and their contribution to nostalgic memory, such as Amy Abbattoir's impressionistic landscapes, and Jeremiah Johnson's psychedelic playgrounds. Others turn the focus inward, to interrogate external influences on our compositions of self: Sanh Tran's self-portraiture disrupts social constructions of masculinity and femininity, and Joanne Landis' narrative paintings meditate on archetypes, myth, and her own personal experience.
Kelly Blevins combines social stigmas of nudity, politics, and philosophy in large scale charcoal drawings, in order to comment on these universal concepts and how they relate to human nature. Her creative process parallels a kind of discovery, an exercise virtually inextricable from our constructions of identity and place. She starts by applying charcoal powder with a large brush for basic composition. Then, she uses an eraser and a charcoal pencil to define and detail her subjects, like she's peeling away layers as she develops a realistic representation of her visions.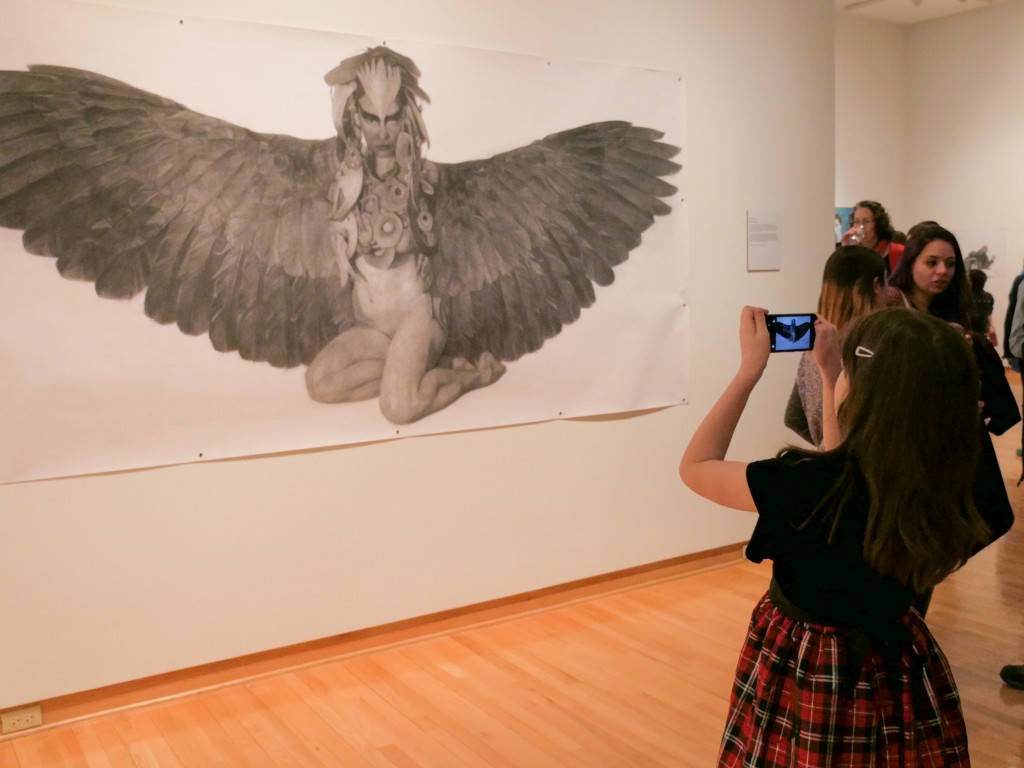 Howard Tran's sculpture To-Tien #21 explores Vietnamese/Chinese philosophy that is influenced by Buddhism, Confucianism, and Taoism, stressing simplicity, the worship of ancestors, life cycles and a connection to nature. The materials of the piece, primarily burlap and rice, allude to his Asian heritage, while the figural components allude to western aesthetic culture. According to Tran, "my conception of me is not just myself. The multiple heads represent myself existing in the span between past and future generations."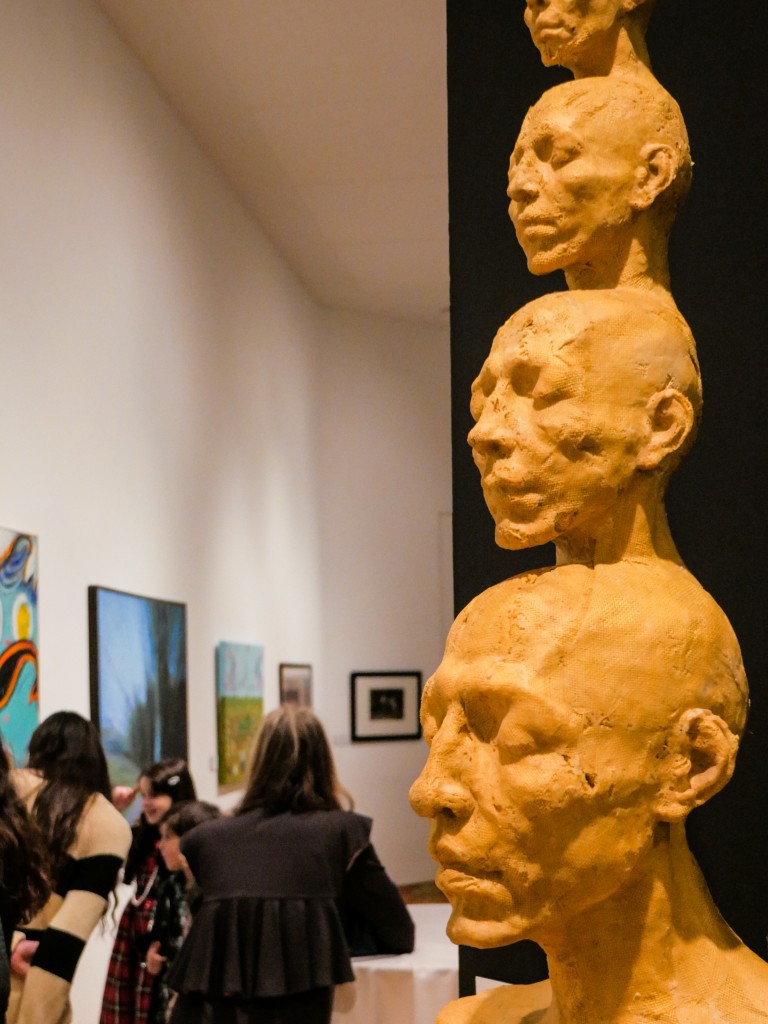 This exhibition will be up through February, and I highly recommend you stop in to see it. It's an intimate show, and it encourages us to revisit, and perhaps refine, our own conceptions of identity and place.