Our Tuesday's Objet series (pronounced "OB-JAY" from the French word for "object") intends to highlight pieces on display outside the physical confines of our gallery spaces, to draw attention to the art that surrounds us on a daily basis.
Hello again, fellow art enthusiasts! After a brief hiatus fueled by Christmas cookies, and subsequently fueled by ardently espoused new years' resolutions, we're back! We're back, and ready to explore the art that's made its way from the shelves of Samek's collection into the world beyond the vault. Today, I'm taking you to the back entrance of the Samek, in the 3rd floor of the Elaine Langone Center. There, in a glass case, sits a sculpture by Peter Arthur Hutchinson.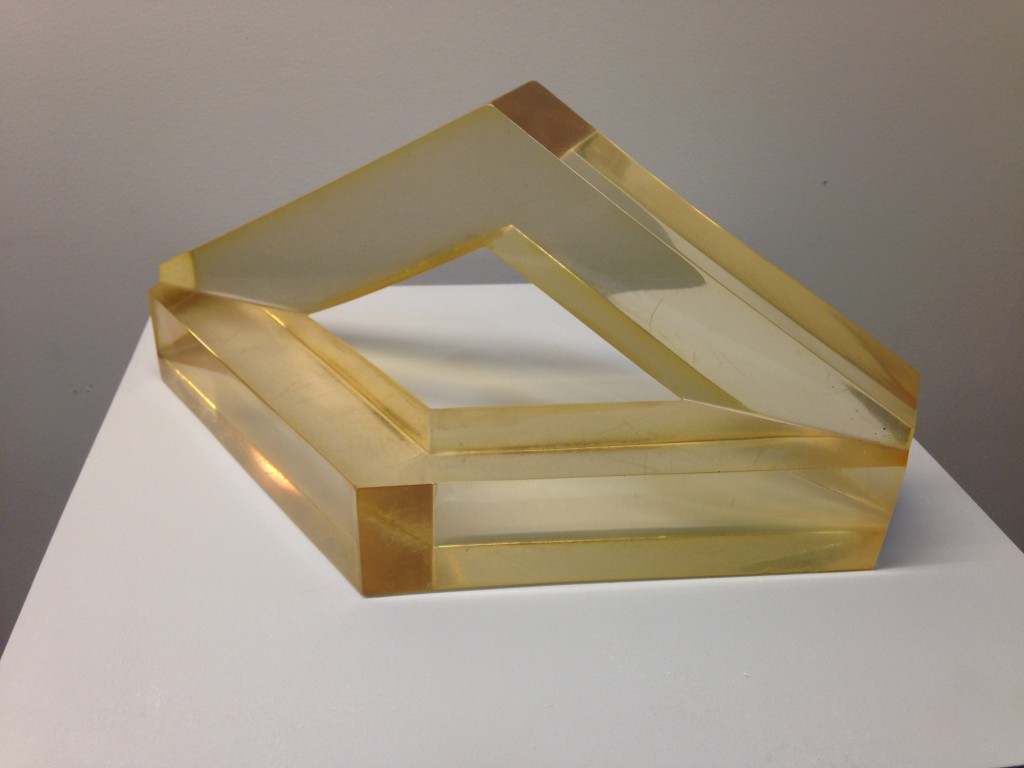 Hutchinson was born in England in 1930, though he has been living and working in the U.S. for over 50 years. He began as a geometric painter, rubbing elbows with prominent minimalist artists like Sol LeWitt and Tadaaki Kuwayama. Minimalism was an art movement that emerged in the 1960s, in opposition to abstract expressionism, which dominated the art world during the previous decade. Abstract expressionists sought to express raw personal emotion through their art, but minimalists considered this practice too personal and pretentious. They rejected the idea that art should function as its creator's soapbox; rather, they felt that a work of art should not refer to anything other than itself. The goal was for the art object to exist in a purely objective state, allowing the viewer an immediate, visual response its contents: its color, form, materials, and space.
Minimalist artists preferred to work with industrial materials such as fiberglass, Plexiglass, plastic, sheet metal, plywood, and aluminum, as well as steel, glass, concrete, wood and stone. Usually, the artist left the material in a raw, unprocessed state, or completely painted it with bright industrial colors. Sculptures were often compositions of objects, a repetitive series (like Donald Judd's vertical stacks), which encouraged the viewer to consider the relationship of each part of the work to the work as a whole. The intended result was an object that directly engaged with the viewer and the space it occupied, removing the artist from the conversation entirely.
Apply this thought process to Hutchinson's modest, triangular sculpture, and you suddenly become more aware of the object in front of you, of what makes it look the way it does: its clean lines, the translucency of the plastic, and how it encapsulates the space within itself. Changing your viewing angle changes its shape, like it's a moving, breathing thing. Go spend some time with this sculpture; the more you look at it, the more it reveals.
So, if you're totally digging the minimalist aesthetic and want to know more, here are some additional resources:
Get a concise explanation (though more detailed than mine) of the movement and its movers and shakers here.
Some seminal texts on minimalist sculpture: Donald Judd's essay "Specific Objects," and Robert Morris's 3 part essay "Notes on Sculpture 1-3."
Additionally, Peter Hutchinson is around and still making art, although he has evolved past his minimalist roots. You can see his more recent work here, and he's got a catalog out which details his land artworks, called Thrown Rope.