This exhibition utilizes the Samek's photography collection to explore how the minutiae of our everyday lives stick with us, how they affect and enhance our memories and, ultimately, how they influence our personal narratives in profound ways.
Opening + Curatorial Talk
Downtown Gallery-June 24, 6pm
Take an informal gallery tour with Museum Fellow Laura Libert to learn about her curatorial process in putting together the exhibition. Light bites by That Kitchen Witch.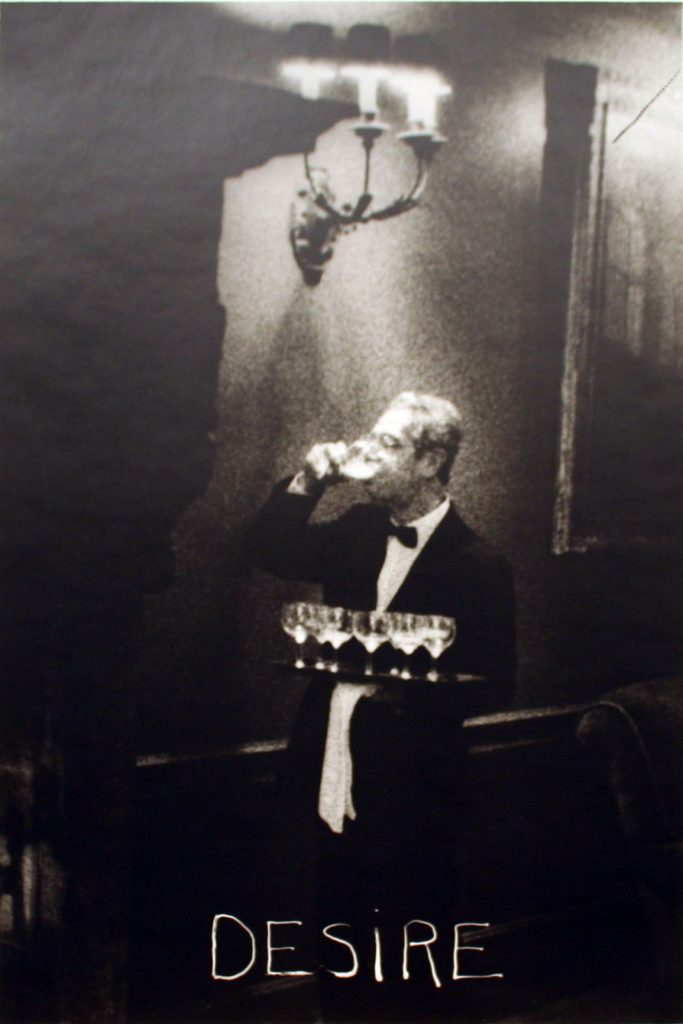 David Seltzer, Desire, 1998. Gelatin silver print on paper.
Installation views:
Pause and Effect Checklist and Gallery Guide
Curatorial Essay: Meditations on Photography's Influence on Memory and Narrative
-Laura Libert, Museum Fellow

Whether we're the photographer, the subject, or the twice-removed bystander, we are engaged in the collection of images. They inform our sense of reality, they supplement our lived experience, and they invariably influence our memory. We are a visually literate culture; images saturate our lives and play a fundamental role in the curation of our personal narratives.
Susan Sontag said that photographs are quintessentially experience captured.[1] David Seltzer exemplifies this captured experience in his layered amalgams of word and image. His photographs read like visual entries in a very personal diary, tangible memories awash with open-ended ambiguity. Over the course of this essay, I consider several aspects of David Seltzer's work within theoretical frameworks of memory, identity, and temporality. My intent is for his art to function as a springboard to inform our interpretations of other images in this exhibition.
The Mind's Eye
For most of us, the recollection of events is an inherently visual physiological process. We observe an object, person, or scene and process that stimulus in the visual center of our brain, storing it as a memory in the temporal lobe. When we later recall that memory, it is retrieved from storage and sent back to the visual center of the brain, much like reviewing a photo album of a family vacation.[2] Photography is an irresistible analogy to memory making, since it is essentially a physical mimesis of that activity. But what components of an image make it memorable?
In Mathematical Alignment of Features, Seltzer depicts a woman's face in profile. Sharp scratches made into the print's negative contrast her softened features. Aside from the title at the bottom of the image, the markings are difficult to decipher. Lines are etched across her face. Mathematical (or chemical) equations are carved across her forehead and cheek. Vague clauses in the lower left hand corner are crossed out. Seltzer pits these frustrated scribbles against his subject's romanticized profile. This image conflates the two components of perception which photography navigates: an objective recording of the world with the photographer's subjective interpretation of his content.
While Roland Barthes lauded photography as the perfect analagon of reality,[3] Susan Sontag argued that "photographs are as much an interpretation of the world as drawings and paintings are."[4] No lens is objective, then, whether it's the lens of a camera or the transparent structure behind the iris. The visual elements of an image (its content, composition, and vantage point, for example), express an individual's unique perspective. Mathematical Alignment gets us thinking about not only the fundamentals of composition, but about the intent behind the choice to record.
Other photographers in Pause + Effect imbue images of everyday objects with significance through their carefully constructed composition. Ralph Gibson's Untitled, from his MONO series, is a close-up of light diffusing through window blinds. Gibson seeks to make his perception become the subject itself.[5] He's less interested in the epic event than the humble and the overlooked. Here, simple mini blinds transform into a study of form, line, and positive and negative space. Gibson's celebration of the everyday represents an intriguing aspect of memory formation: the persistence of minutiae.
In analyzing Seltzer's work, John Fergus-Jean wrote that "each of our day to day lives is filled with "the simplest acts and gestures" that we hold deep within our memory. There they remain until some ordinary but unexpected event causes a sudden shifting in us to release them. That chance imbalance, a moment of slipping, can ignite extraordinary remembrance."[6] Seltzer's work manifests this "slippage" by mythologizing the mundane. Every moment has varying significance relative to those sharing the experience. By highlighting an object or event we might otherwise overlook, these photographers remind us that certain fleeting moments do in fact persist.
Selfie Sticks
In Desire, Seltzer treats us to a voyeuristic, decisive moment. It's as if we've just peeked around the corner of a dimly lit restaurant, and surreptitiously caught a server mid-gulp. The line quality is slightly askew, with dark, ill-defined architecture framing the left of the composition, adding to the effect of catching one unawares. All of these elements together create a singular moment (captured by serendipitous luck?) so distinct that it's burned into our memories. The word added to the bottom of the image, "Desire," provides additional context, but only a thin layer of meaning that is equal parts definitive and equivocal. This image exemplifies the concept of meaning-making within memory, and how that process is unique to the individual. This is a perfect example of a "did anyone else see that?" moment.
Why do certain moments stick with us, and others don't? Why do two people often remember an event differently? At a physiological level, our penchant for viewing certain things above others is in part due to neural plasticity, a visual phenomenon in which the more often we look at something, the more connections that will form between specific neurons, so strengthening our preference for looking at that thing.[7] Obviously not every person looks at the same things, and this is how we differ on a neural level via personal experience. How then do our visual preferences influence other aspects of our identity? How does an image's content and formal quality inform our relationship to the world around us?
Celia Lury explores the effect of photography on selfhood in her book Prosthetic Culture: Photography, Memory, and Identity. Prosthetic culture is the experience of the world beyond our bodily capabilities through prosthetics (i.e., the lens of a camera, or more recently, a smartphone). Lury argues that this digital age norm affects the formation of selfhood. The ability to experience life at an arm's length gives us the elbow room to experiment and more acutely curate our identities. We read and create images under the guise of possibility, an "I think, therefore I can," attitude, rather than "I think, therefore I am."[8] Photography aids and abets this formation of self, which in turn affects our relationships to others.
Nan Goldin's Suzanne and Philippe on the Train, Long Island, NY, is a portrait of her friend Suzanne and Suzanne's boyfriend, Philippe, aboard, you guessed it, a train. While Suzanne looks directly into the camera at Nan (or us), Philippe dozes in Suzanne's lap. Nan's connection to people through her camera is palpable in her work. From an early age Nan was photographing everyone and everything in her life in an attempt to harness them, to commit them to memory. She sought to document her relationships as unfiltered as possible, pursuing intimacy and connection between herself and her subjects. She's said that often, she's not quite sure about someone until she takes their picture.[9]
Goldin defines herself through her picture-taking, claiming that "we all tell stories which are versions of history – memorized, encapsulated, repeatable, and safe… [these pictures trigger] real memory… [the] invocation of the color, smell, sound, and physical presence, the density and flavor of life. Memory allows an endless flow of connections… If each picture is a story, then the accumulation of these pictures comes closer to the experience of memory, a story without end."[10] Her candid style draws you in, as if this is a photograph of your own friend or family. Thus Suzanne and Phillippe is not simply a record of a fixed point in time, but an organic chapter in an ongoing narrative.
Slipping Through Time
Seltzer's work Proposal depicts an anonymous female, in a plein-aire setting with nondescript architecture in the background. Facing away from the viewer, she lifts her skirt to expose her bare backside. This is an intimate moment captured in an open-air environment with a double-entendre carved at its base. There's a lot left unexplained here, indicative of so many of our interactions with others: trying to understand someone else's perception of the world which necessarily is not our own. The images we engage with, that we retain, influence our perceptions of ourselves, as well as our interpersonal relationships.
In Proposal as well as Seltzer's other work, there are discernible degrees of separation, a layering quality that mimics the overlap of memories over time. This goes beyond even the photographic process itself. Obviously there's a time lapse between composing the image, snapping the image, developing the film, and printing it on photographic paper. Seltzer intentionally incorporates time: He photographs people and places, and then he waits substantively before printing his negatives. Additionally, he often overlaps his images with etching, toners, or mixed media added to the negative or surface of the print.[11] By adding these additional elements (the toners and the etchings) after the negative is processed he's adding even more layers of time, and therefore meaning to them.
In his book The Crystal Image of Time: Photography, Cinema, and Memory, Damian Sutton argues how photography mimics our experience of time, as exposed by Deleuze. Time, rather than spatially separated seconds on a clock, is a continuous duration comprised of multiple factors and our position within this duration consists of interpreting experiences of the present, memories of the past, and awareness of the oncoming future concurrently.[12] That constant flux of locating ourselves within time is the crux of our memory. This is admittedly a tumultuous existence we constantly navigate, and therein lies the photograph's appeal; photographs project both a moment in time and the passage of time. They are static images which give the impression of temporal movement.[13] Whether that movement is physical, like Kristin Capp's Macarao Capoeira, Salvador, Brazil, of a somersault suspended in mid-air, or lack there-of, like Andy Warhol's Unidentified Man, photographs provide a tangible expression of temporal GPS.
Conclusion
Street photographer Garry Winogrand exclaimed, "When I'm photographing I see life. What is in my view-finder, that's not a photograph, that's life."[14] Photography's inherent duality is its combination of denotation and connotation, a quality of life that Winogrand pursued. Seltzer pushes that paradox to a very personal level, in an intentional, discernible way. His work reflects on a memory's formation as well as its maintenance, and how it affects, and is affected by, our sense of self. I invite you to read other images in Pause + Effect in concert with Seltzer, adding your own layers of memory in the process.
[1] Susan Sontag, On Photography (New York: Farrar, Straus and Giroux, 1977), 3.
[2] "New Study Sheds Light on the the MInd's Eye Works," UCLA Newsroom, http://newsroom.ucla.edu/releases/Study-Sheds-New-Light-on-How-the-1968, accessed June 23, 2016.
[3] Roland Barthes, Image, Music, Text (New York: Hill and Wang, 1977), 17.
[4] Susan Sontag, On Photography, 7.
[5] Ralph Gibson interview, http://bermangraphics.com/press/ralphgibson.htm, accessed, 9/10/2016
[6] John Fergus-Jean, "Slipping Man," David Seltzer Photography, accessed September 8, 2016, http://davidseltzerphotography.com/essays.html.
[7] John Onians, "Neuroarcheaology and the Origins of Representation in the Grotte de Chauvet," in Image and Imagination: A Global Pre-History of Figurative Representation, eds. Colin Renfrew and Iain Morley (Cambridge: Cambridge University Press, 2007), 309.
[8] See Lury, Celia. Prosthetic Culture: Photography, Memory, and Identity. London: Routledge, 1998.
[9] Nan Goldin, The Ballad of Sexual Dependency (New York: Aperture Foundation, 1986), 6.
[10] Goldin, Ballad, 6.
[11] John Fergus-Jean, "Slipping Man."
[12] Damian Sutton, Photography, Cinema, Memory: The Crystal Image of Time (Minneapolis: University of Minnesota Press, 2009), 34.
[13] Sutton, Photography, Cinema, Memory, 38.
[14] Garry Winogrand and David Fahey, "An Interview with Garry Winogrand: Photography Is Amazing," MoMA 47 (1988): 2.