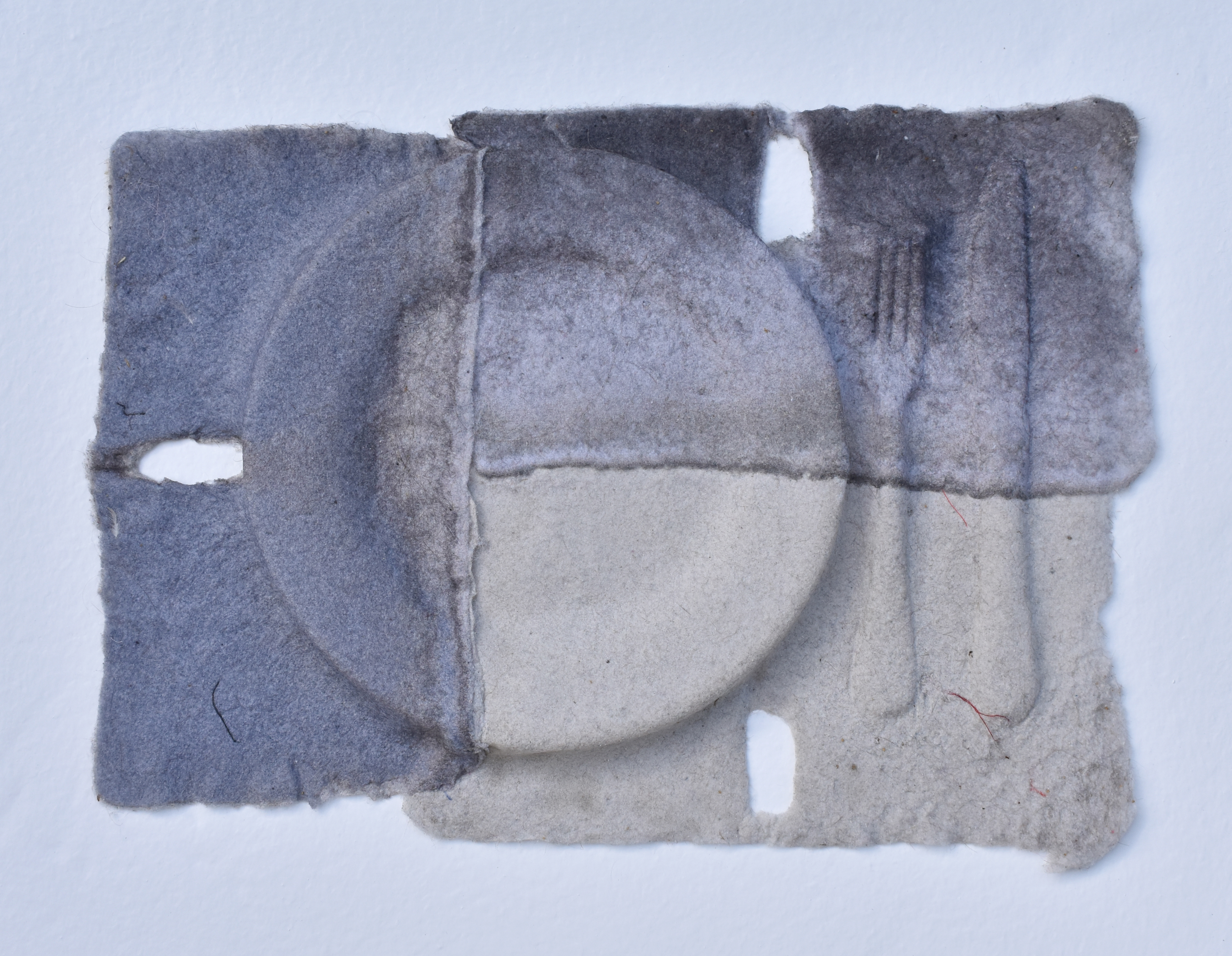 About:
This exhibition inaugurates the new annual Ekard Artist Residence at Bucknell. Resident artists Alejandro Figueredo Díaz-Perera and Cara Megan Lewis will work with Bucknell students on this social art project that address the detention of immigrants in the U.S.
Related Event:
Artist's in Residence Talk:
Thursday, April 19, 6:30pm, Gallery Theater, top floor Elaine Langone Center
Students are invited to participate in pillow-making workshops with the artists every Friday during their residency.
March 30, April 6, 13, 20 / 3:00—5:00 pm / 7th Street Studio
Contact the artists at diazlewis2012@gmail.com
Curatorial Text:
Díaz Lewis
The artist collaborative Díaz Lewis is comprised of the couple Alejandro Figueredo Díaz-Perera (b. Havana, Cuba) and Cara Megan Lewis (b. Kansas City).
Since 2012, they have created work that draws connections between the personal and the political. For this new project they have mined a personal family narrative connected to the migratory history of the United States.
On Lewis' family tree, there is a small notation under her ancestor William Clark which states "One of 28 people who bought land from Indians for 30 coats. d. 7/22/1681." Following this clue, Díaz Lewis discovered that Clark was among the first English settlers sent by the Connecticut Colonial Legislature to purchase land from the Wangunk Tribe at the place the English called "Land of Thirty Mile Island" in 1662. In exchange for roughly 104 square miles of land, two Wangunk Sachems (Queens) and two Wangunk Chiefs received 30 coats. The land traded with the deed dated May 20, 1662 is known today as Haddam, Connecticut.
During their residency at Bucknell University, the artist duo embarked upon a project to re-create 17th Century doublets believed to best represent the coats traded by the English settlers for the land. The coats are created with dryer lint collected from Haddam, CT and surrounding east coast communities. Within each coat, skin cells, hair, dust and textile fibers from diverse sources blend together in a singular object.
This exhibition is made possible by the generous support of The EKARD Residents Art Fund and is presented in partnership with the Bucknell Department of Art and Art History.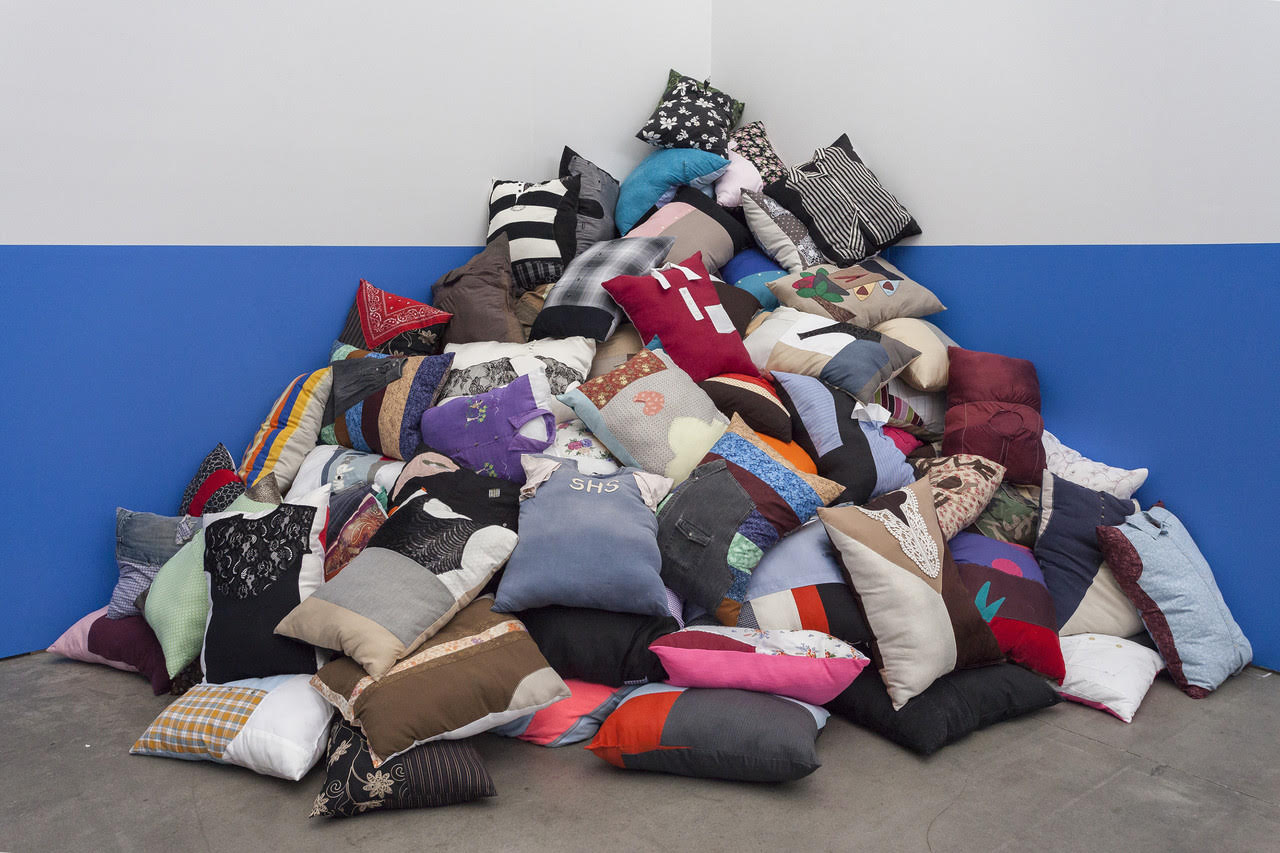 Díaz Lewis
34,000 Pillows, 2016—ongoing
Used and donated clothes made into pillows filled with Kapok fiber
Courtesy of Díaz Lewis and Aspect/Ratio Gallery, Chicago
Based in Los Angeles, the duo Díaz Lewis make art together to prompt social change. Alarmed by the 2009 congressional mandate that Immigration and Customs Enforcement (ICE) should maintain a "bed quota" of no less than 34,000 detained immigrants per day in its facilities, Díaz Lewis set out to make a pillow to represent each immigrant detained as a result of this mandate. The artists construct pillows from clothing donated by undocumented immigrants, former detainees, and their allies to form a collective patchwork of individual experiences. Each handcrafted object is sold for a donation of $159 — the amount that the government spends daily for detaining an immigrant. These donations go to organizations and causes that provide alternatives to the detention system and that work to restore human dignity to those affected.
Installation Images: