August 13 – September 29, 2019


Campus Gallery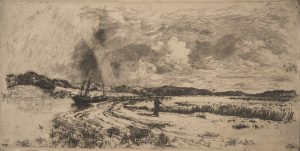 Curatorial Text:
In the mid-nineteenth century, French artists began exploring the creative potential of etching, a medium previously used to reproduce paintings for publication. Spurred in part by their European counterparts, late nineteenth-century American artists began to explore the medium's possibilities. French and American etchers both drew inspiration from the French Barbizon school, who rejected conservative traditions and formal subjects, instead painting pastoral landscapes using soft colors and loose brushwork. American etchers also looked to the Hudson River School, who painted the nation's wild landscape in grand scale, hoping to impart a sense of awe. The American prints of this period feature many subjects favored in France, but filled with turbulent skies, deep shadows, and energetic lines common in American paintings of the time.
By the early 20th century, landscapes in art were increasingly focused on growing cities and the mechanization and isolation these urban centers brought. In the 1930s, at the height of the Great Depression, pastoral scenes were imbued with nostalgia. A few American artists returned to rural subjects in prints and paintings. In many of these, the energy of line apparent in the first prints of the American etching revival had taken precedent over the landscape. These stylized and nostalgic rural images of the 1930s now define the Regionalist style, most associated with artists Thomas Hart Benton and Grant Wood.
Artists of the American etching revival paved the way for a twentieth-century reinterpretation of the national landscape through their focus on expressive line, striking contrasts of light and shadow, intrepid rural workers, and a quickly-industrializing nation.
The Etching Revival: its French Sources and American Legacy is organized by SUArt Galleries, Syracuse, New York
Related Events:
Reception for Fall 2019
Thursday, September 26, 7 p.m.
Campus Gallery, Top Floor, Elaine Langone Center
The Samek Art Museum will launch the Fall 2019 semester with an opening reception in honor of our latest exhibitionsThe Etching Revival: Its French Sources and American Legacyand Damaged Goods: The Punk Aesthetic.
Exhibited Work:
Adolphe Appian
French 1818-1898
Les Sources e l'Albarine, 1870
Etching on Japanese paper
SUAC 2017.0327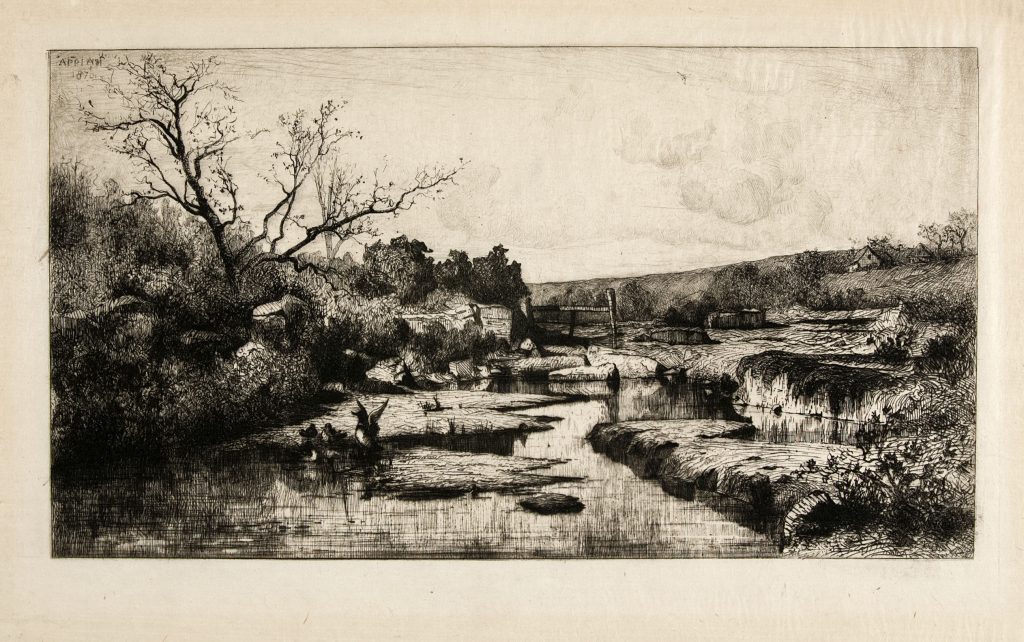 Stephen Parrish
American 1846-1938
November, 1880
Etching on laid paper
SUAC 2017.0205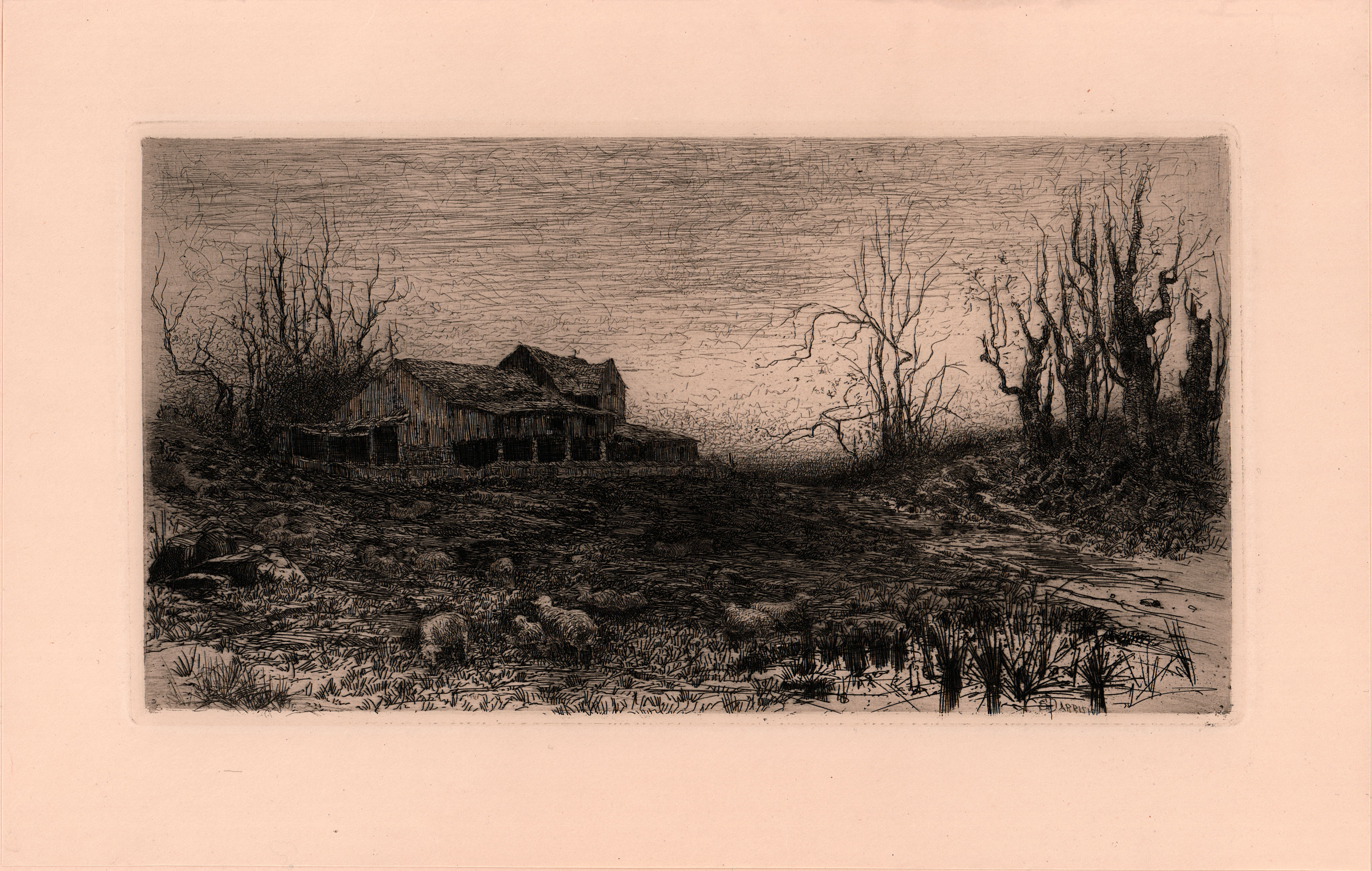 Robert Swain Gifford
American 1840-1905
The First Plate Etched by the New York Etchers Club, 1877
Etching on laid paper
SUAC 2018.0006.001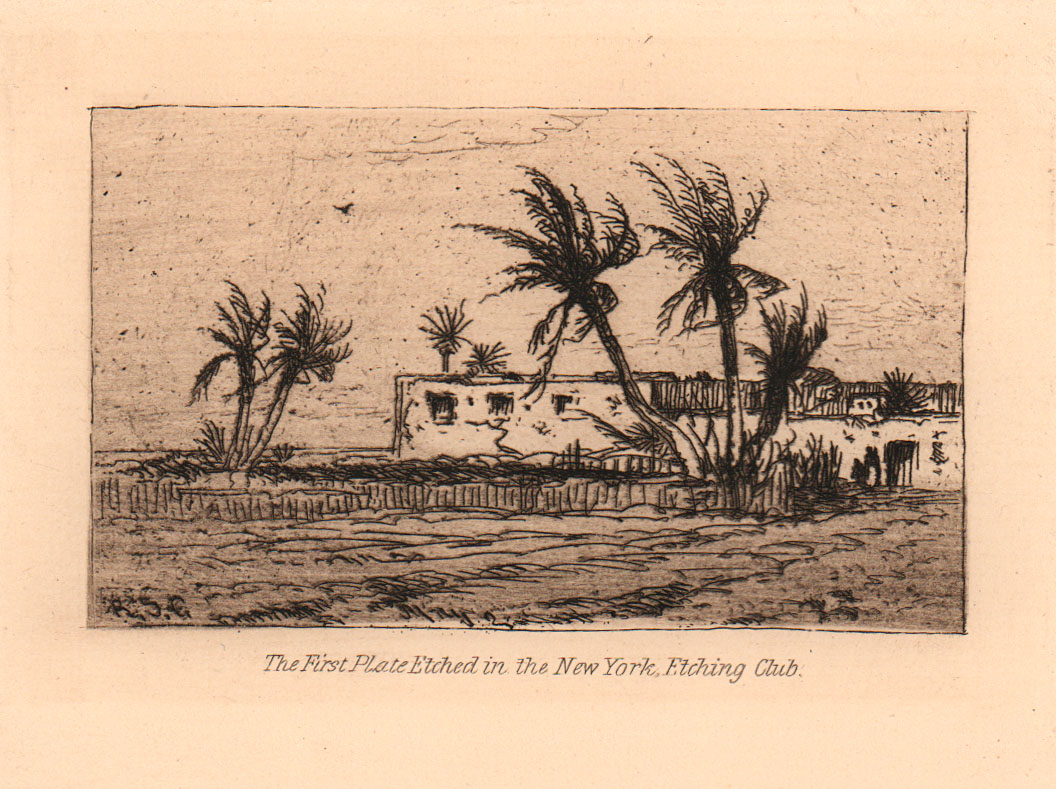 Stephen Parrish
American 1856-1938
Venice, circa 1890
Etching on wove paper
SUAC 2017.0626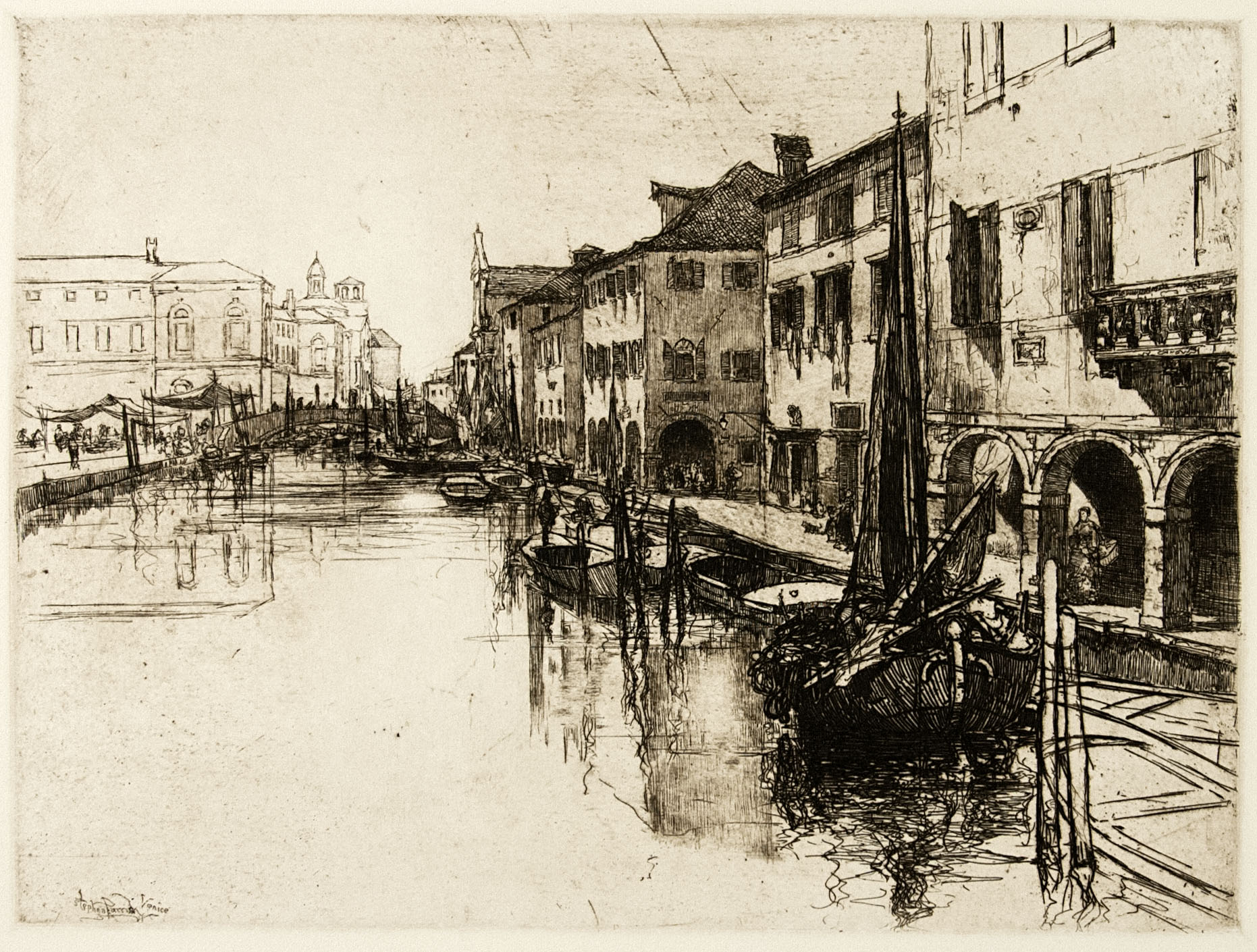 Otto Bacher
American 1856-1909
Laguna Venita, 1880
Etching on chine collé
SUAC 2017.0572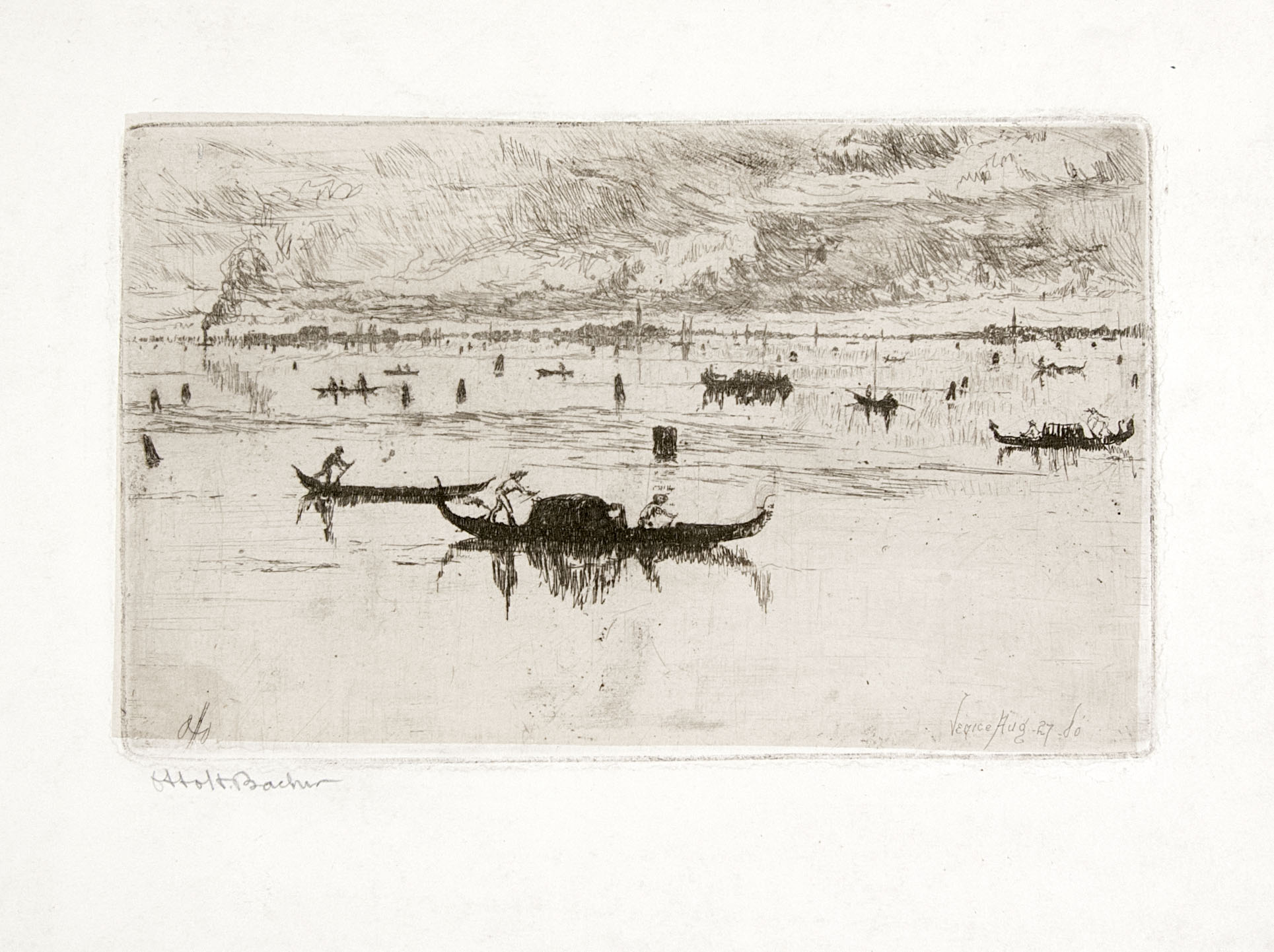 Samuel Colman
American 1832-1920
A Cloudy Day in Venice, 1880
Etching on laid paper
SUAC 2017.0046
Otto Bacher
American 1856-1909
Fondamenta dei Tolentini, 1880
Etching on chine collé
SUAC 2017.0488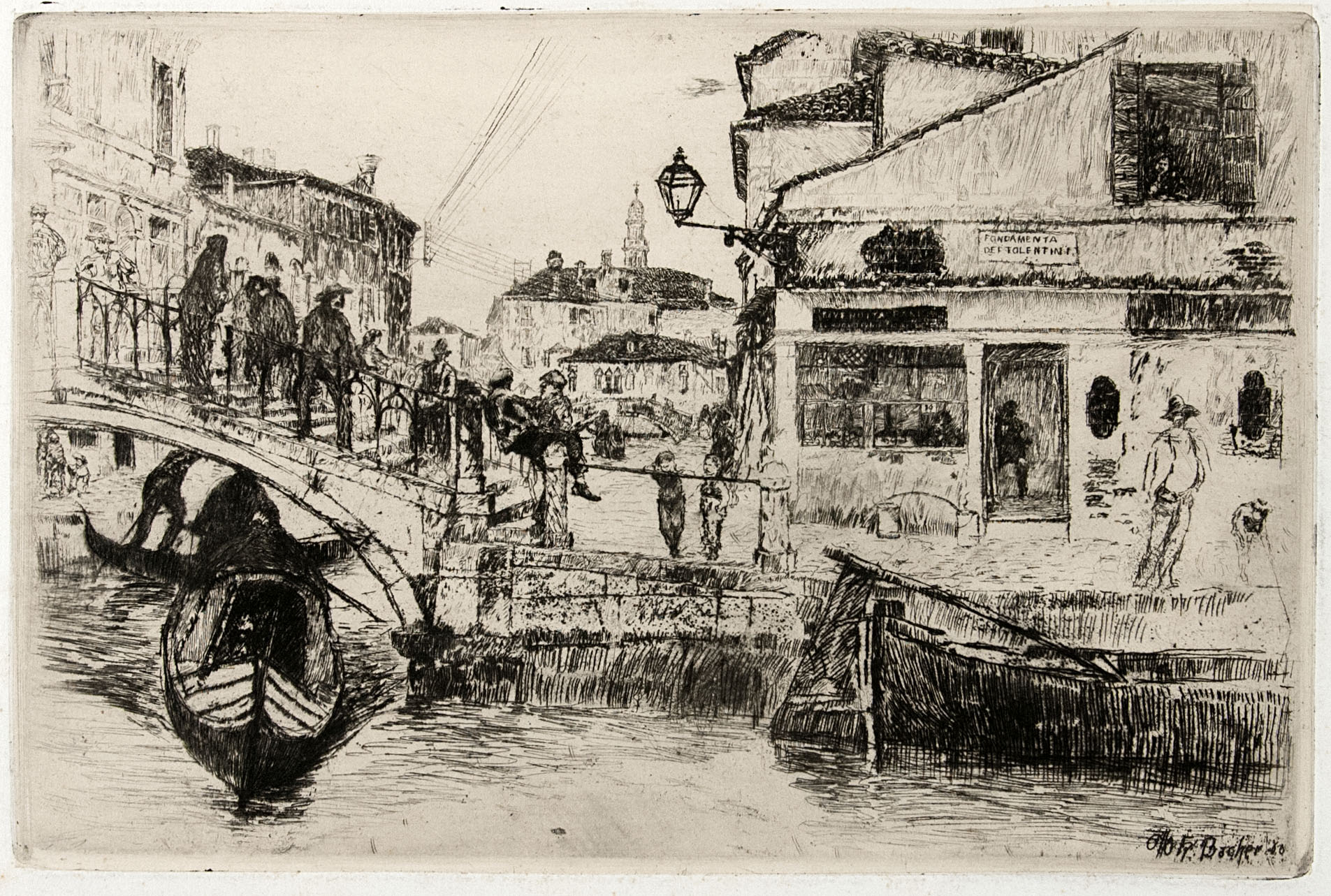 Frank Duveneck
American 1848-1919
Riva Degli Schiavoni, Venice, No. 1, 1881
Etching on chine collé
SUAC 2017.0416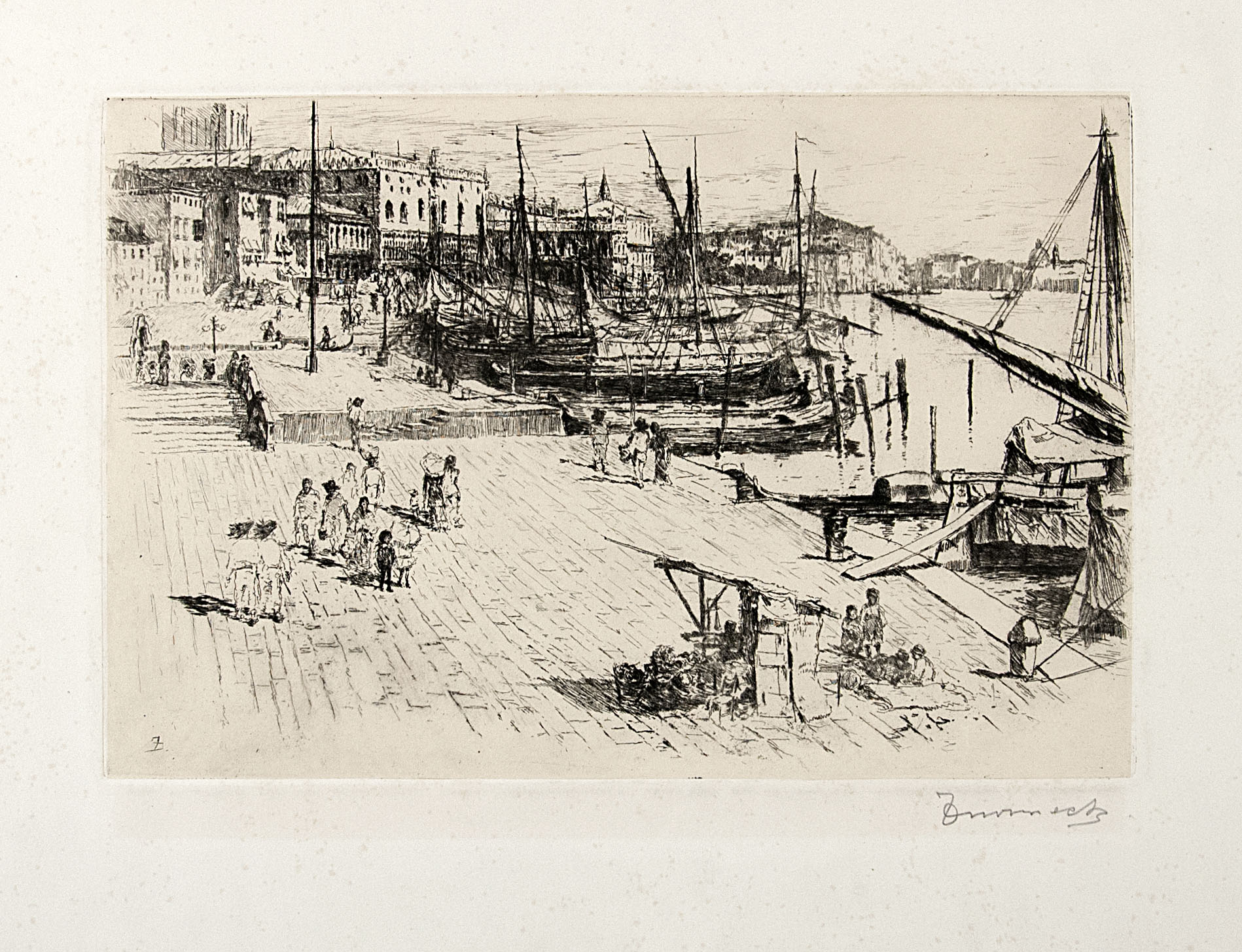 Joseph Pennell
American 1857-1926
Ponte Vecchio, 1883
Etching on wove paper
SUAC 2017.0150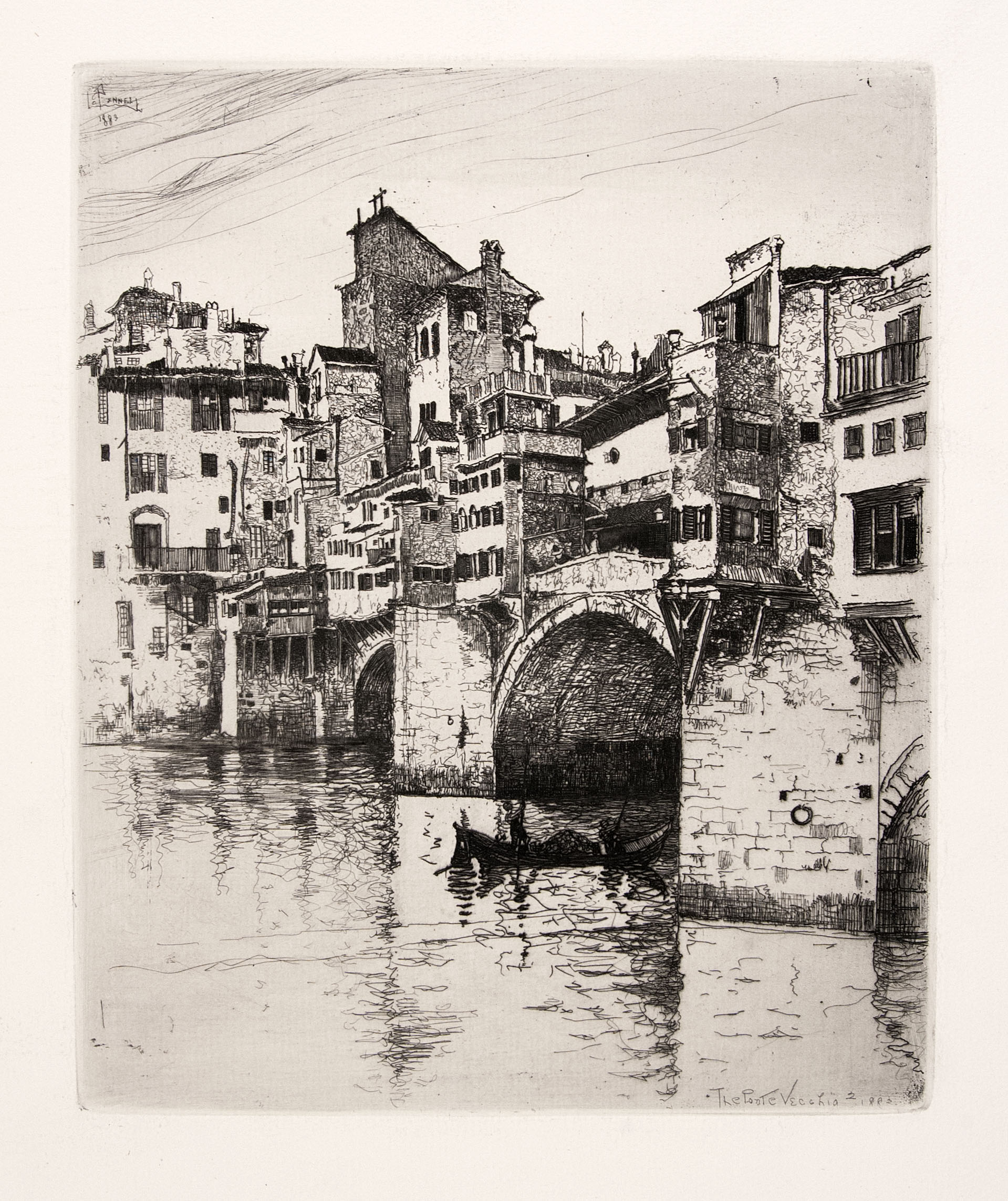 Robert Swain Gifford
American 1840-1905
The Belfry at Bruges, 1882
Etching on laid paper
SUAC 2017.0091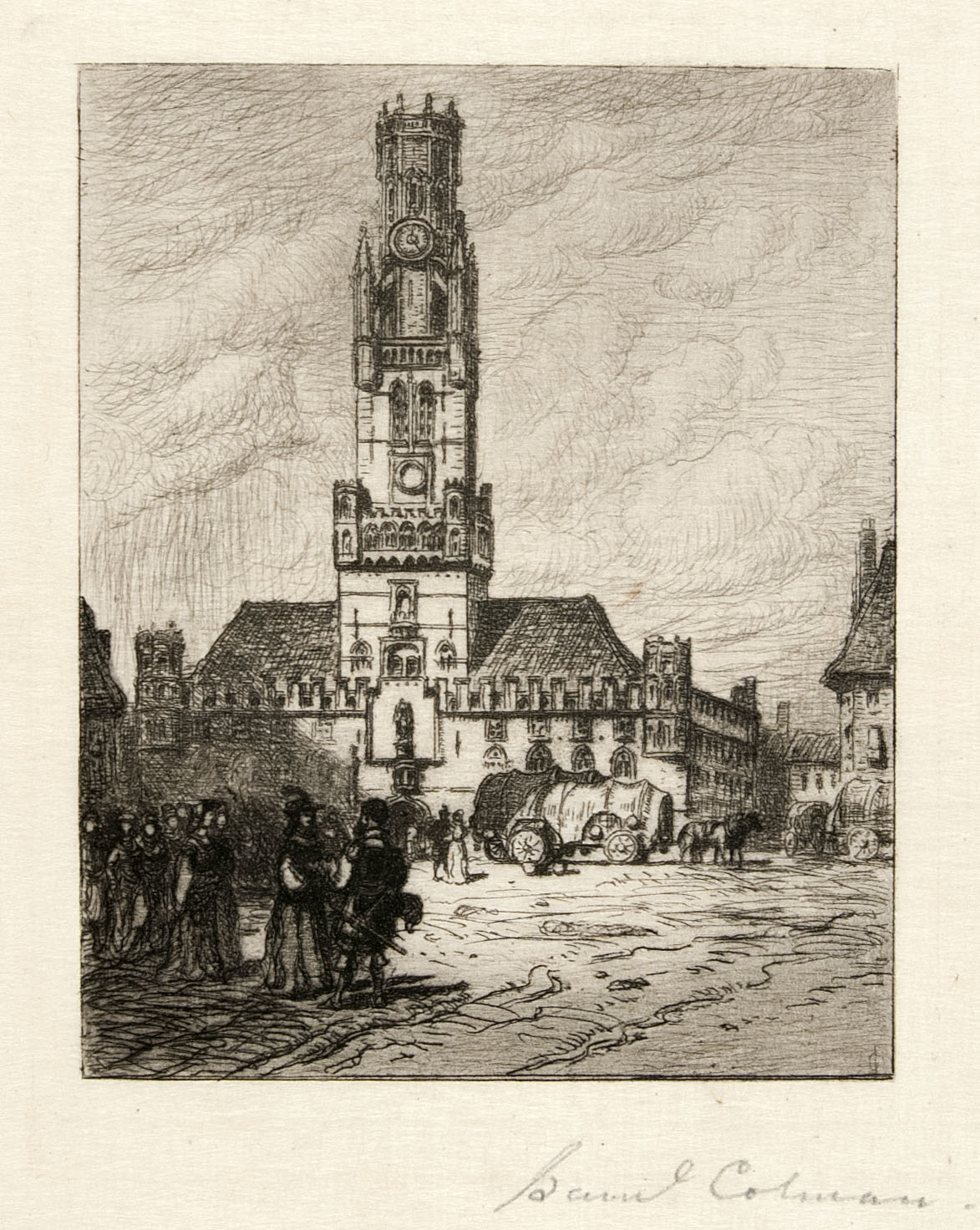 George Loring Brown
American 1814-1889
View of the Road Leading to Castello Gandolfo Near Abano, 1860
Etching on laid paper
SUAC 2017.0575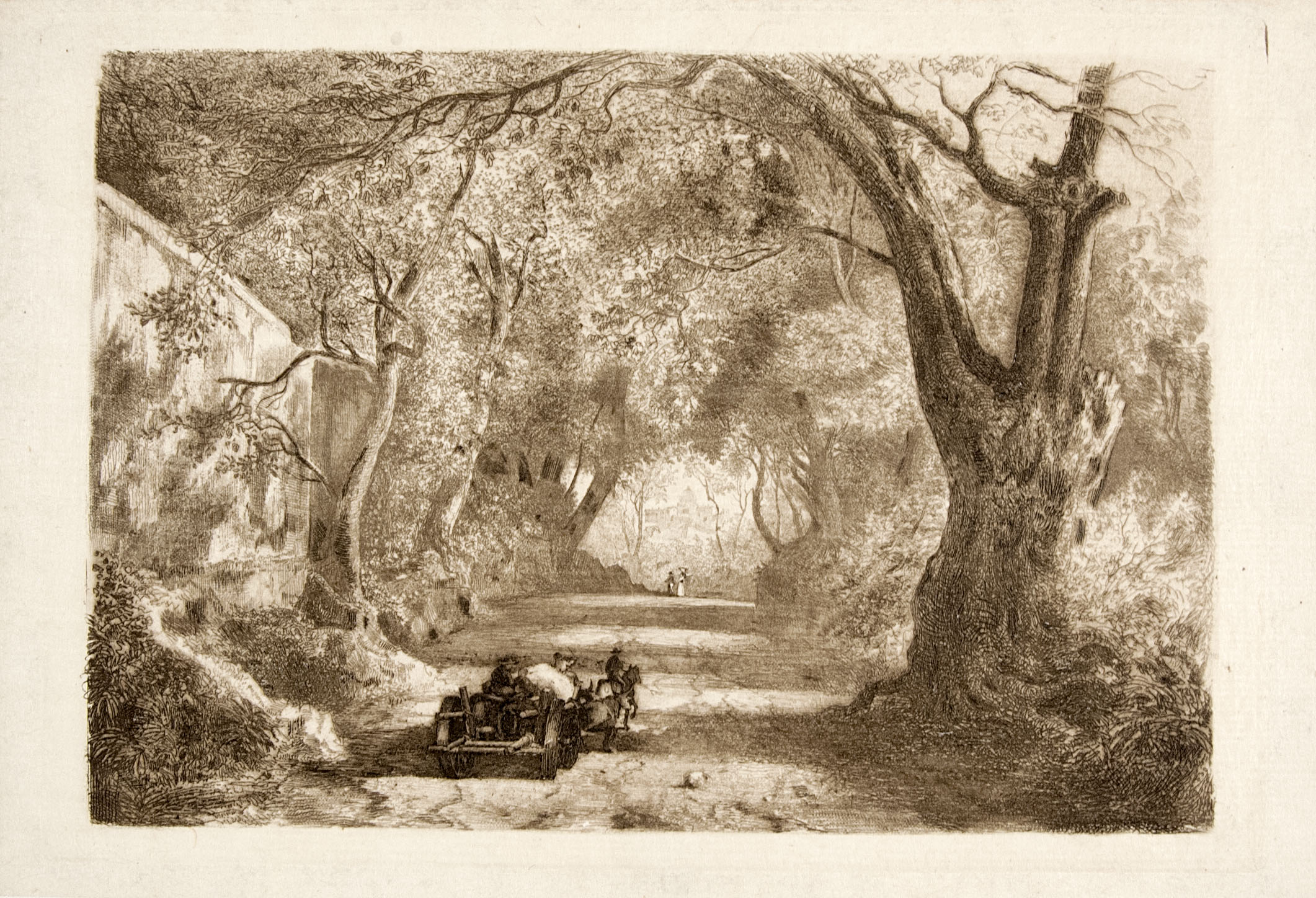 Frank Duveneck
American 1848-1919
View of the Grand Canal, 1883
Etching and drypoint on Japan vellum paper
SUAC 2017.0417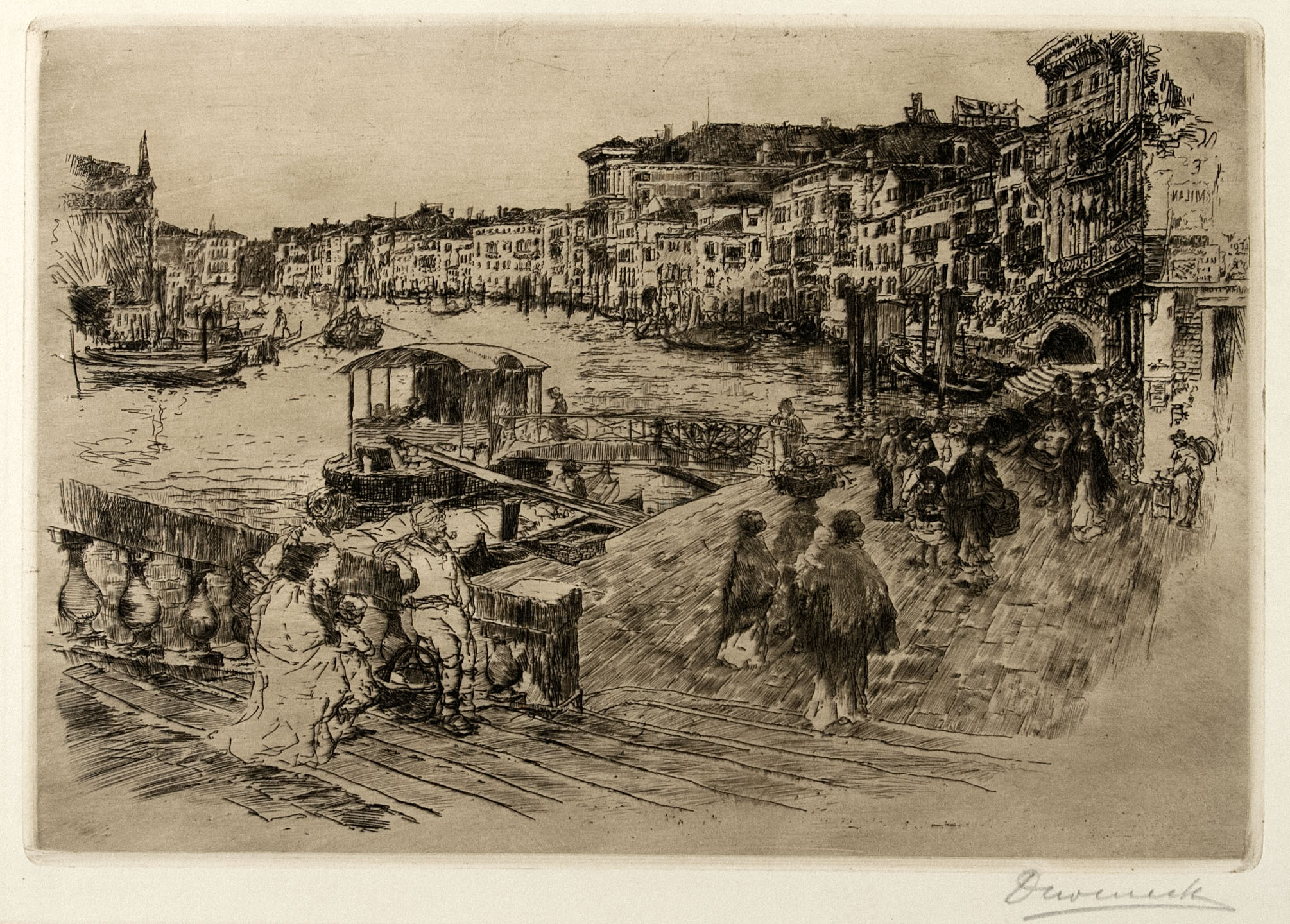 John Leon Moran
American 1864-1941
A Japanese Fantasy, 1884
Etching on chine collé wove paper
SUAC 2017.0111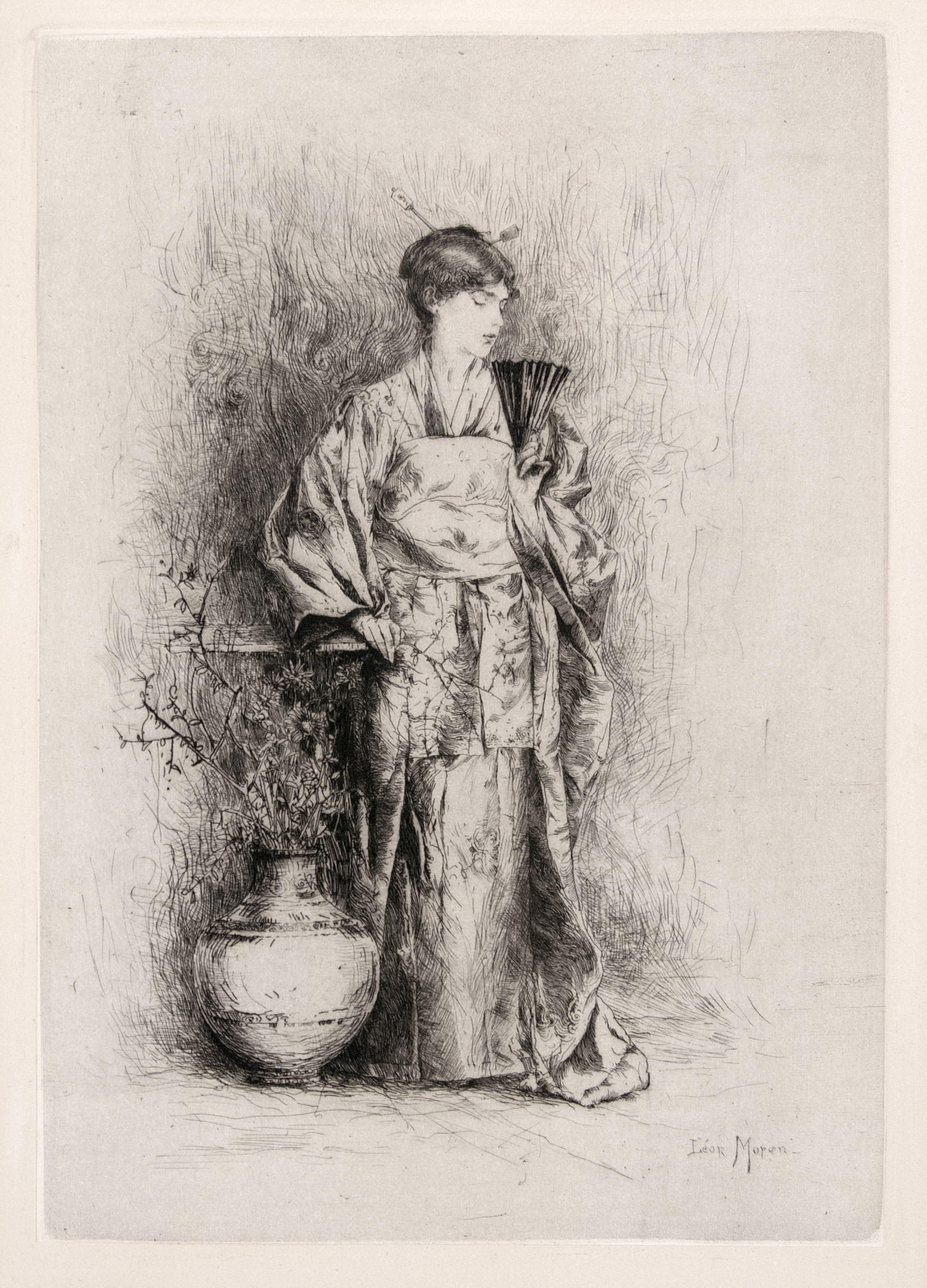 Robert Swain Gifford
American 1840-1905
Japanese Inro and Netsukes, 1883
Etching on laid paper
SUAC 2017.0606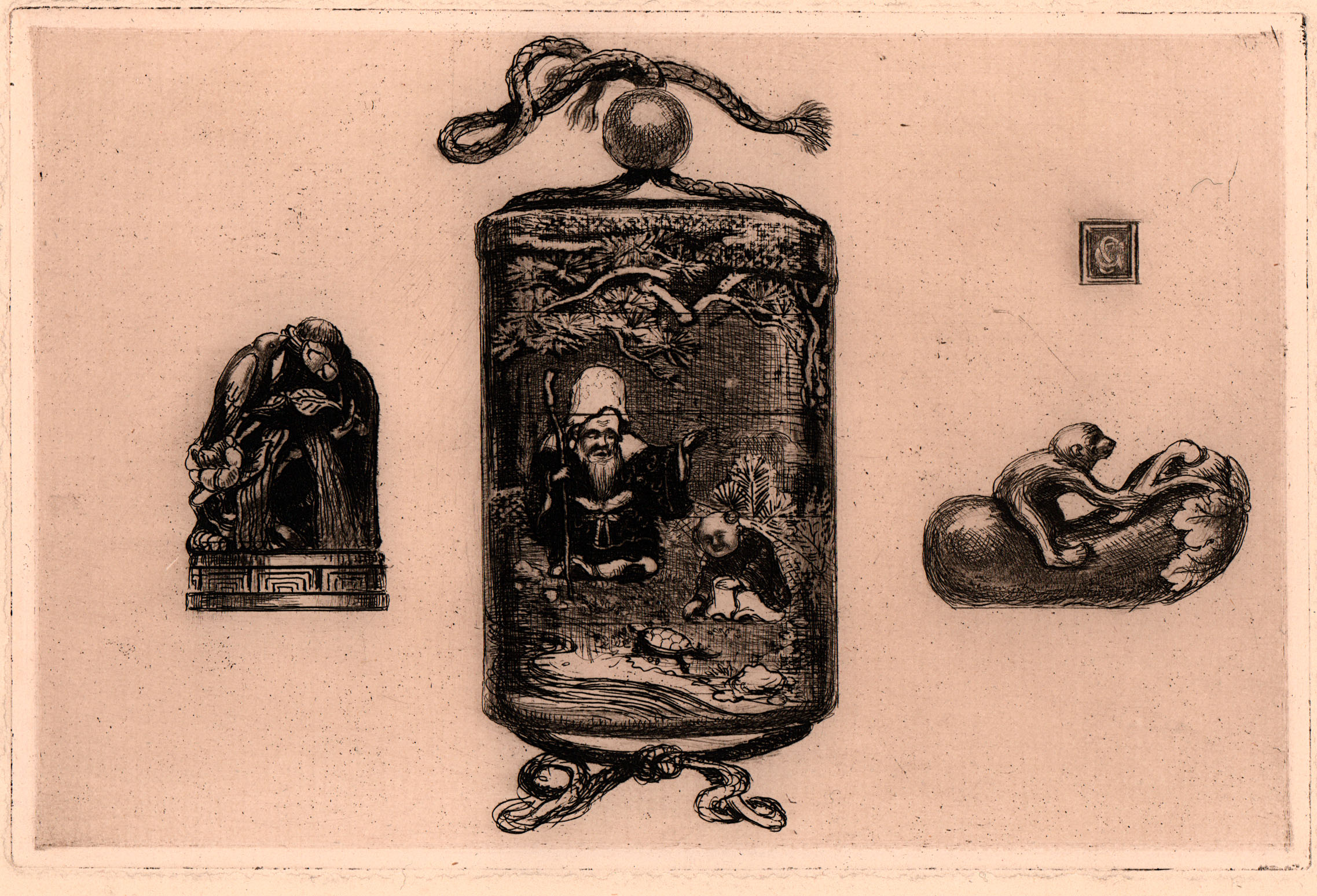 Charles Frederick William Mielatz
American 1864-1919
Restaurant in Chinatown, 1906
Etching on fine Japan paper
SUAC 2017.0452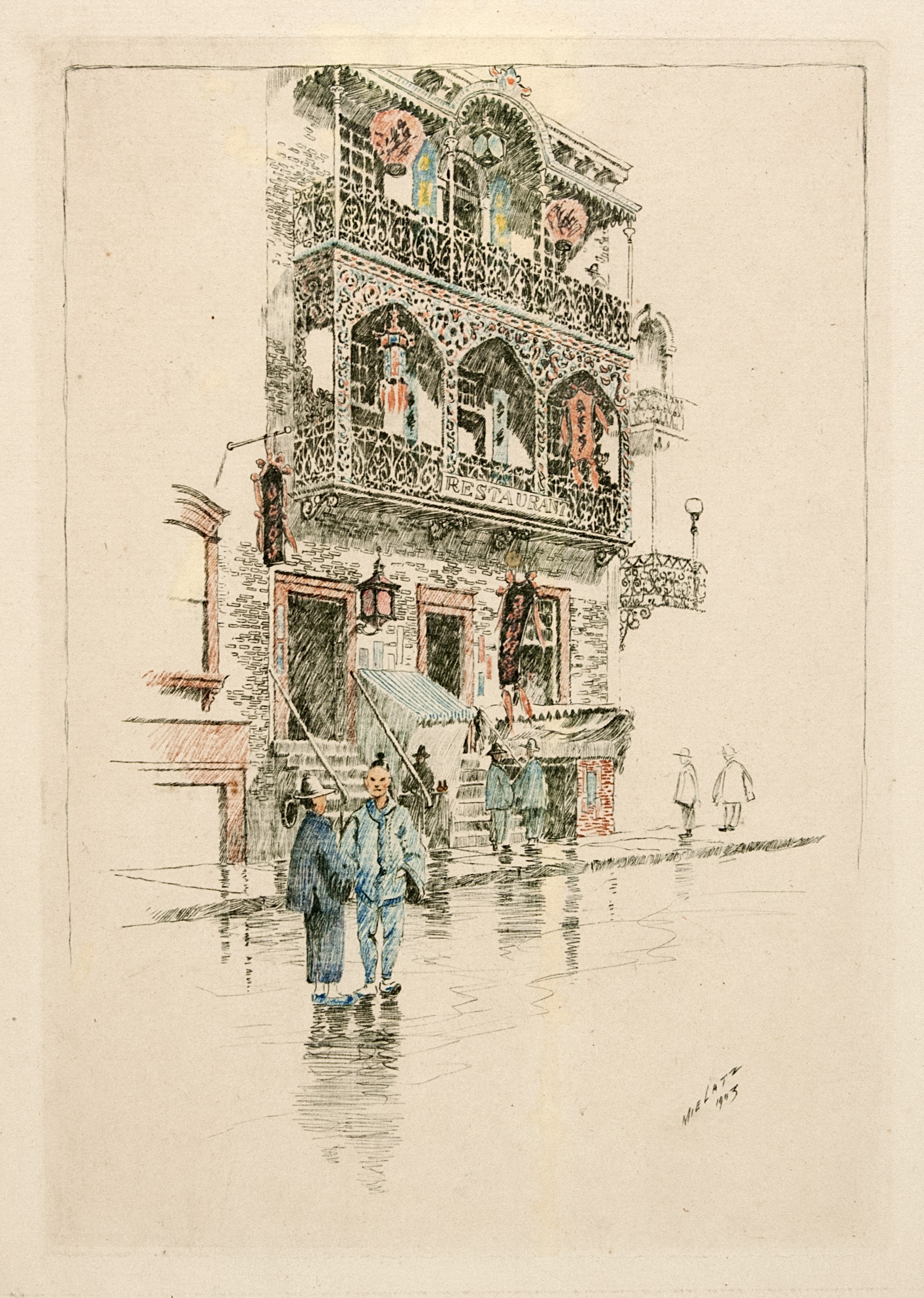 Charles Frederick William Mielatz
American 1864-1919
The Golden Door, Transportation Building, 1893
Etching on thin Japan paper
SUAC 2017.0266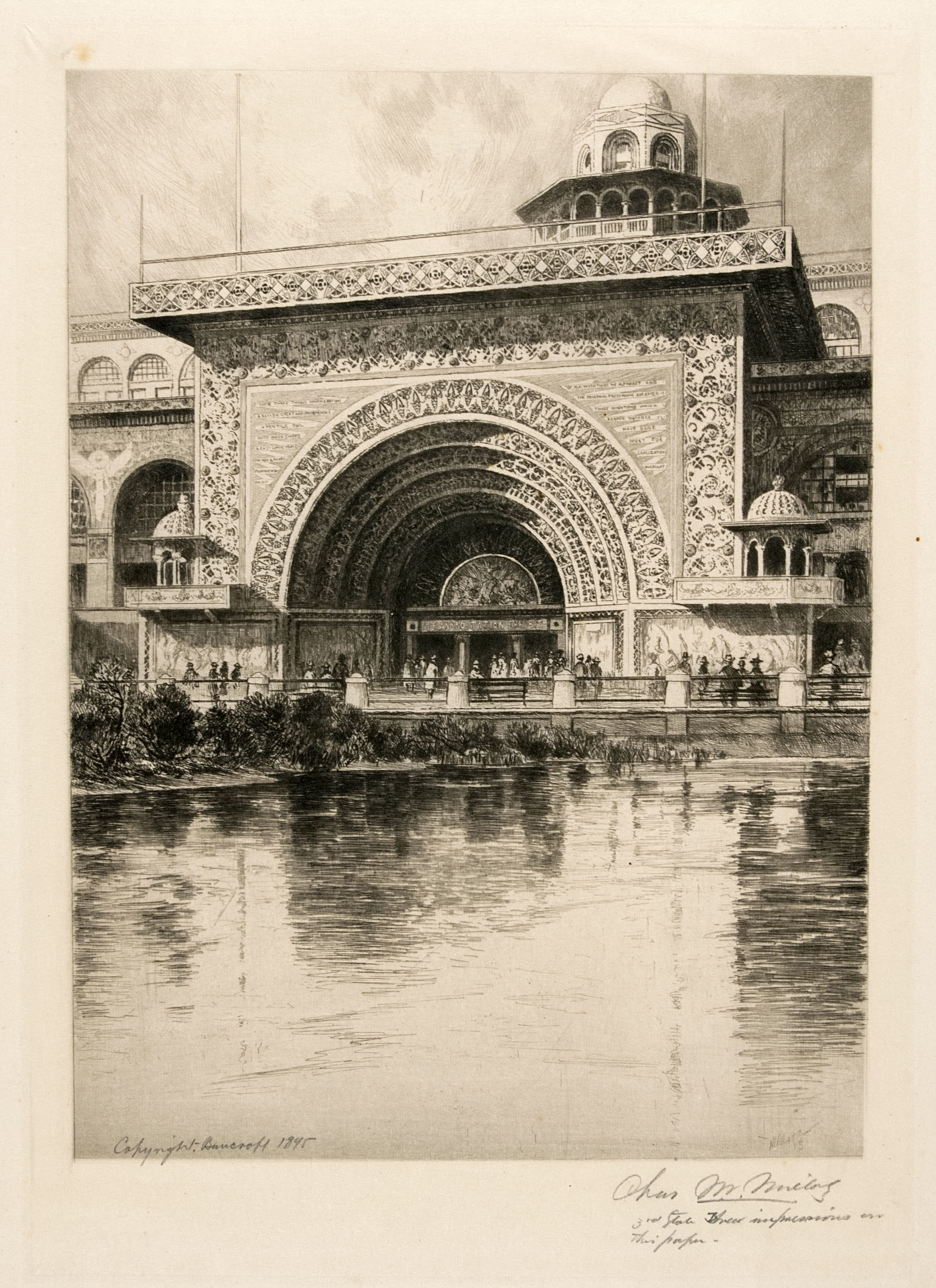 Joseph Pennell
American 1857-1926
Wren's City, 1909
Mezzotint on laid paper
SUAC 2017.0587
Francis Seymour Haden
English 1818-1910
Marshes Opposite Erith, 1865
Etching on Japan paper
SUAC 2017.0378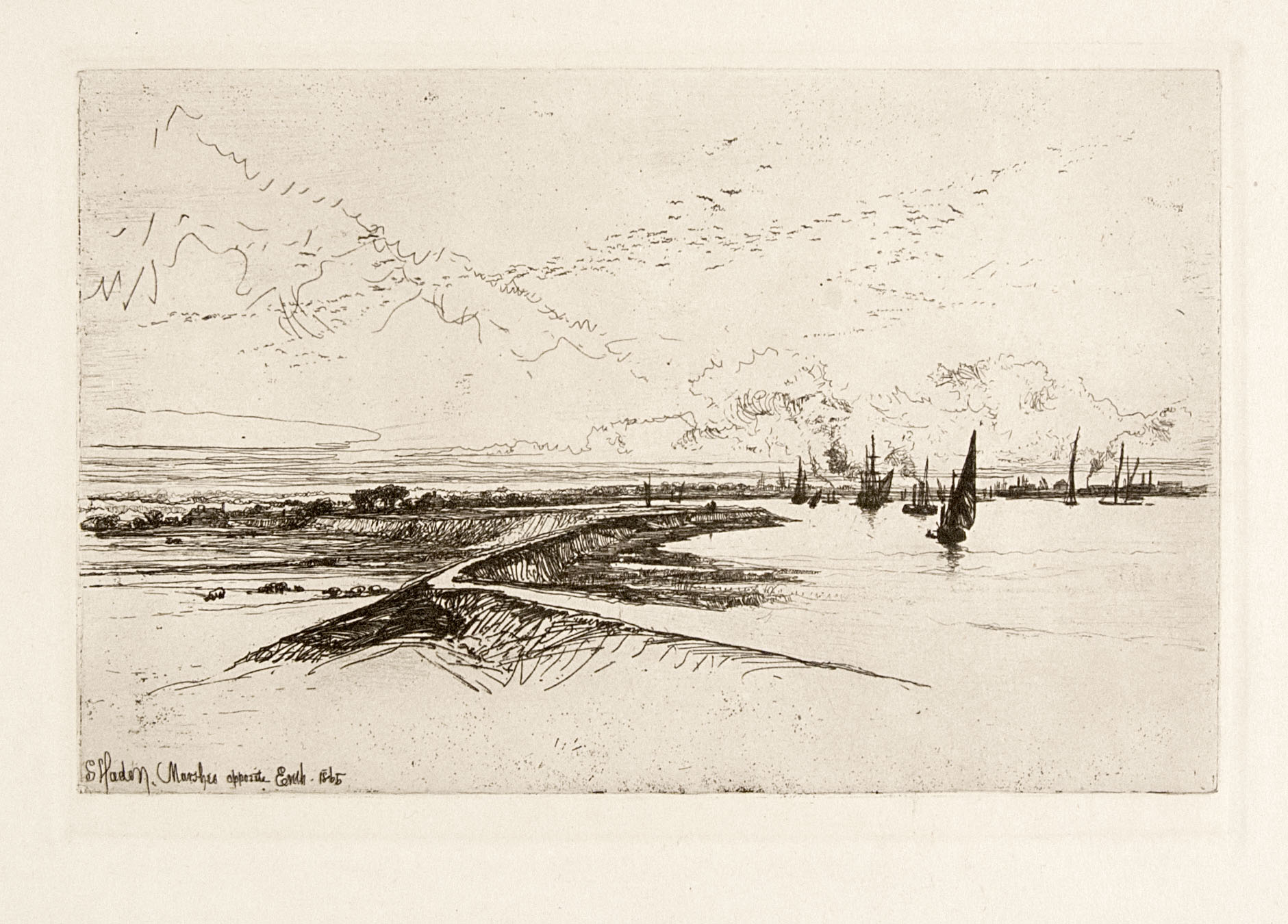 Julian Alden Weir
American 1852-1919
Harbor – Isle of Man, 1889
Etching on laid paper
SUAC 2017.0544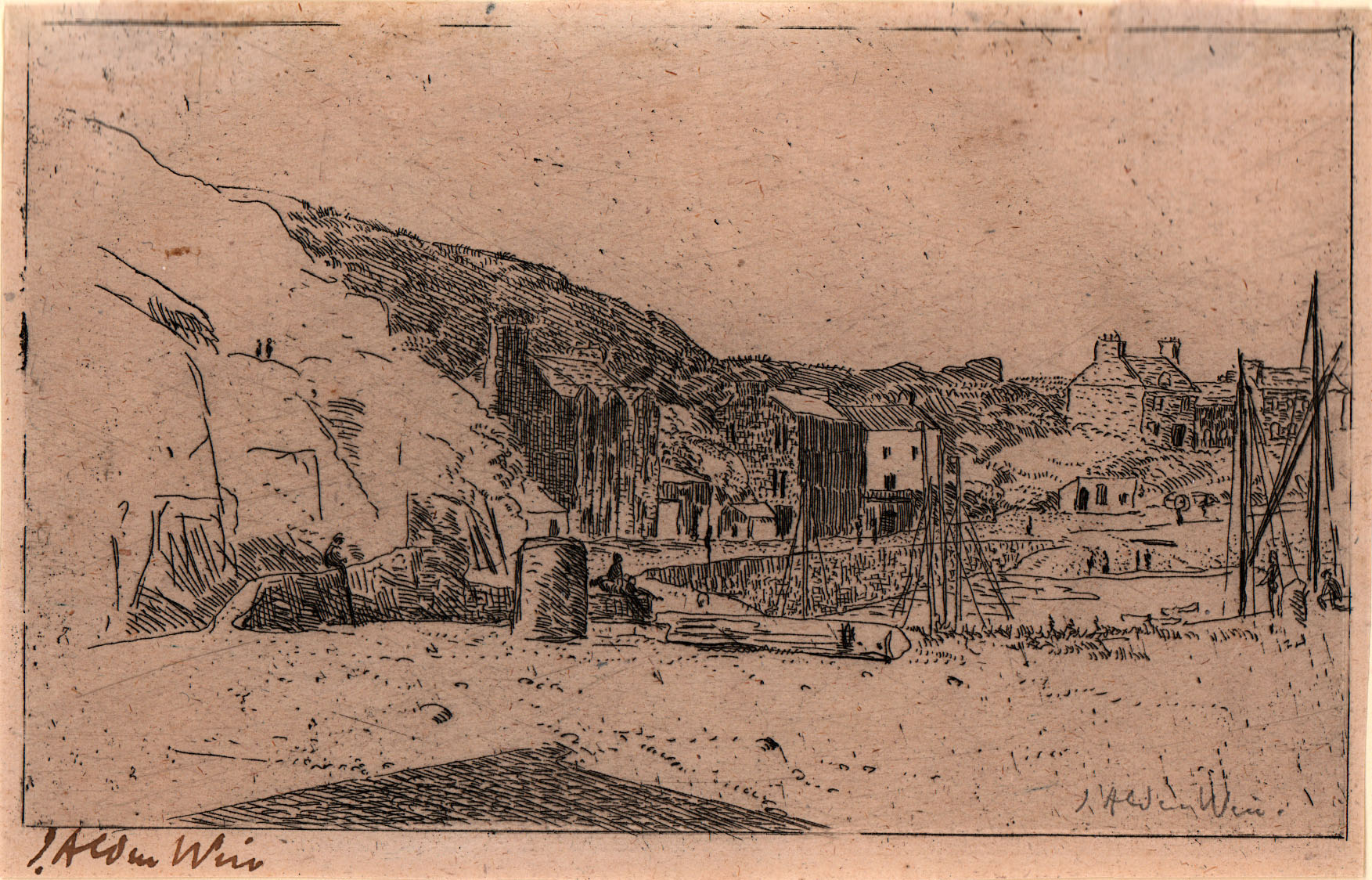 David Young Cameron
Scottish 1865-1945
The Vale of Clyde, 1898
Etching on laid paper
SUAC 2017.0527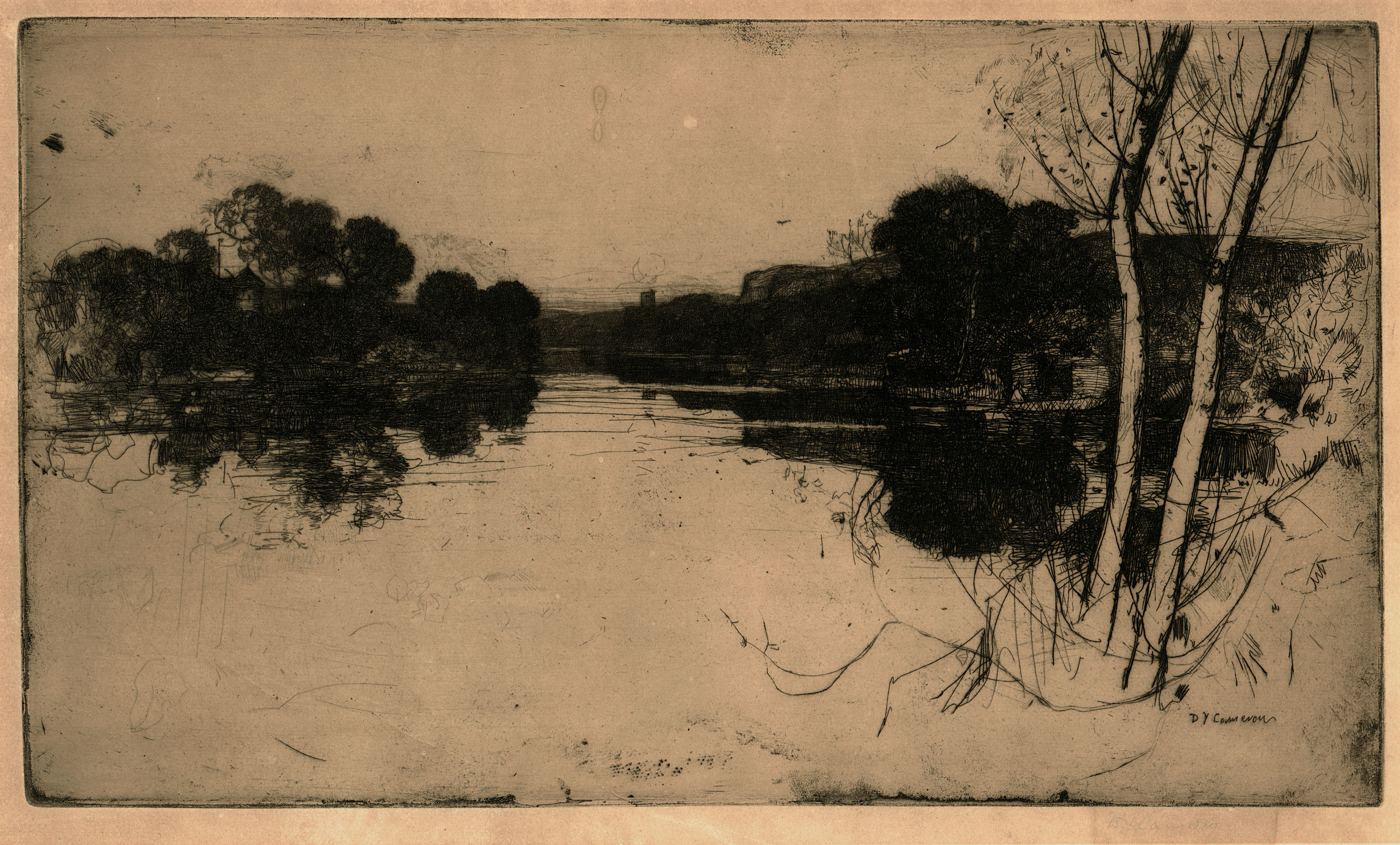 Samuel Colman
American 1832-1920
The Washerwoman, 1877
Etching on laid paper
SUAC 2017.0248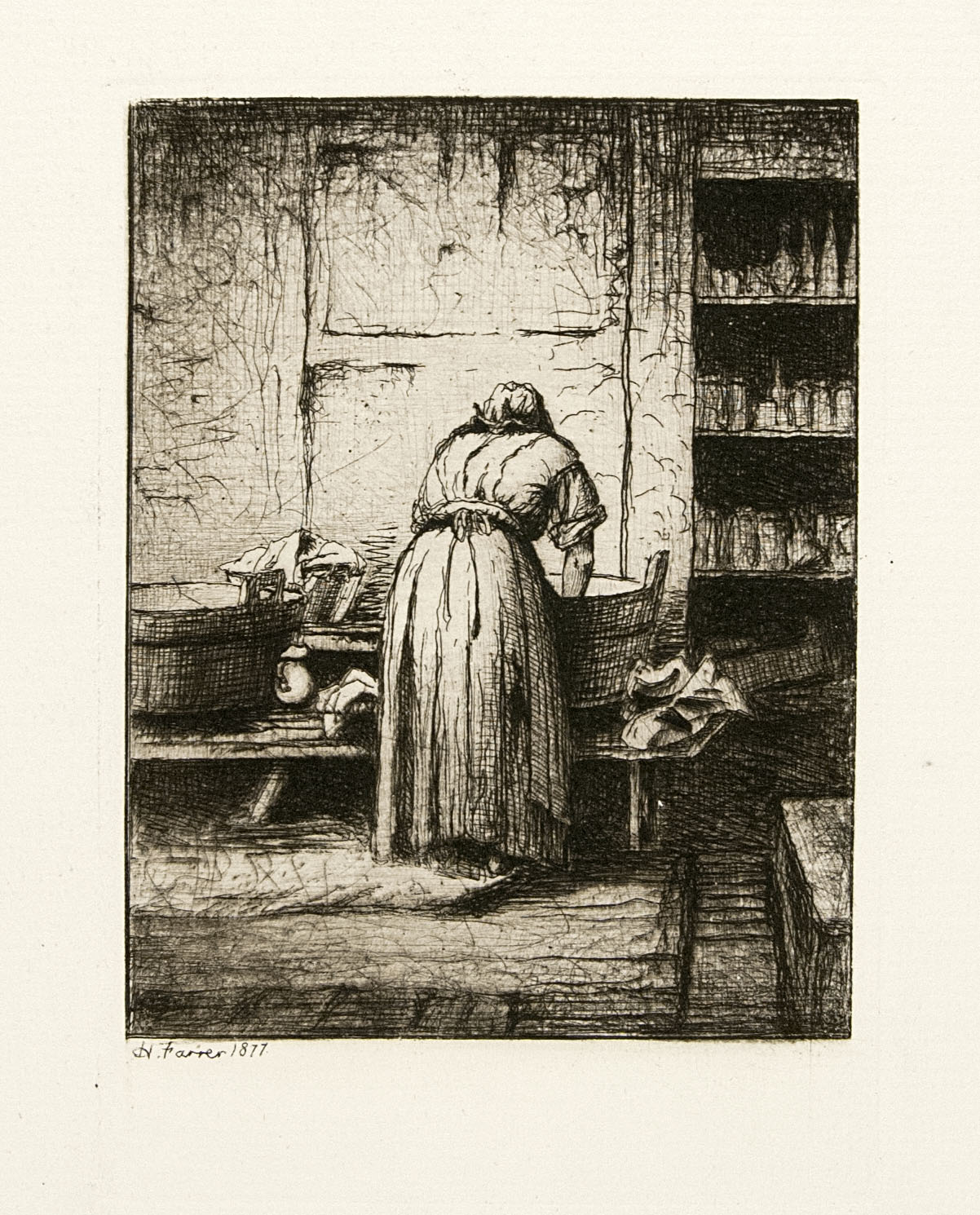 John Mackie Falconer
American 1820-1903
Washing-Morning "Down South,"1882
Etching on wove paper
SUAC 2017.0469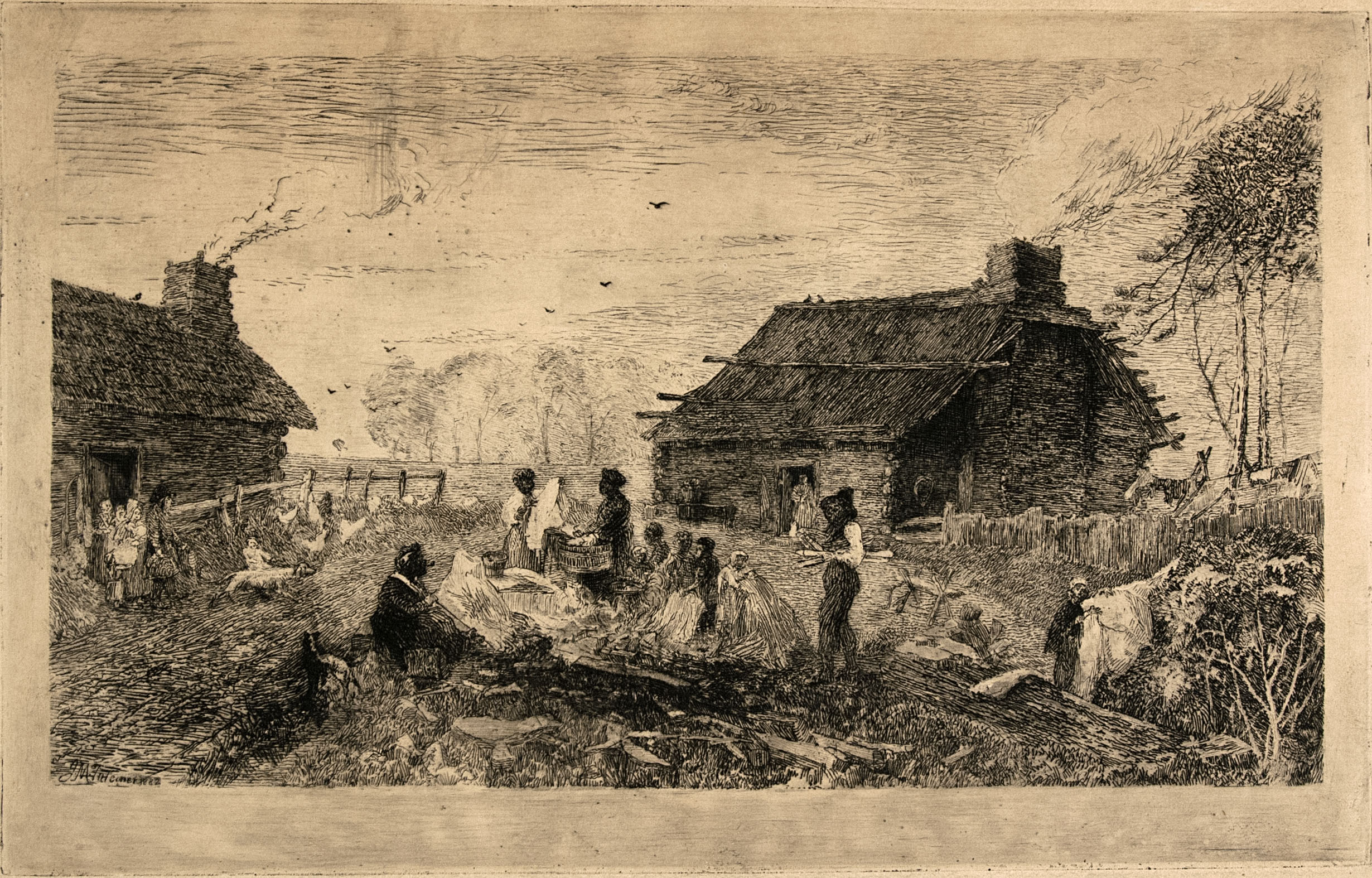 Henry Farrer
American 1843-1903
Old House, corner of Peck Slip & Water Street, 1870
from Scenes of Old New York
Etching on japan paper
SUAC 2017.0563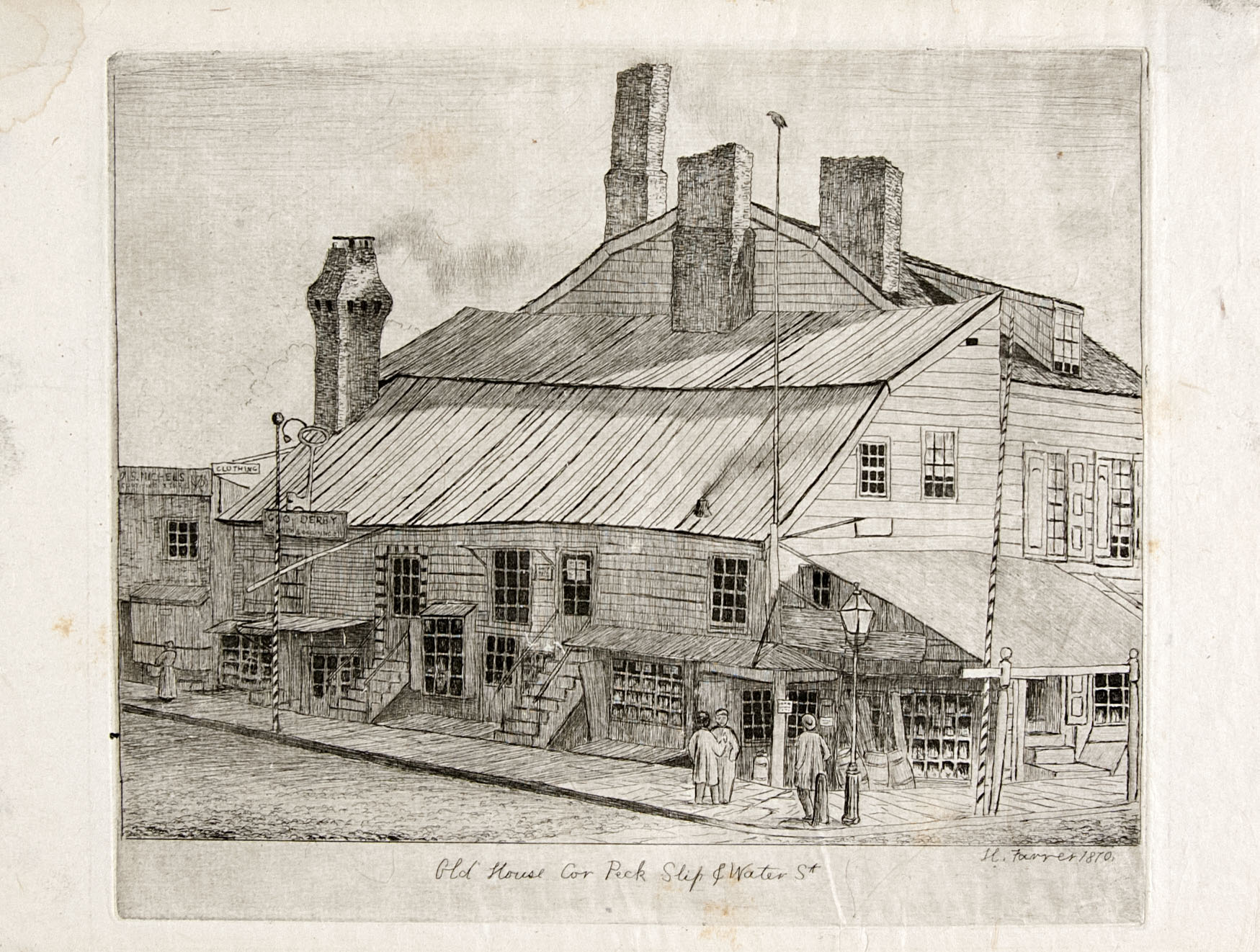 Edith Loring Pierce Getchell
American 1855-1940
The Overflow, 1883
Etching on laid paper
SUAC 2017.0440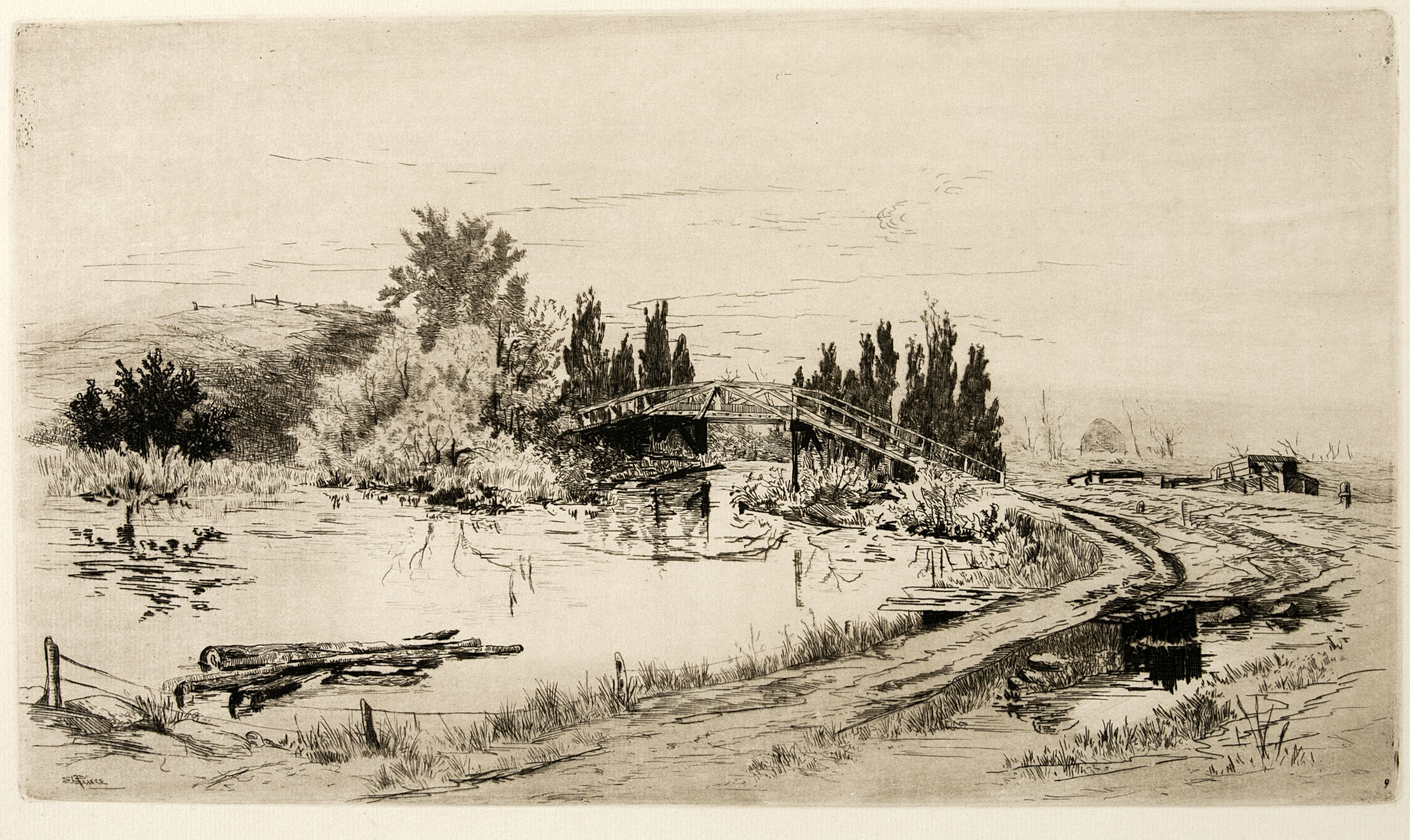 Thomas Moran
American 1837-1926
Sunrise, The Pond, East Hampton, L.I., 1880
Etching on satin
SUAC 2017.0594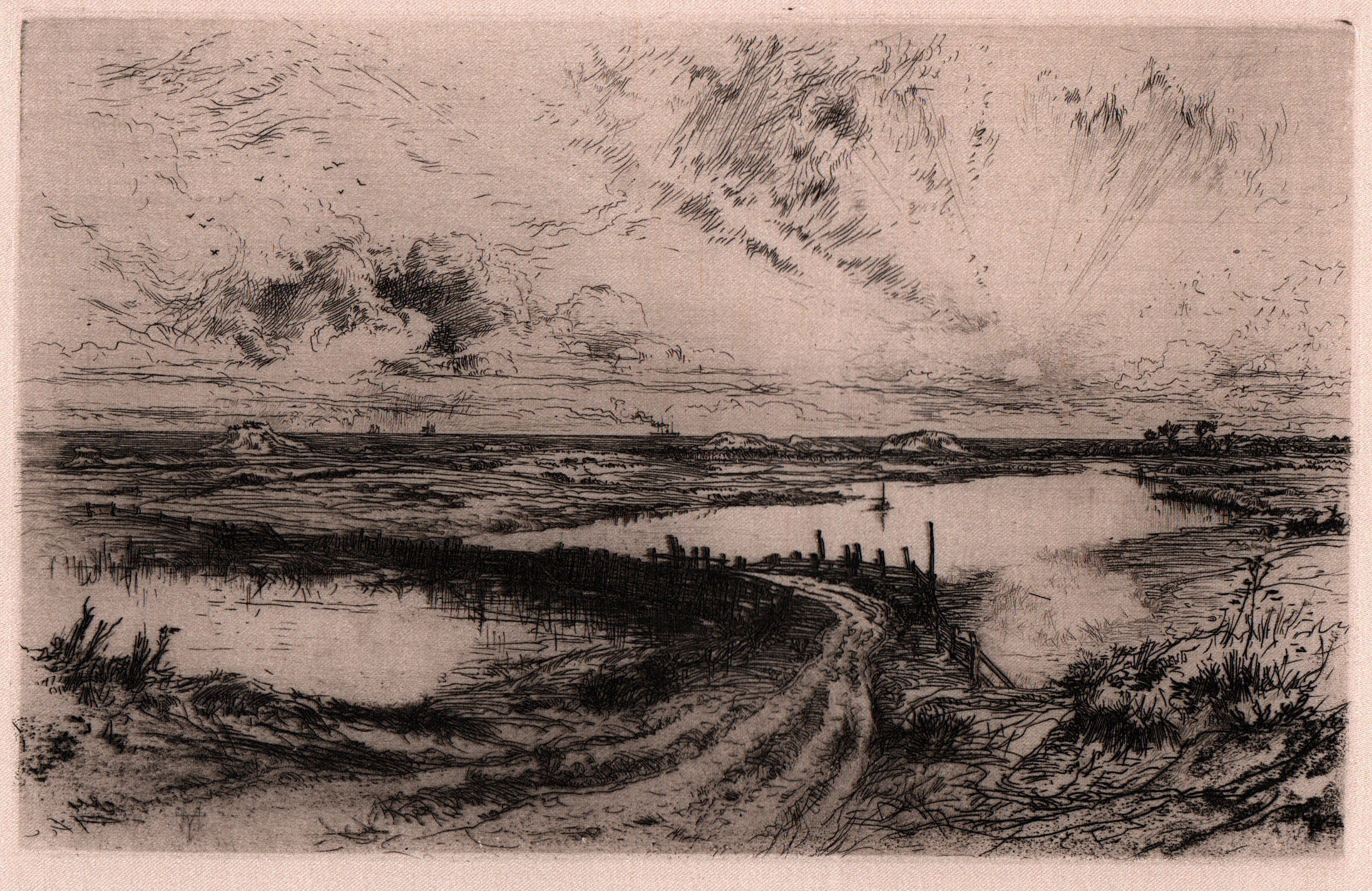 Charles Adam Platt
American 1861-1933
Cape Ann Willows, 1887
Drypoint on Japan paper
SUAC 2017.0161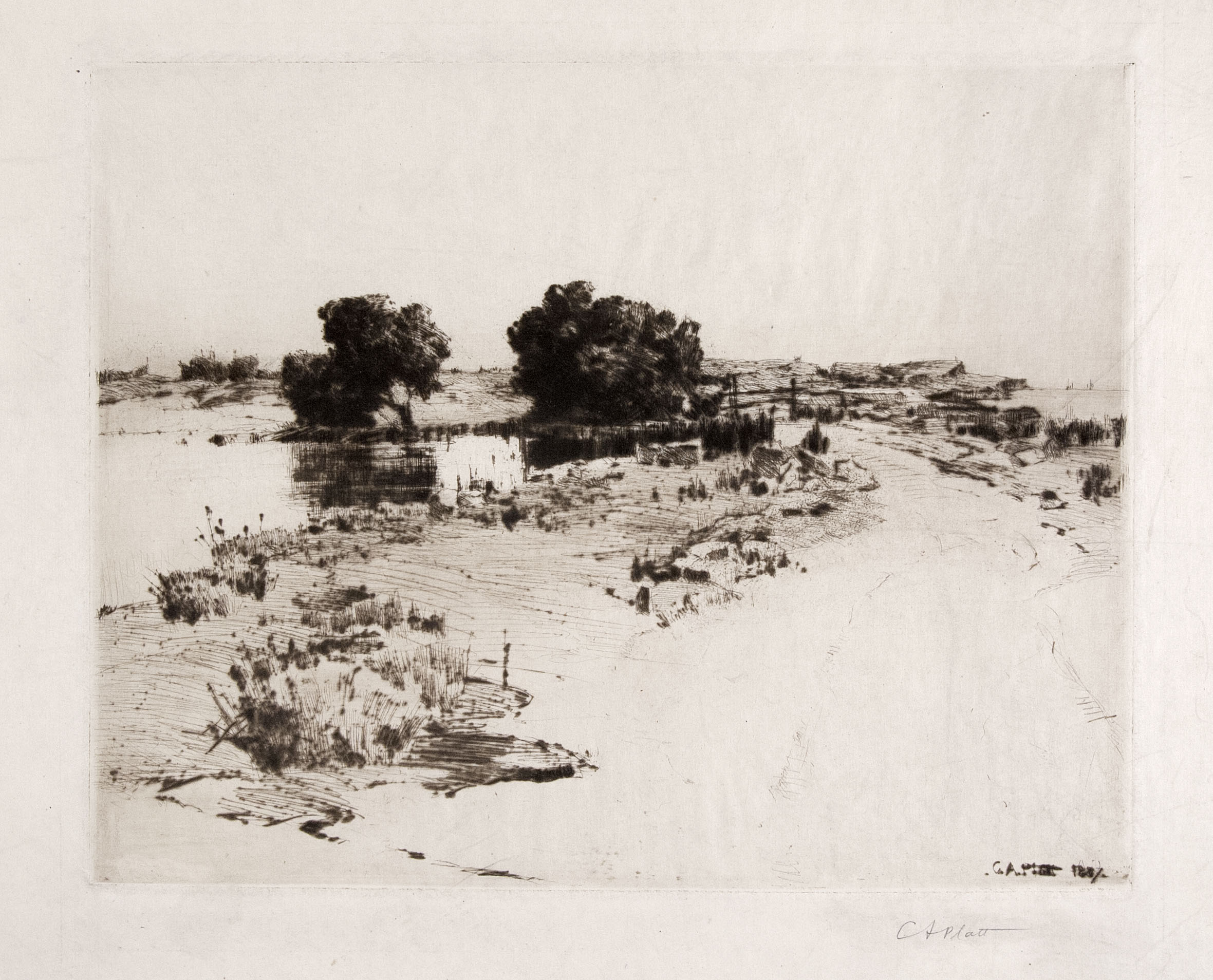 Edith Loring Pierce Getchell
American 1855-1940
untitled [twilight skyline, possibly behind the sand dunes, or Sewell's point], 1884
Etching on Japan paper
SUAC 2017.0442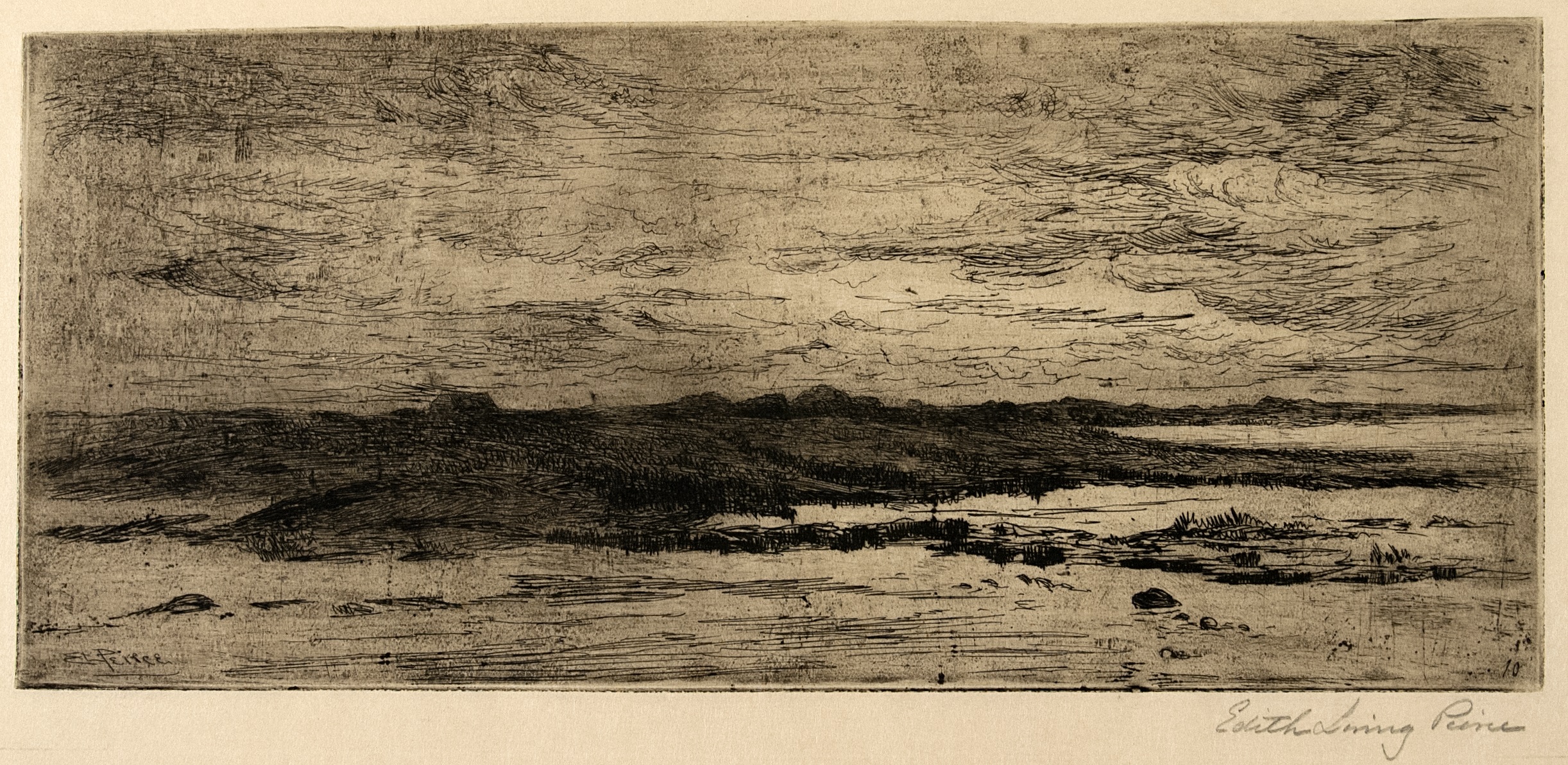 Robert Swain Gifford
American 1840-1905
The Mouth of the Apponagansett, 1883
Etching on Japanese laid paper
SUAC 2017.0602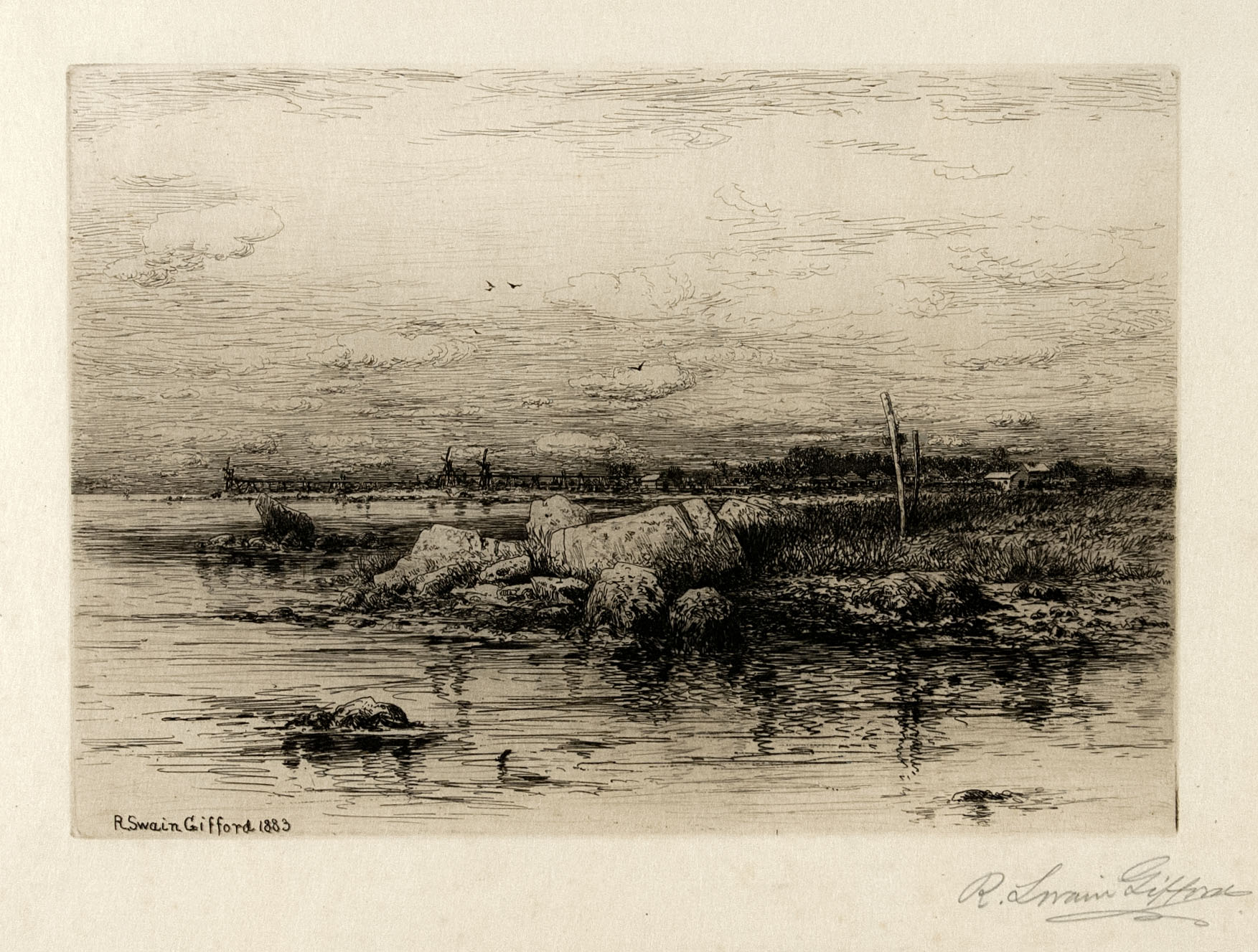 Albert F. Bellows
American 1829-1883
Mill Pond at Windsor, Connecticut, 1879
Etching on thin laid Japan paper
SUAC 2017.0399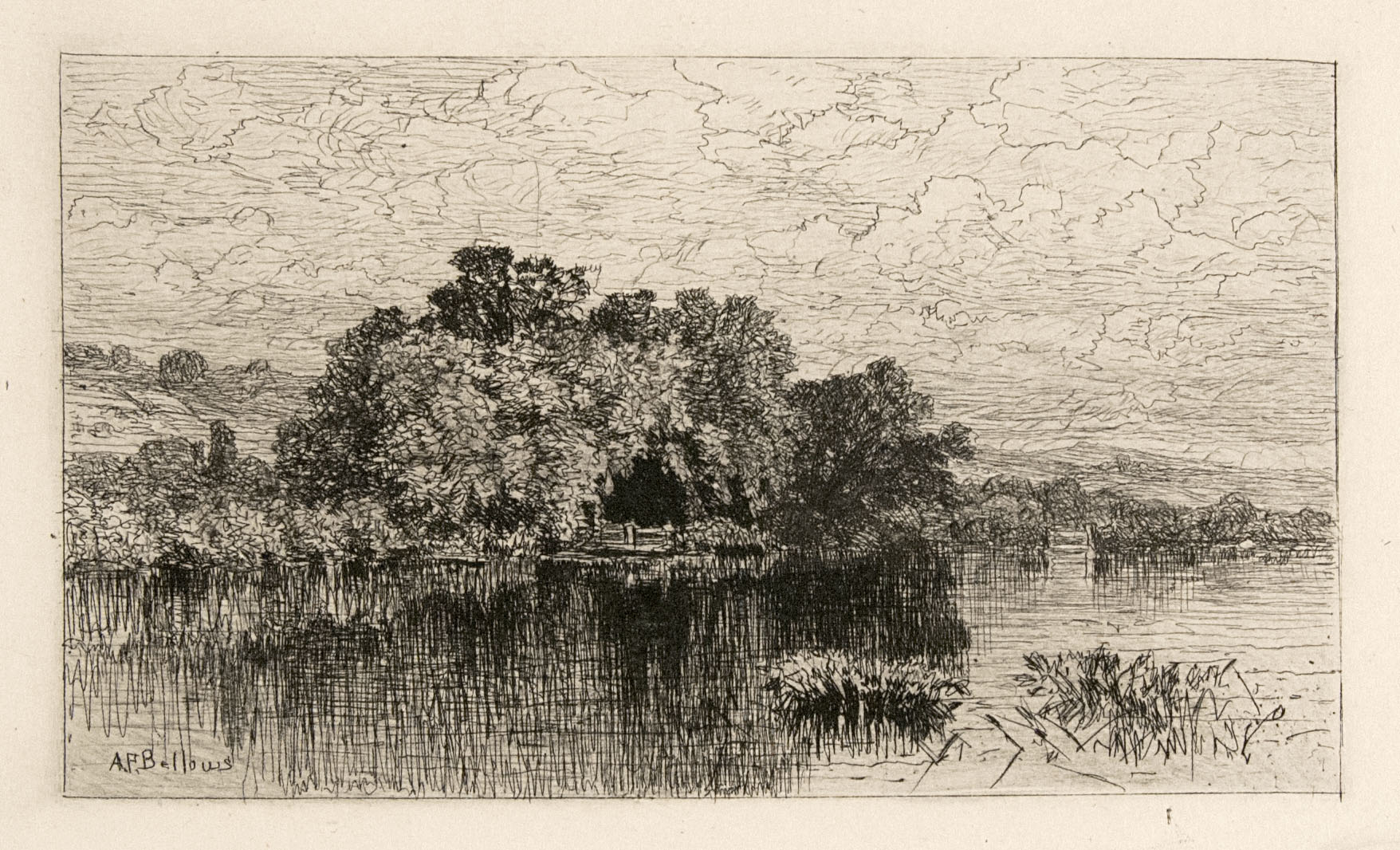 Mary Nimmo Moran
American 1842-1899
Between the Gloaming and the Mirk, 1883
Etching, roulette and scotch stone on laid paper
SUAC 2017.0599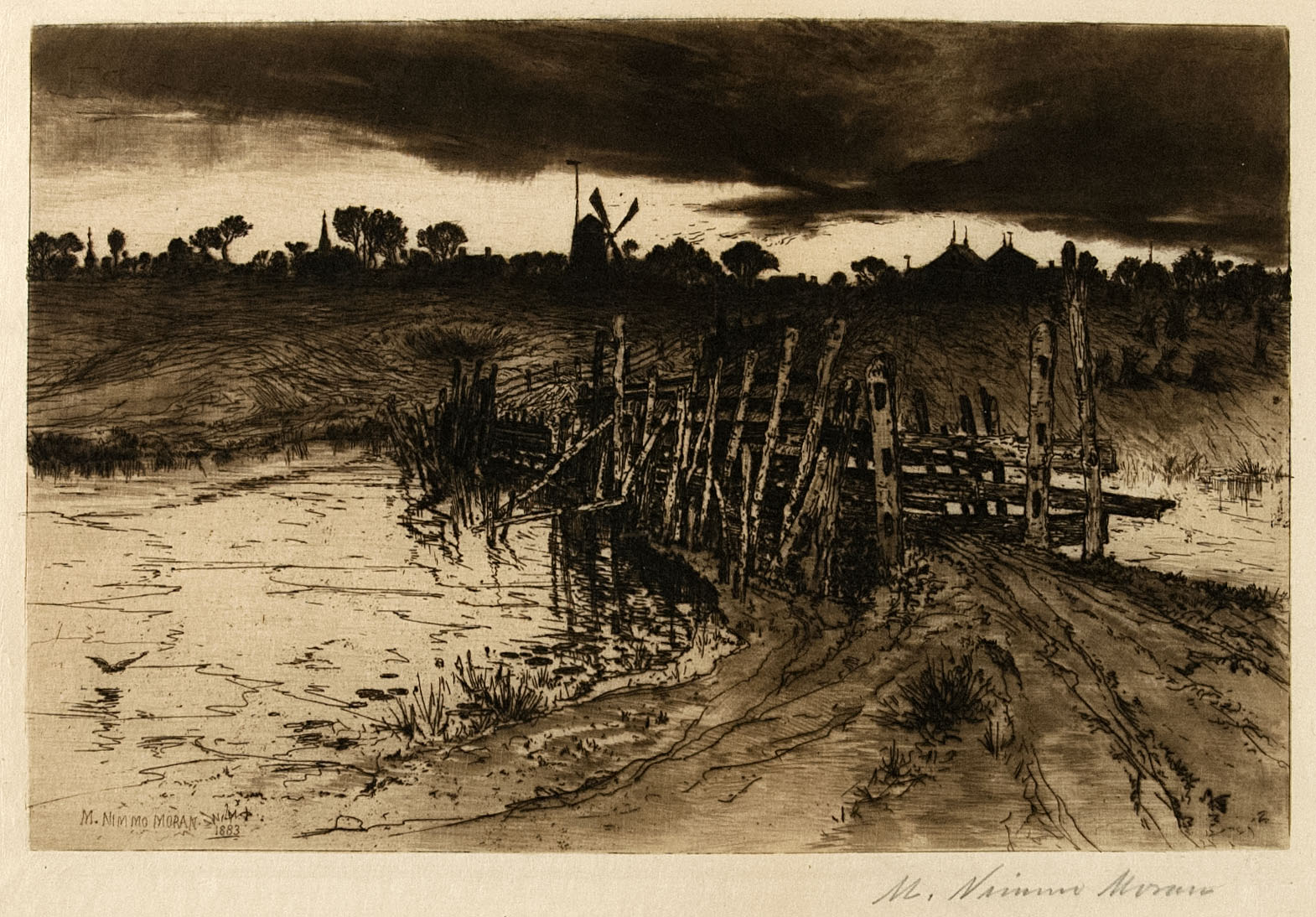 Edmund Henry Garrett
American 1853-1929
Squibnocket Beach, Sand Dunes, 1880
Etching on laid paper
SUAC 2017.0362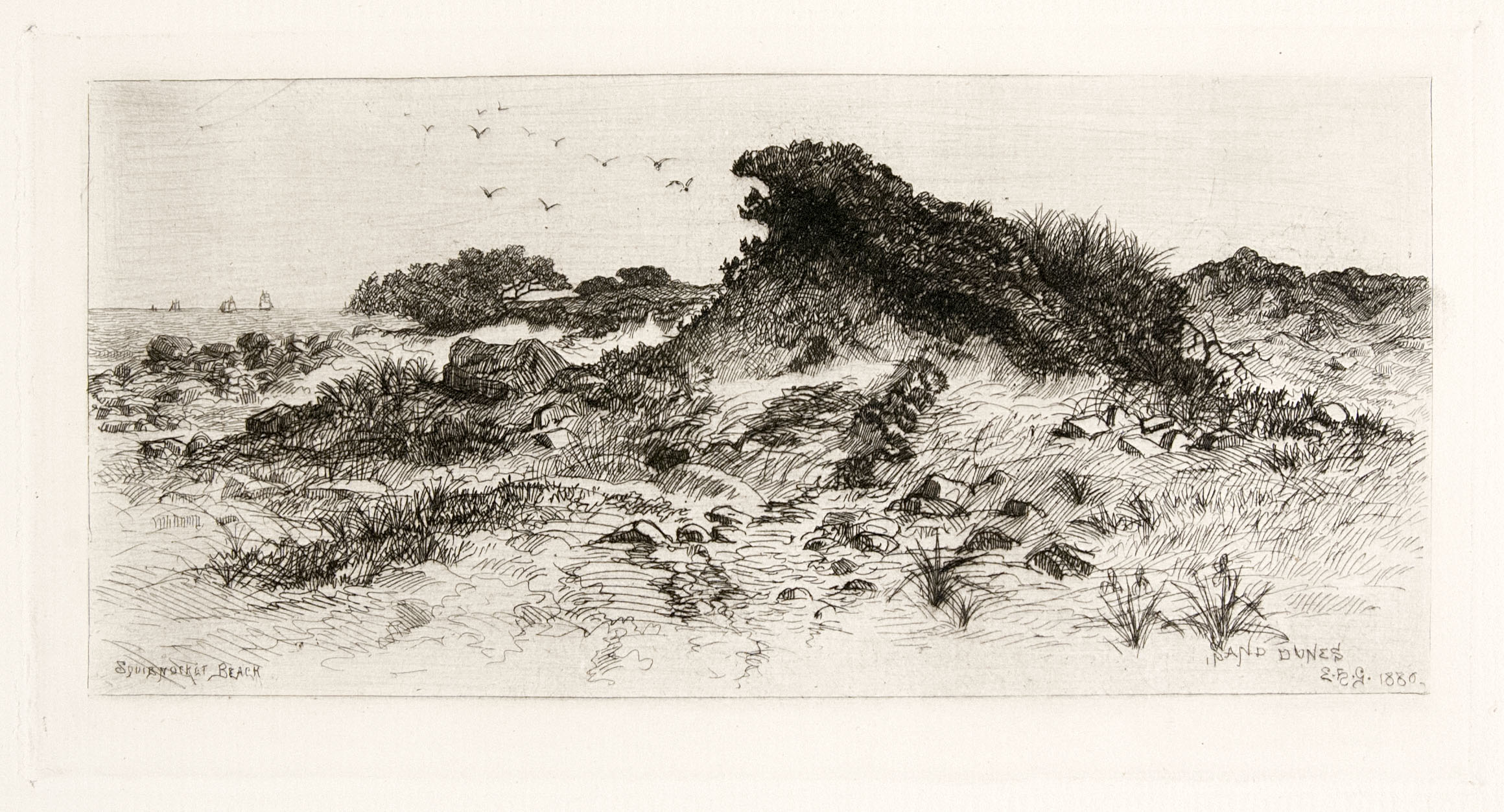 Leroy Milton Yale
American 1841-1906
Old Bridge Near Newburyport, 1883
Etching on laid paper
SUAC 2017.0312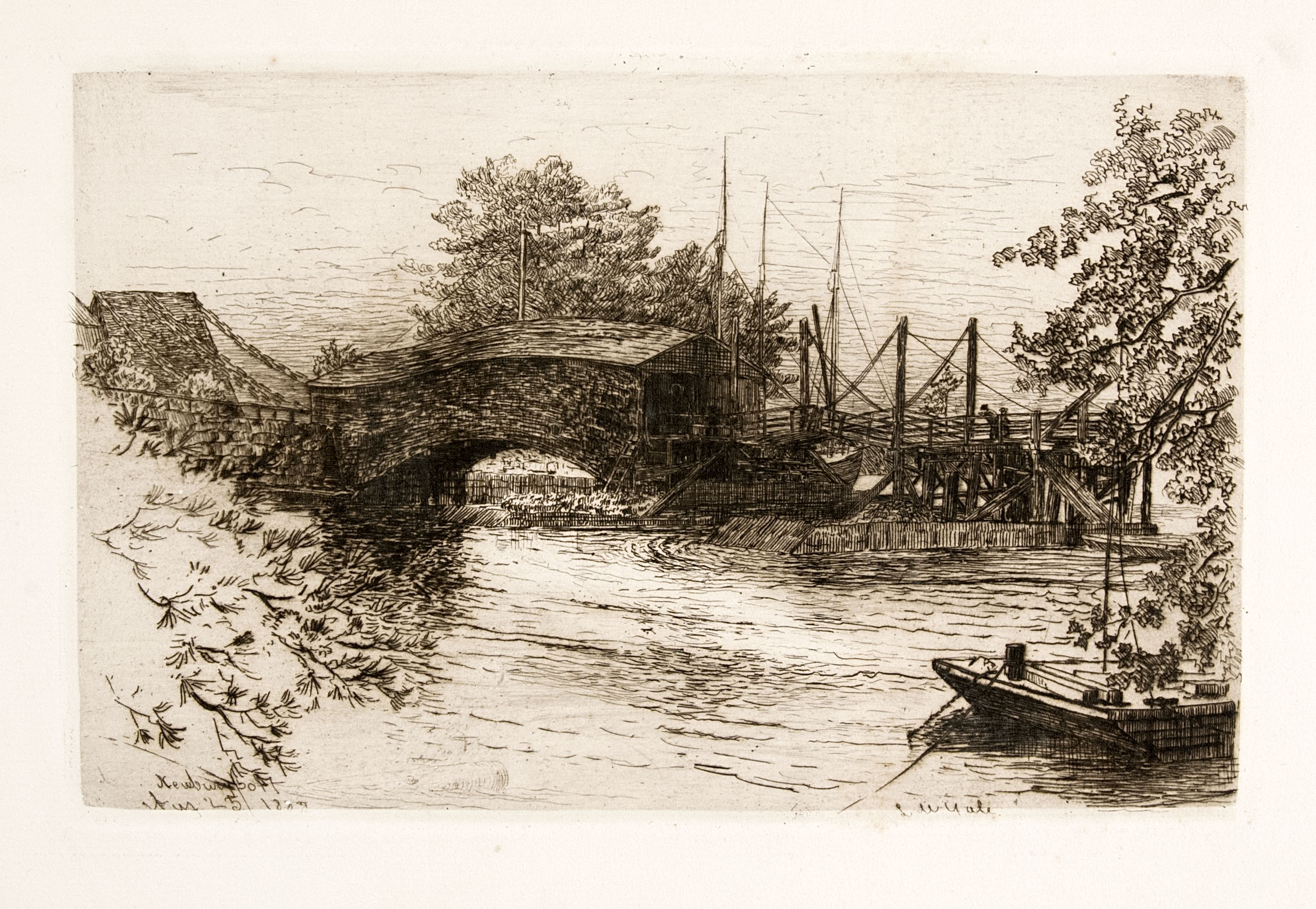 Albion Harris Bicknell
American 1837-1915
untitled, circa 1880
Etching on paper
SUAC 2017.0507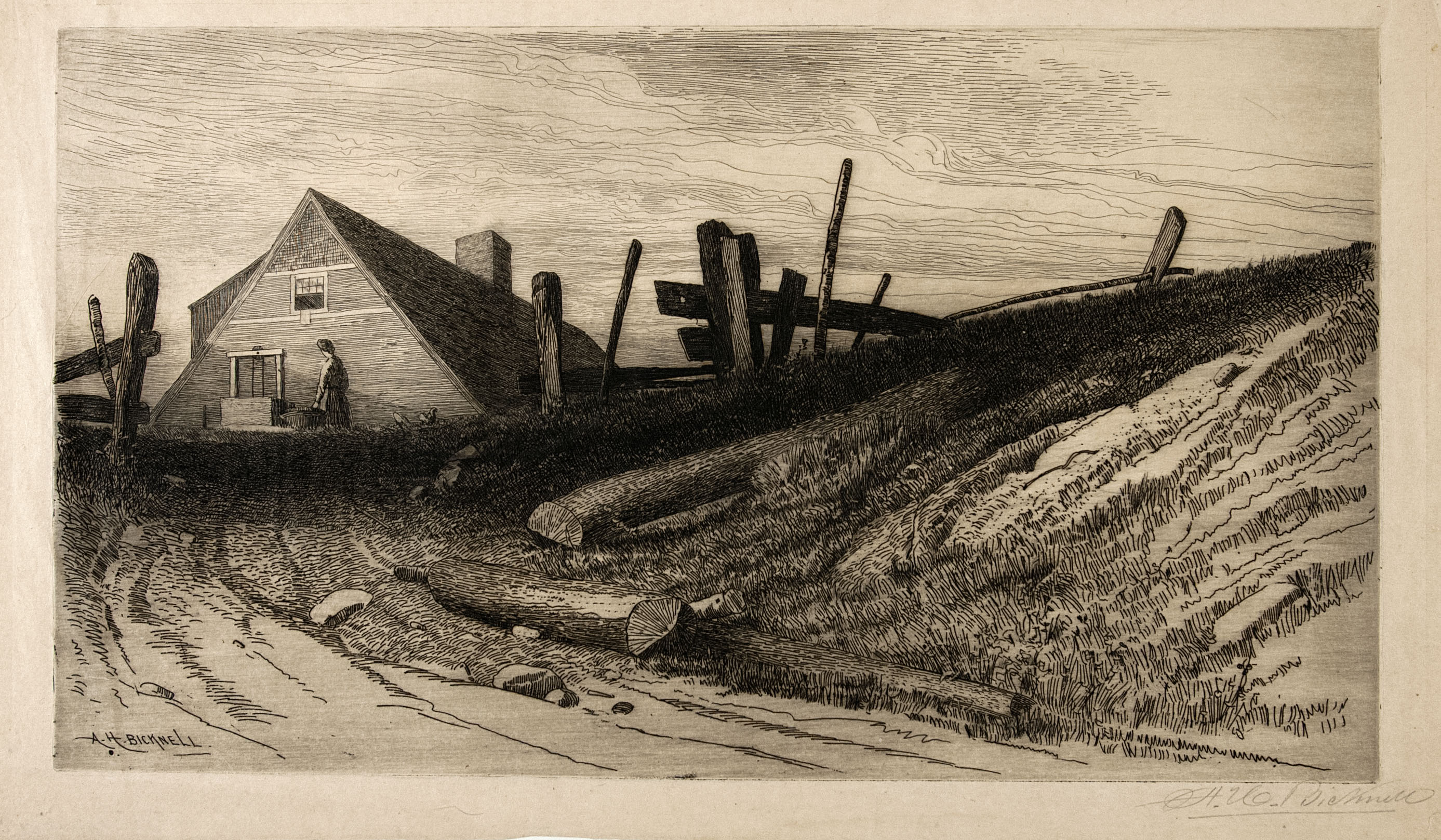 Thomas Hart Benton
American 1889-1975
Rainy Day, 1938
Lithograph on paper
SUAC 1968.119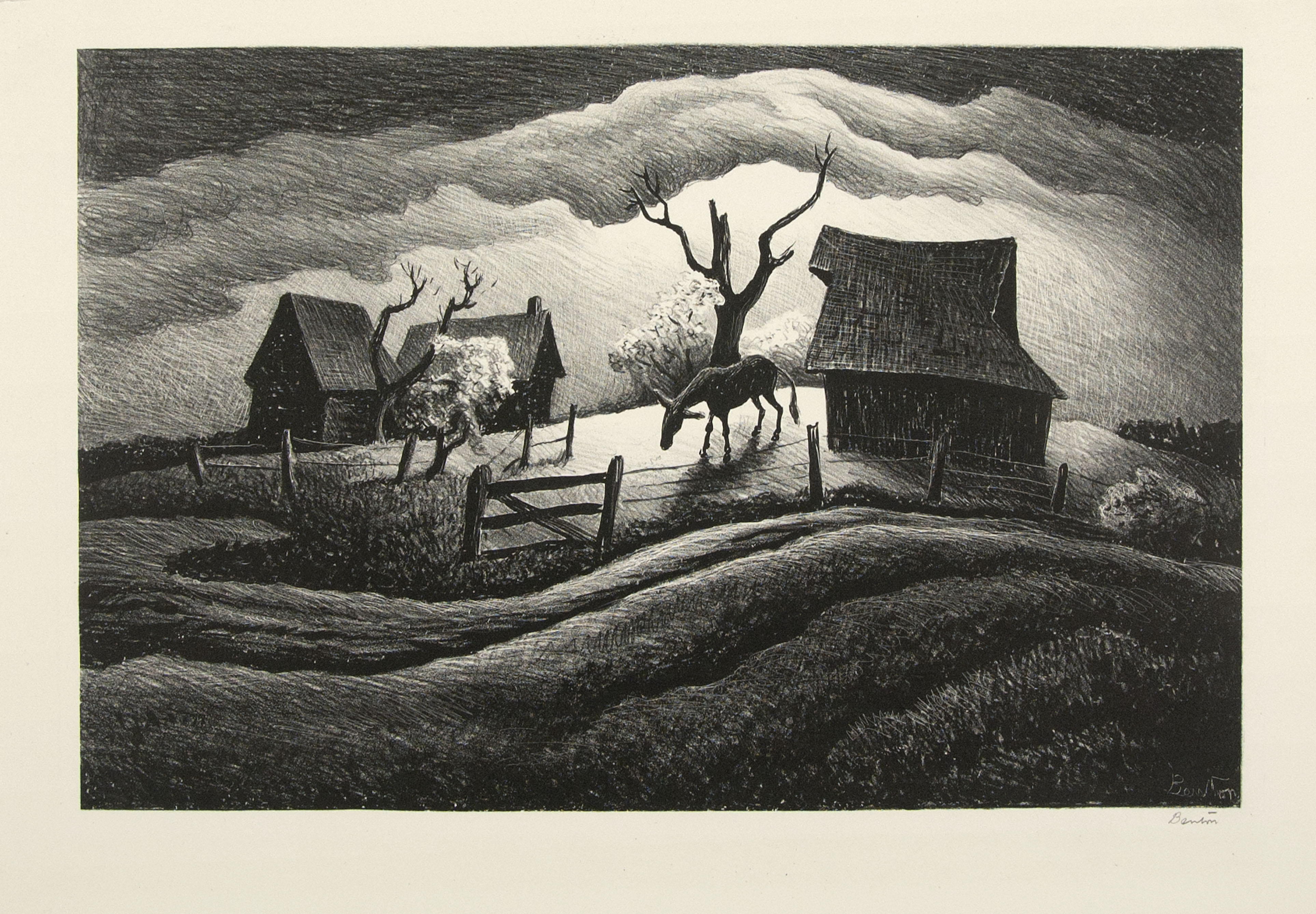 Peter Moran
American 1841-1914
The Pool, 1884
Etching on paper
SUAC 2017.0130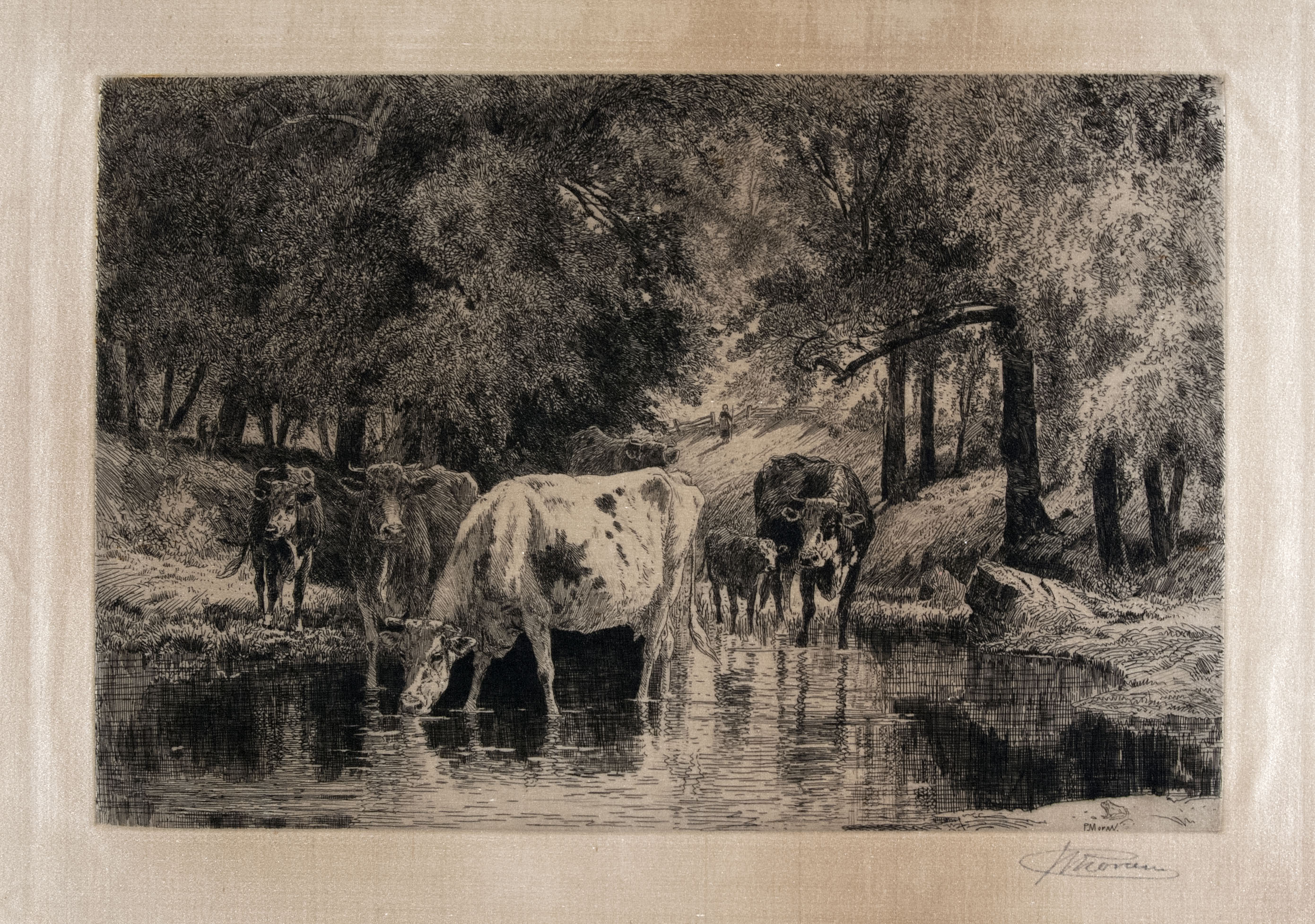 Thomas Hart Benton
American 1889-1975
Sunset, 1941
Lithograph on paper
SUAC 1968.023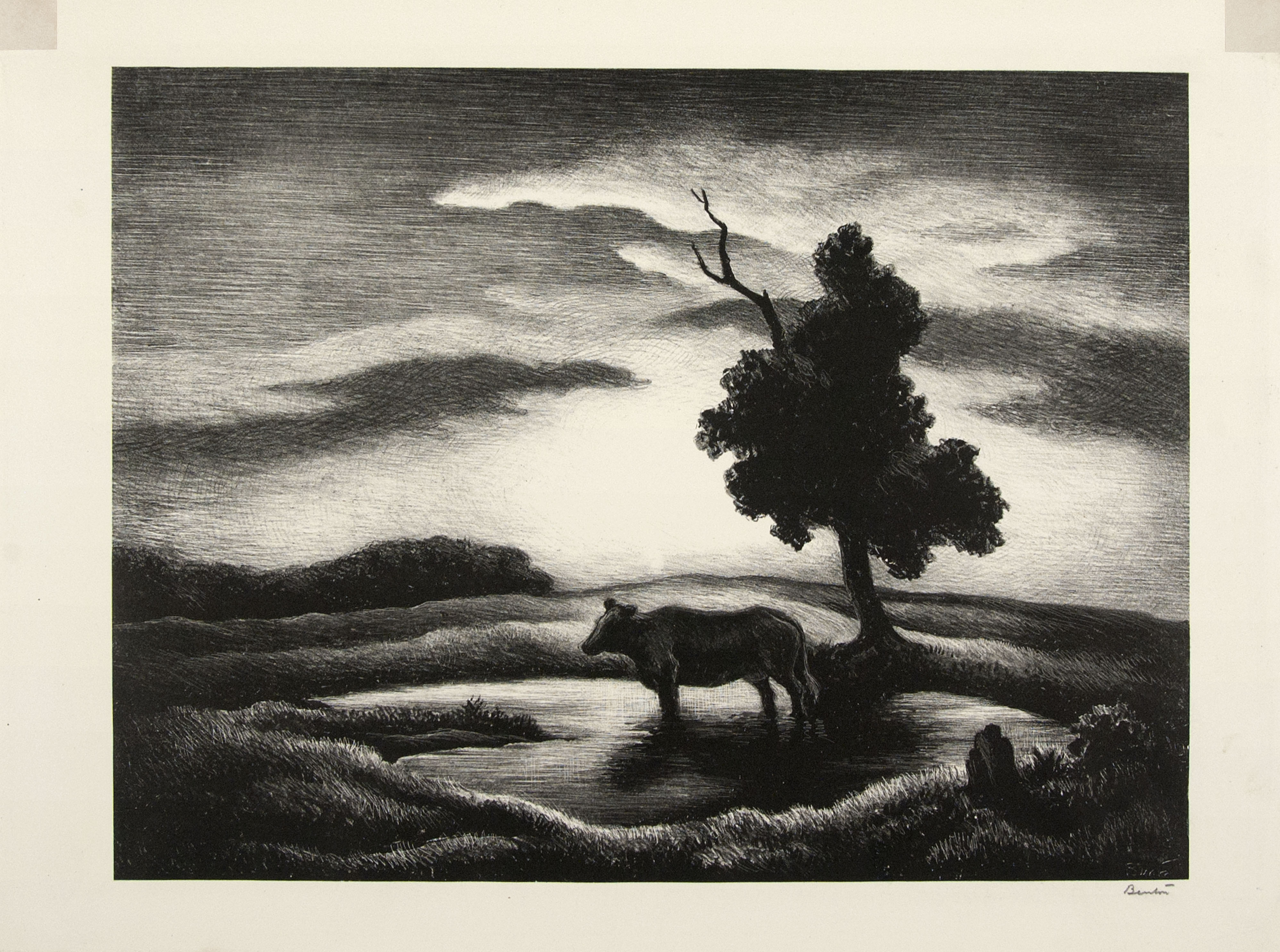 Stephen Parrish
American 1846-1938
Twilight – Low Tide, 1887-1890
published 1891
Etching on Japanese wove paper
SUAC 2017.0009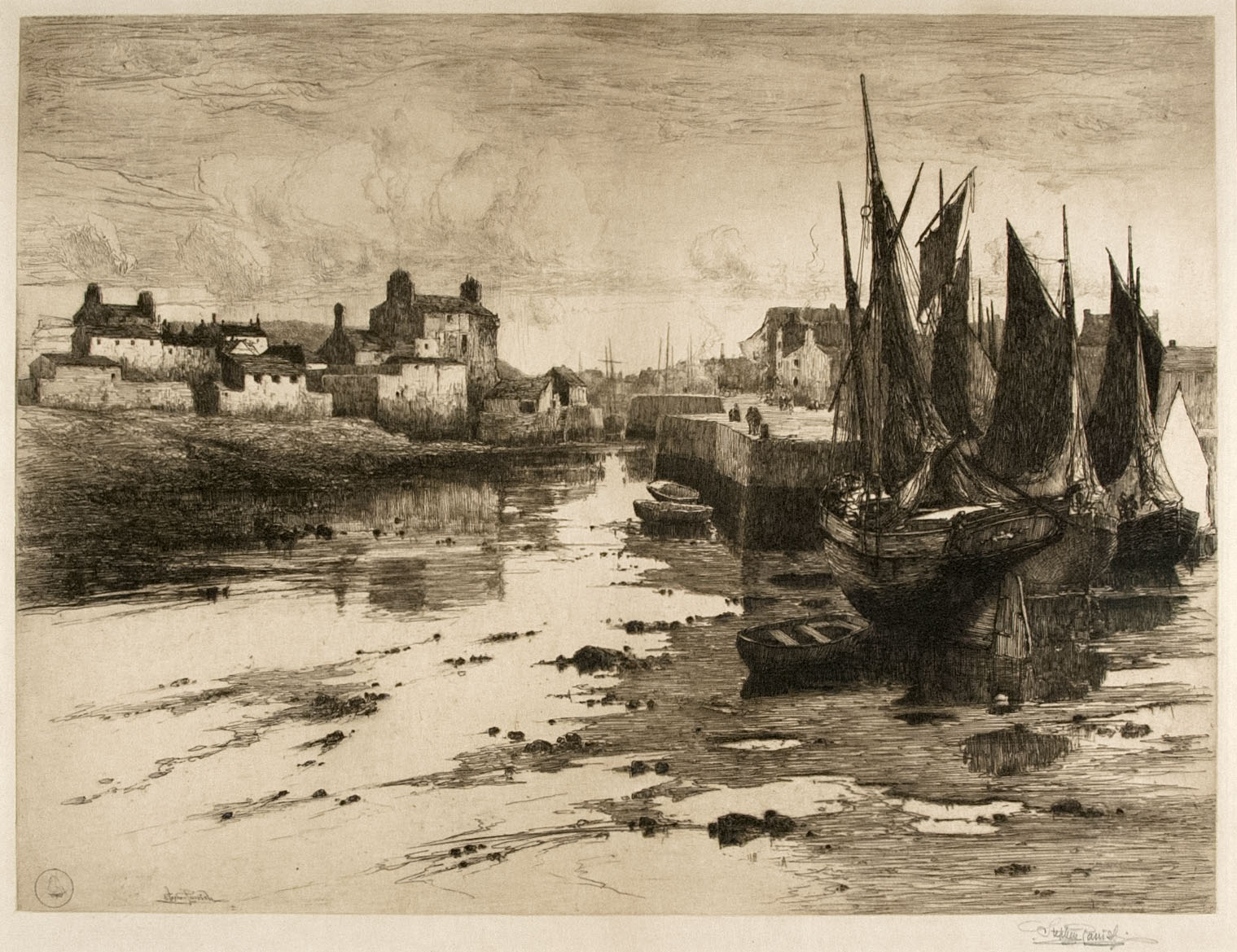 Charles Adam Platt
American 1861-1933
Hartford Bridge, 1885
Etching on thin wove Japan paper
SUAC 2017.0603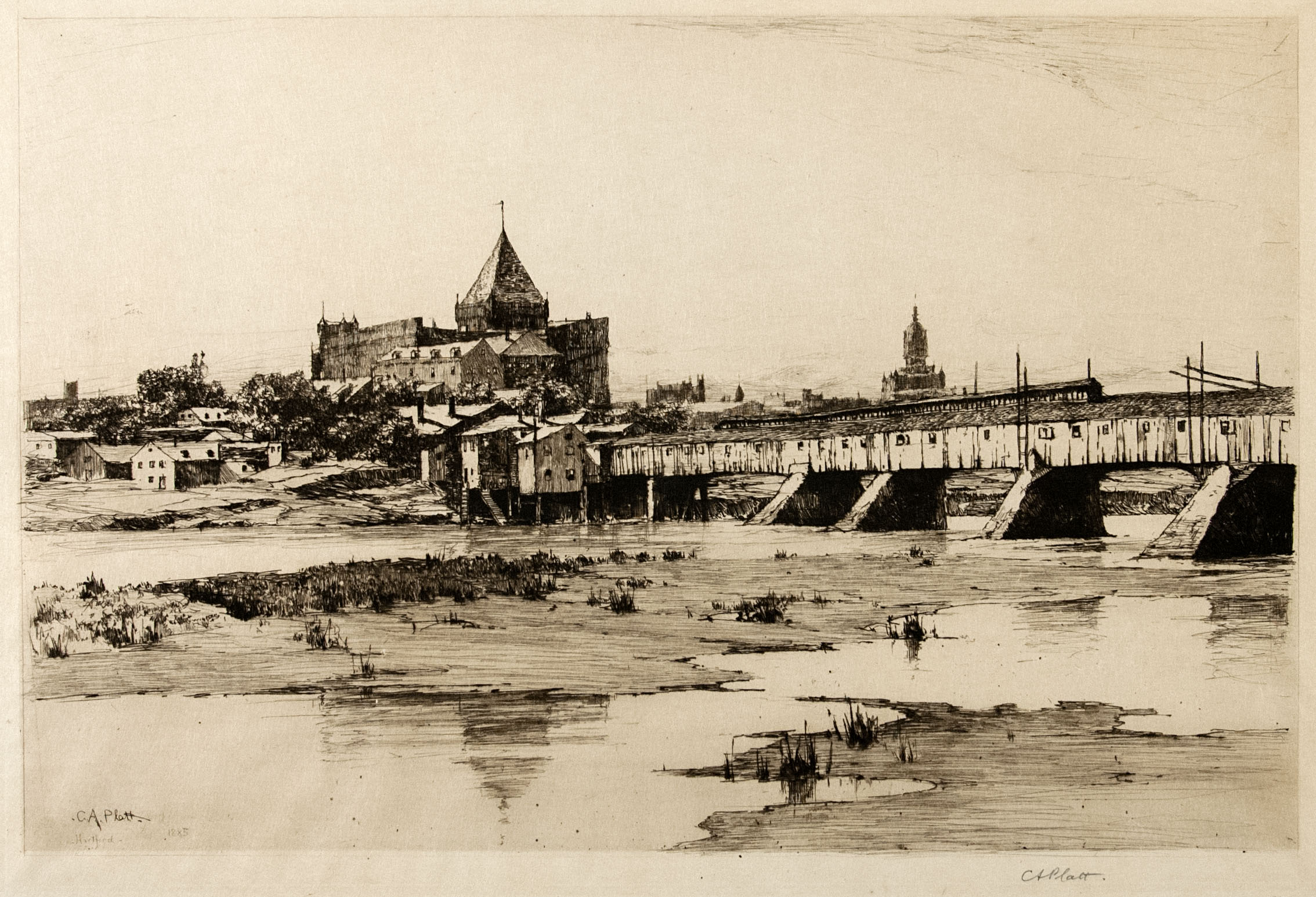 James Craig Nicoll
American 1846-1918
Building an Elevator, 1881
Etching on laid paper
SUAC 2017.0138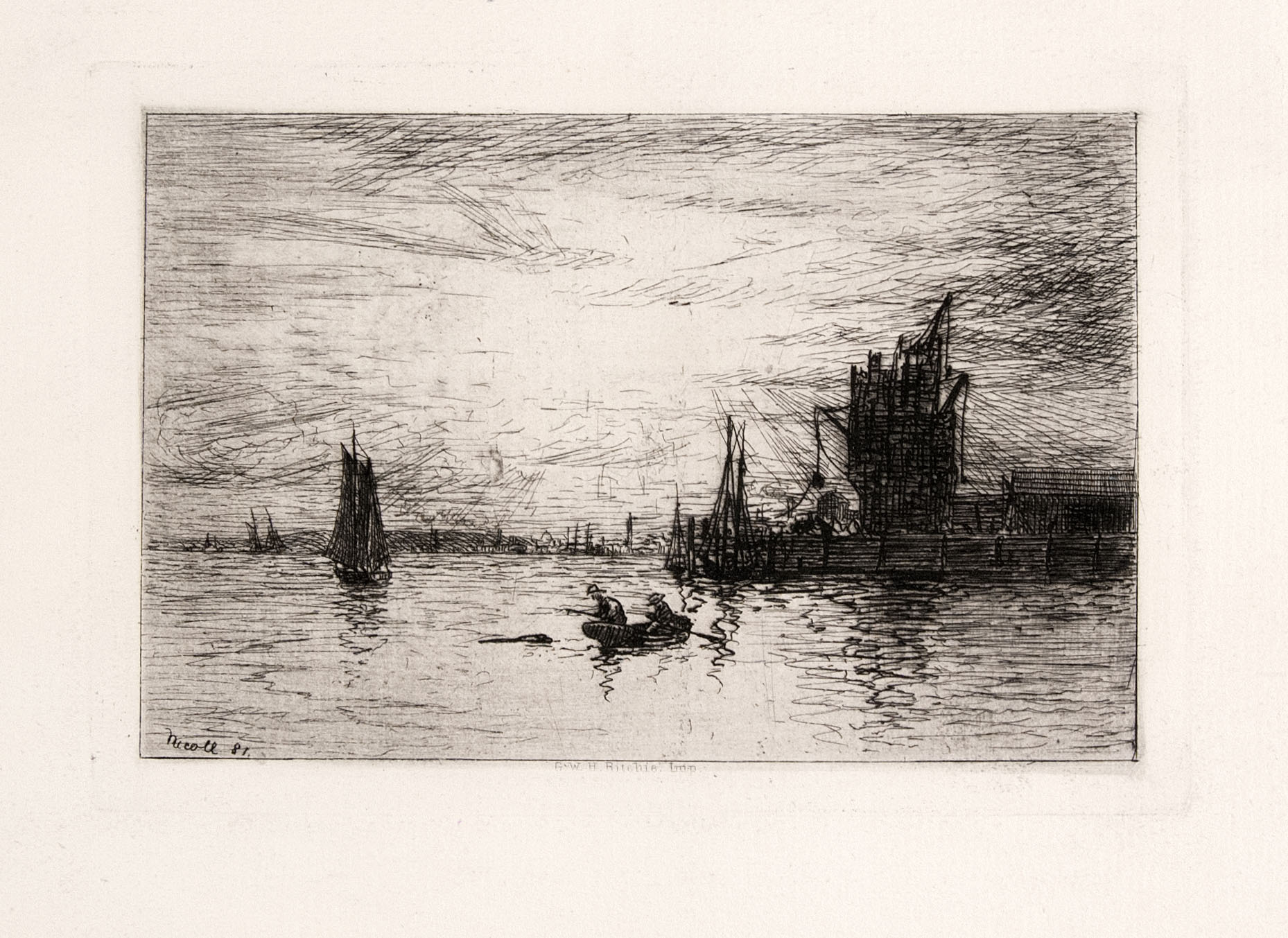 Joseph Pennell
American 1857-1926
The Bridge, 1923
Etching on Japan paper
SUAC 2017.0589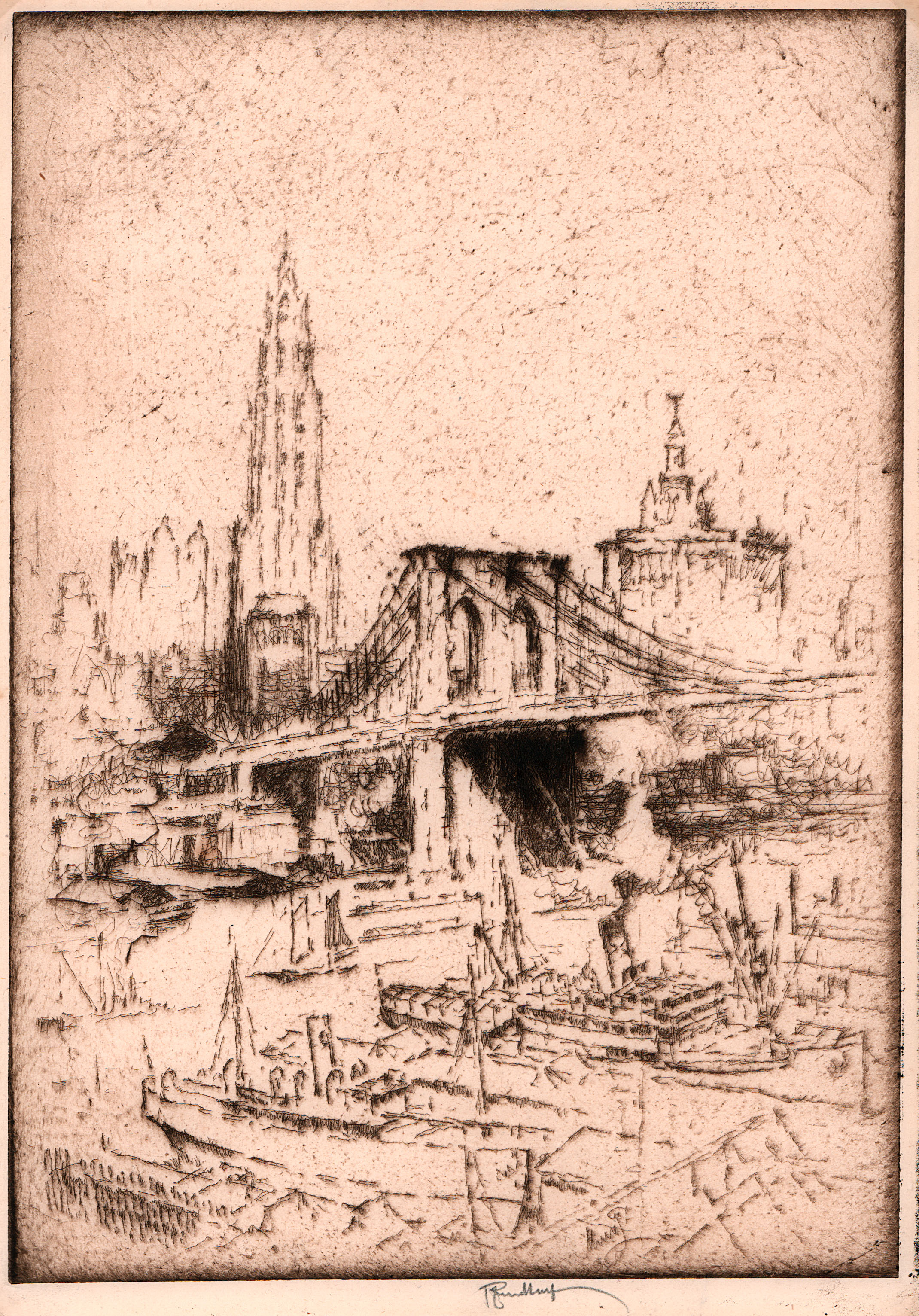 James Craig Nicoll
American 1846-1918
Harbor by Moonlight, 1885
Etching on Japan paper
SUAC 2017.0600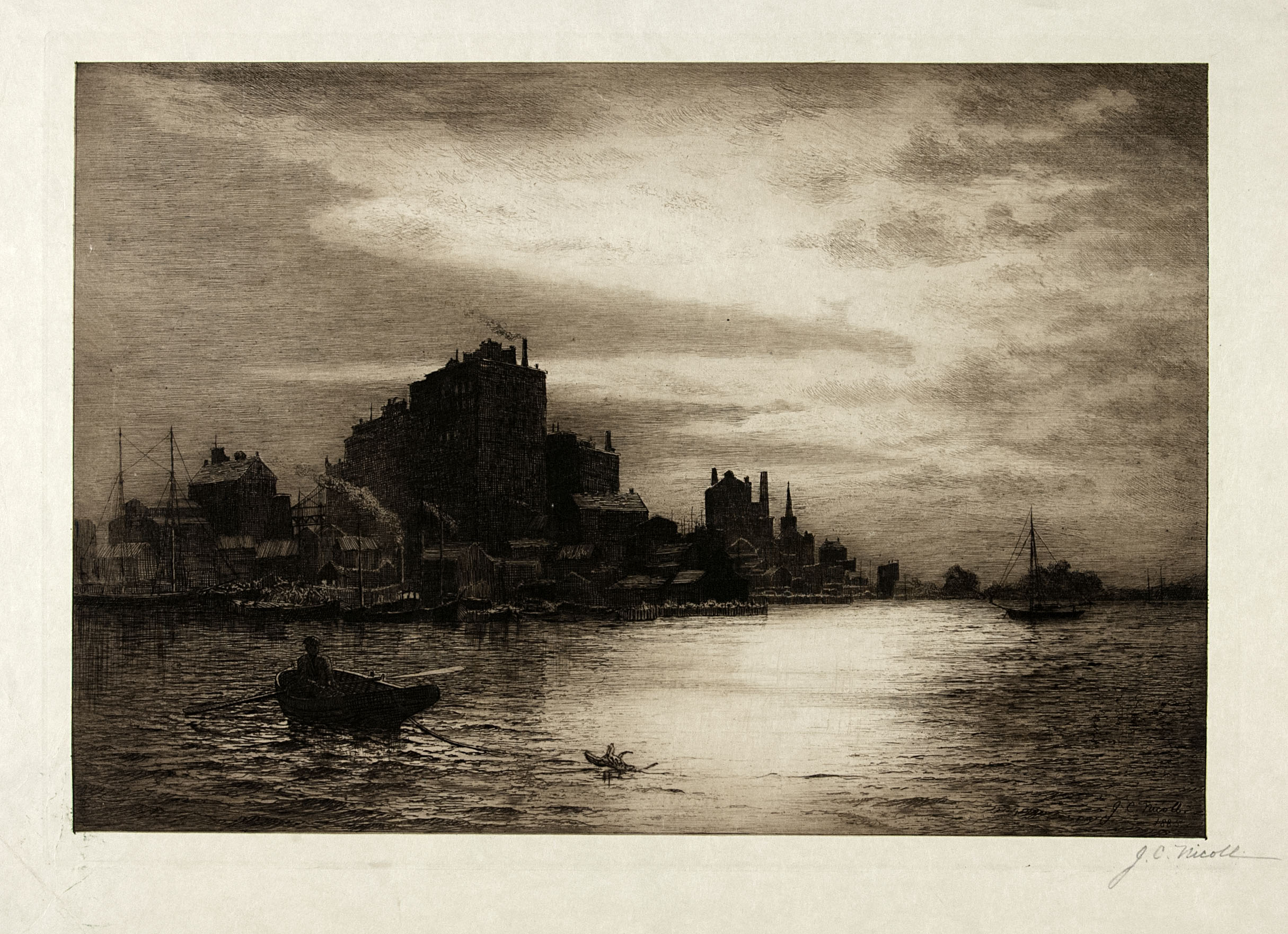 Samuel Colman
American 1832-1920
December, 1877
Etching on laid paper
SUAC 2017.0739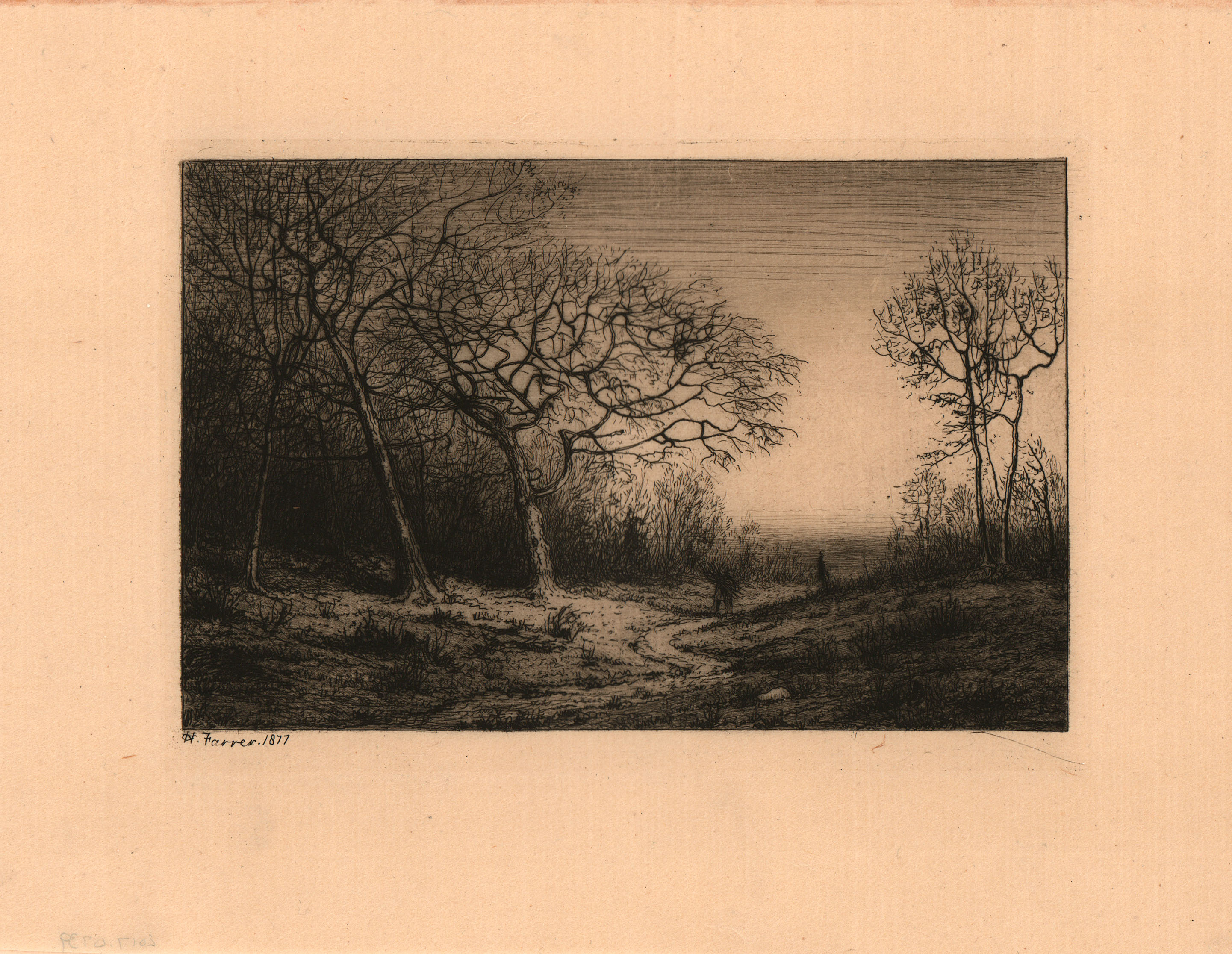 James David Smillie
American 1833-1909
A Bit on Marblehead Neck, 1883
Etching on heavy wove paper
SUAC 2017.0174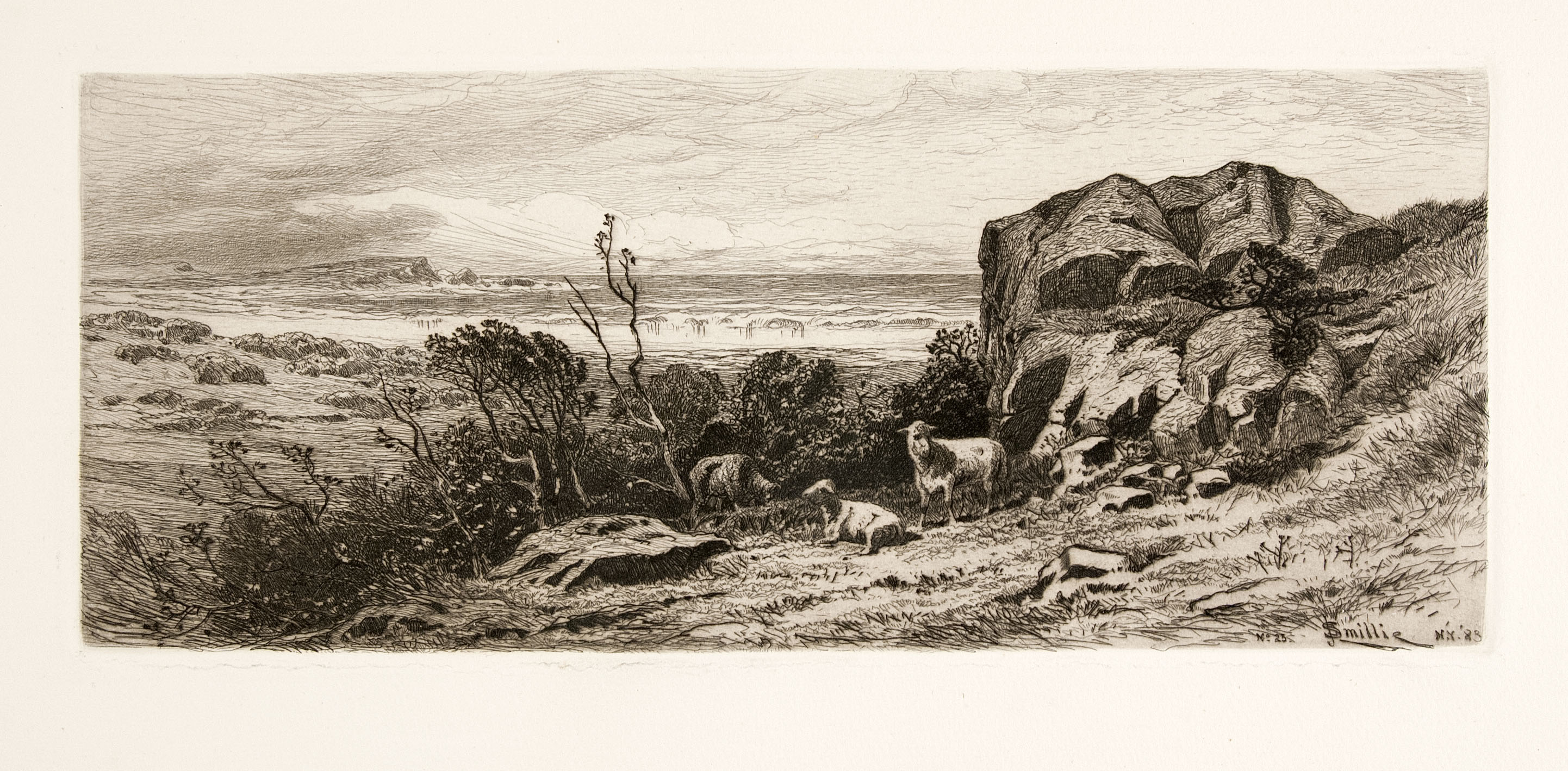 Eliza Pratt Greatorex
American 1820-1897
The Pond at Cernay-la-Ville, 1880
Etching on laid paper
SUAC 2017.0396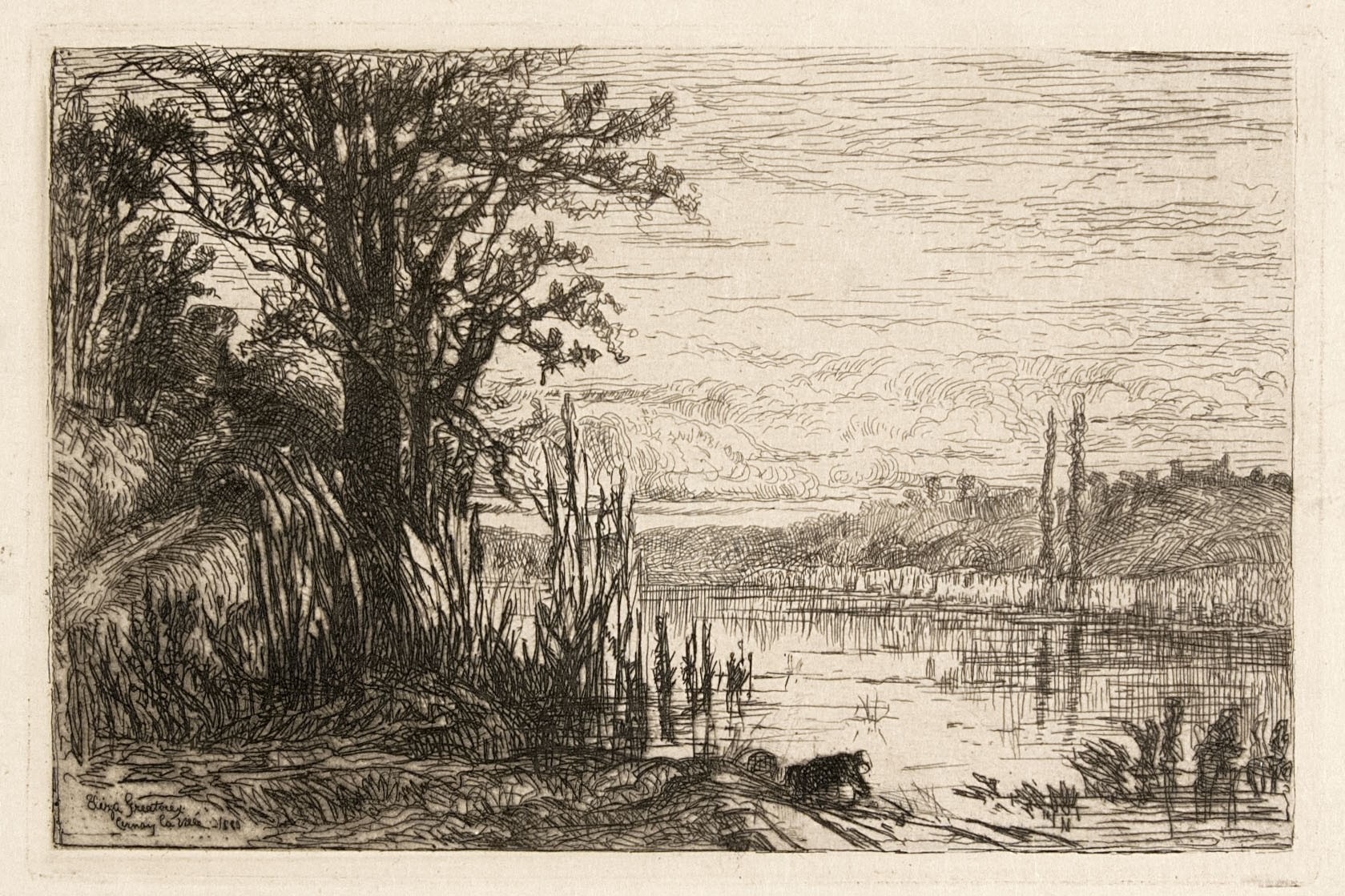 Joseph Foxcroft Cole
American 1837-1892
A Village Street in France, 1866
Etching on laid paper
SUAC 2017.0397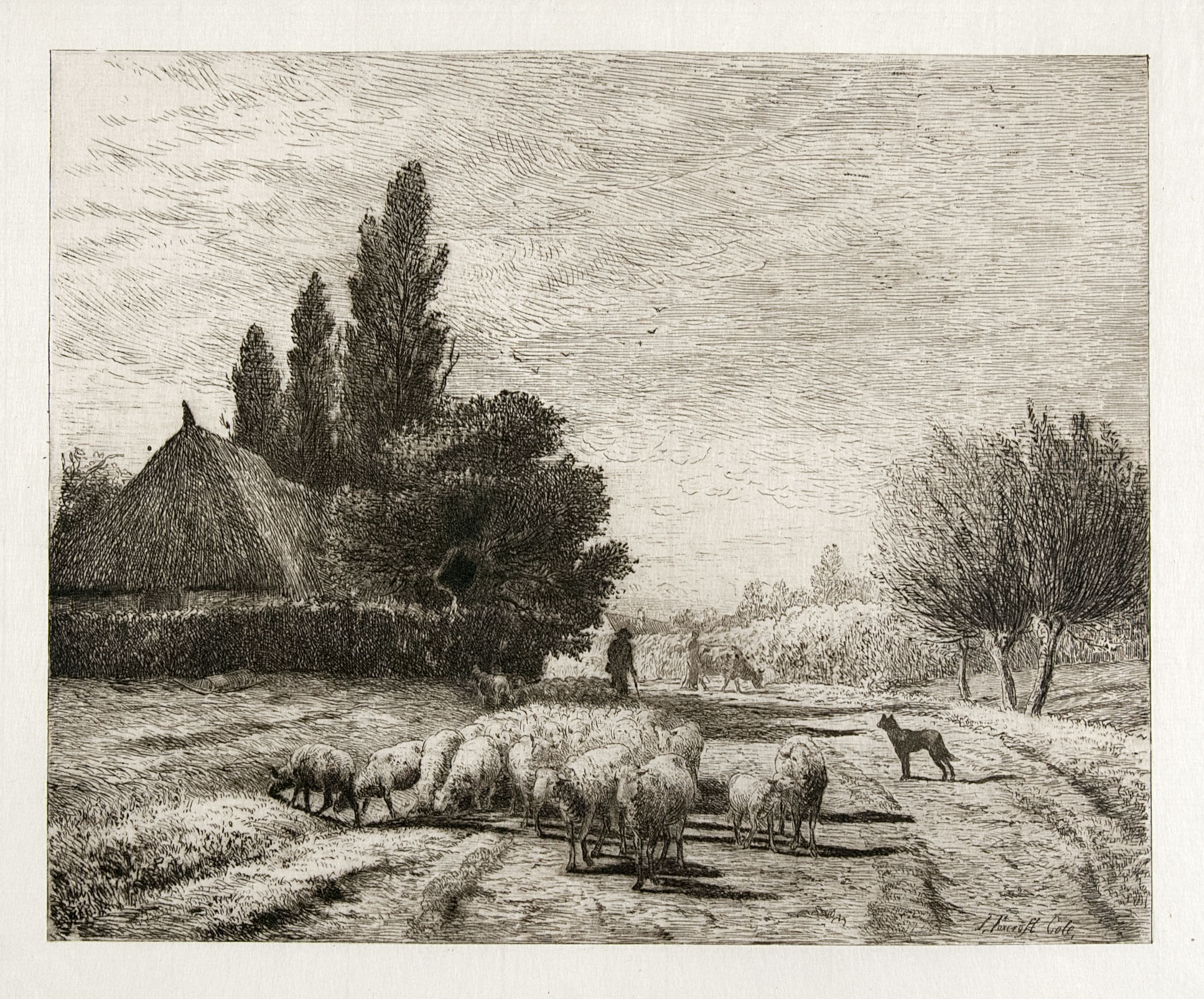 Mary Nimmo Moran
American 1842-1899
Point Isabel, Coast of Florida, 1887
Etching on simili Japan paper
SUAC 2017.0597
Peter Moran
American 1841-1914
The Edge of the Swamp, 1886
after a painting by W. L. Picknell
Etching on Japan paper
SUAC 2017.0121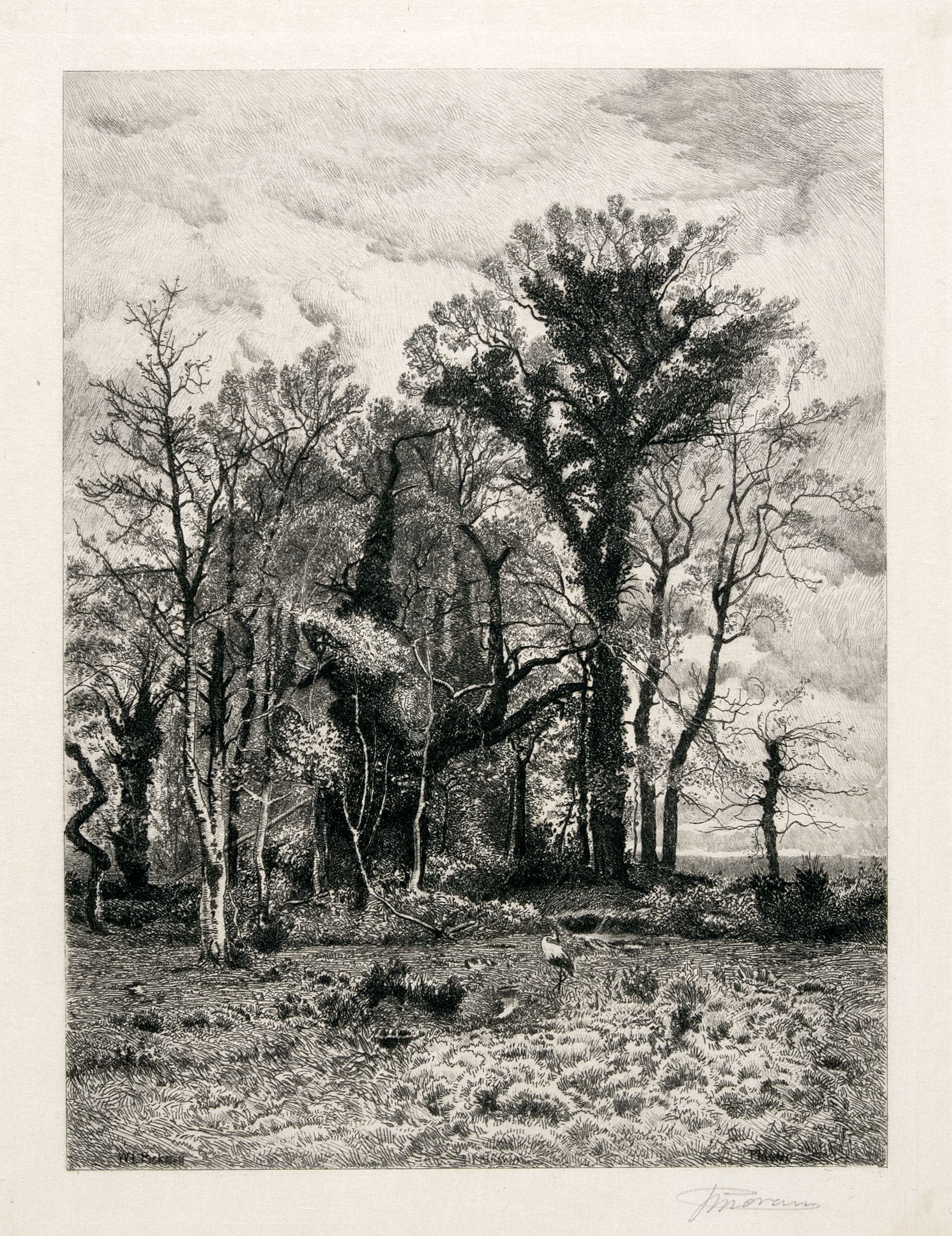 Stephen Parrish
American 1846-1938
A Showery Day St. Augustine, 1884
Etching on simili Japan paper
SUAC 2017.0200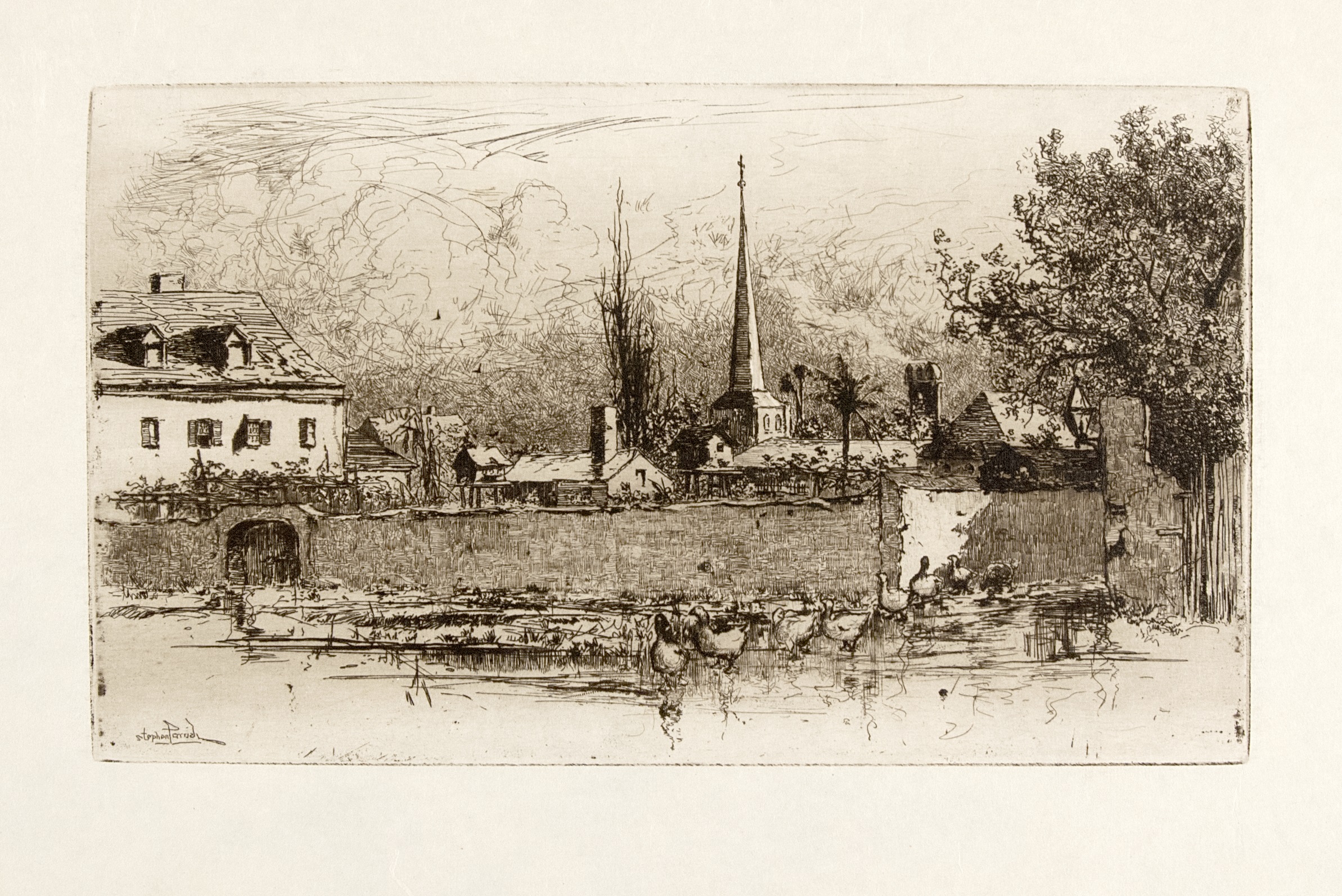 Hendrik-Dirk Kruseman Van Elten
American 1829-1904
View of a River, circa 1885
Etching on Japan laid paper
SUAC 2017.0418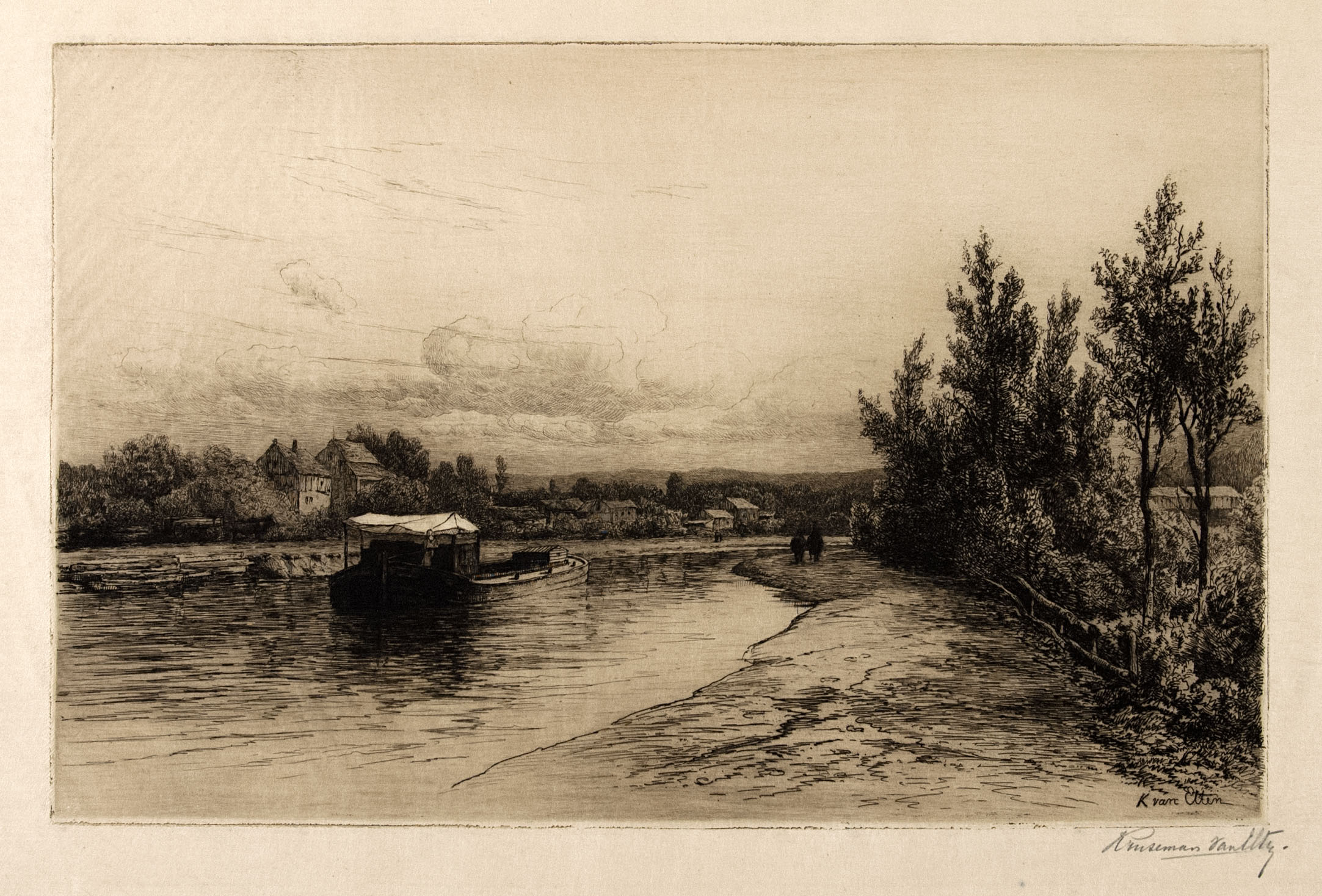 Robert Swain Gifford
American 1840-1905
Near the Coast, 1886
after a painting by R. Swain Gifford
Etching on laid Japan paper
SUAC 2017.0184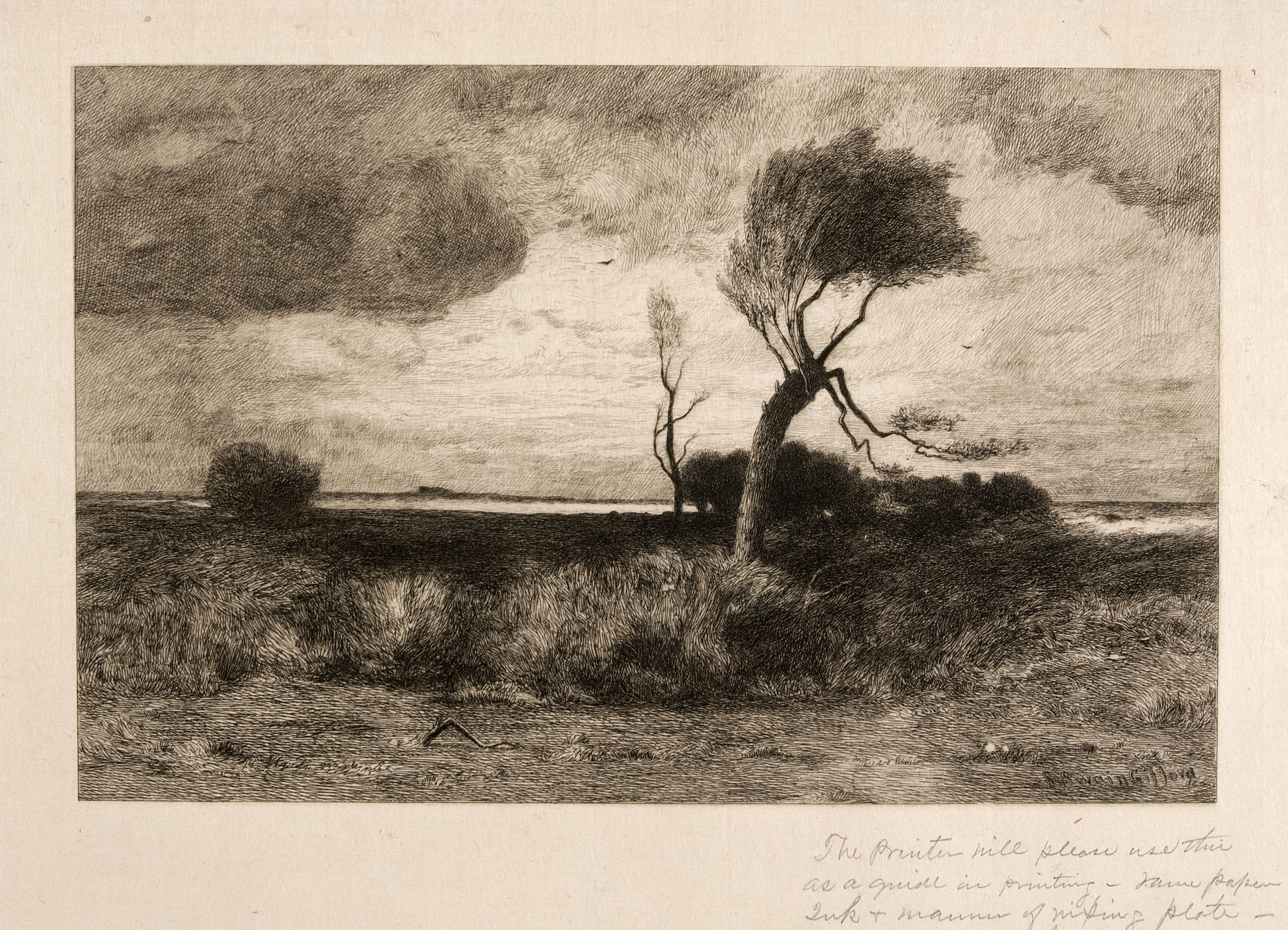 James David Smillie
American 1833-1909
Cedars by Moonlight, 1878
Etching on wove paper
SUAC 2017.0099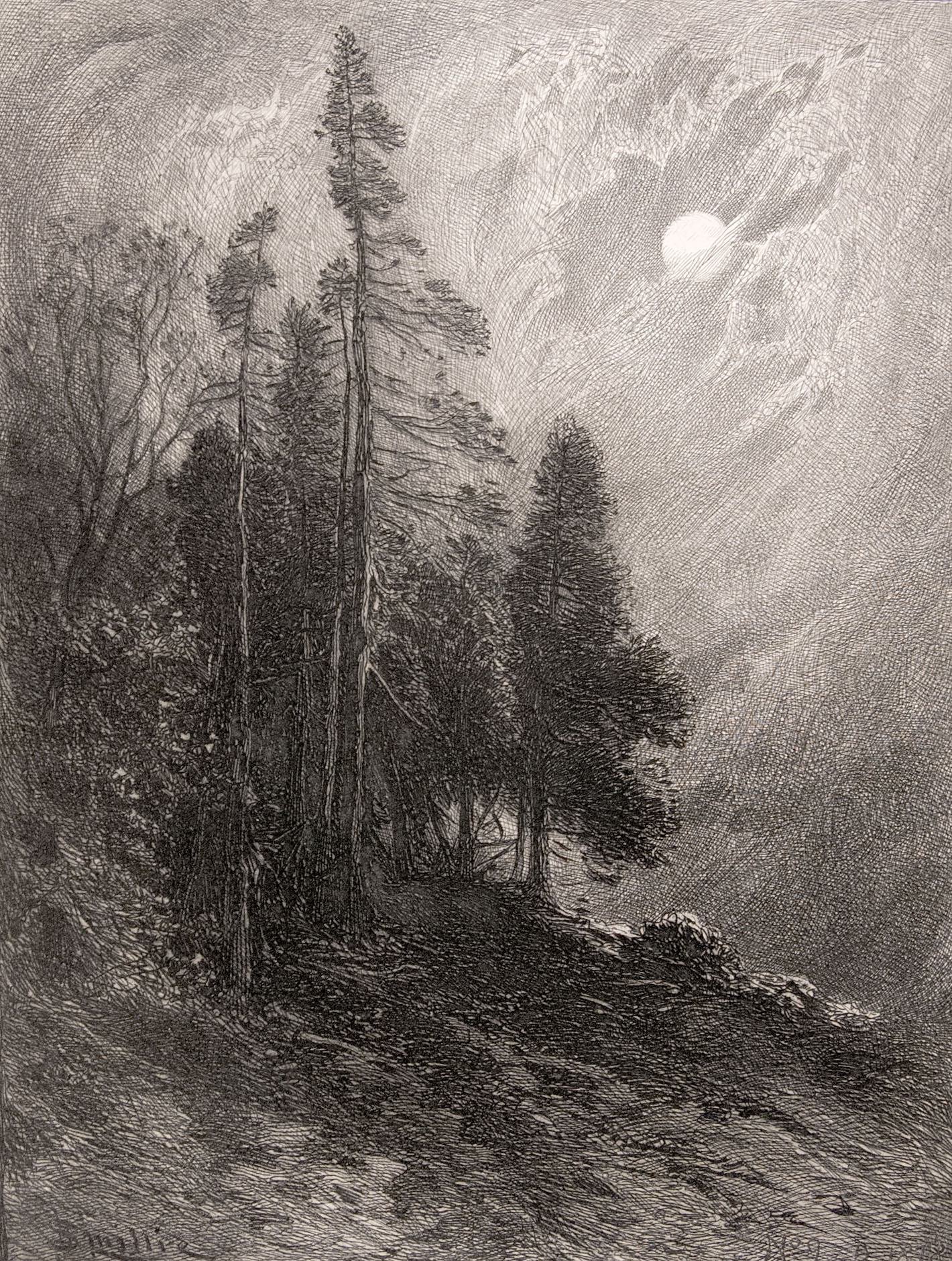 Thomas Moran
American 1837-1926
The Rainbow, 1880
Etching on laid paper
SUAC 2017.0114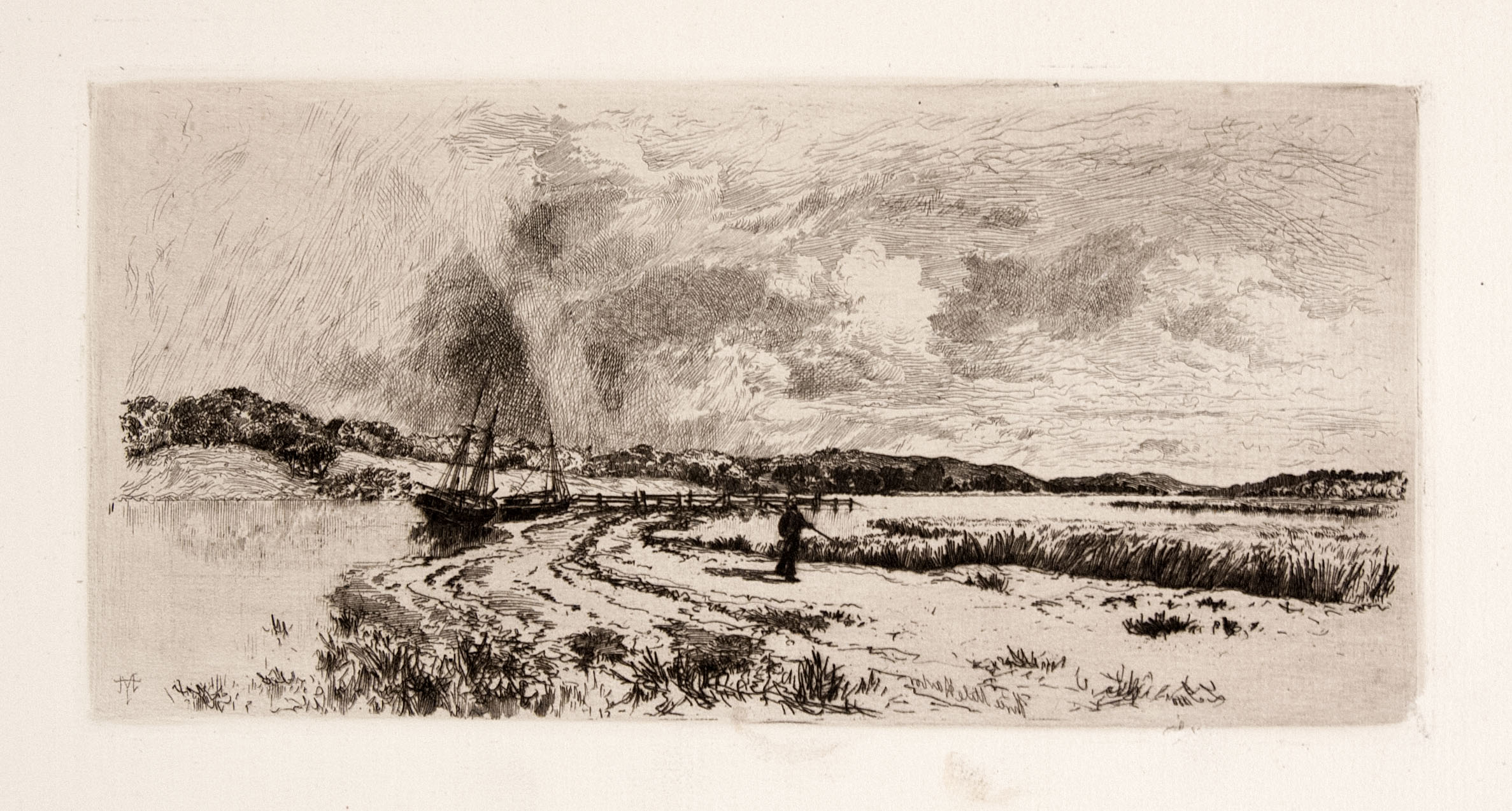 Installation Images: