December 10, 2019 – March 8, 2020
Downtown Gallery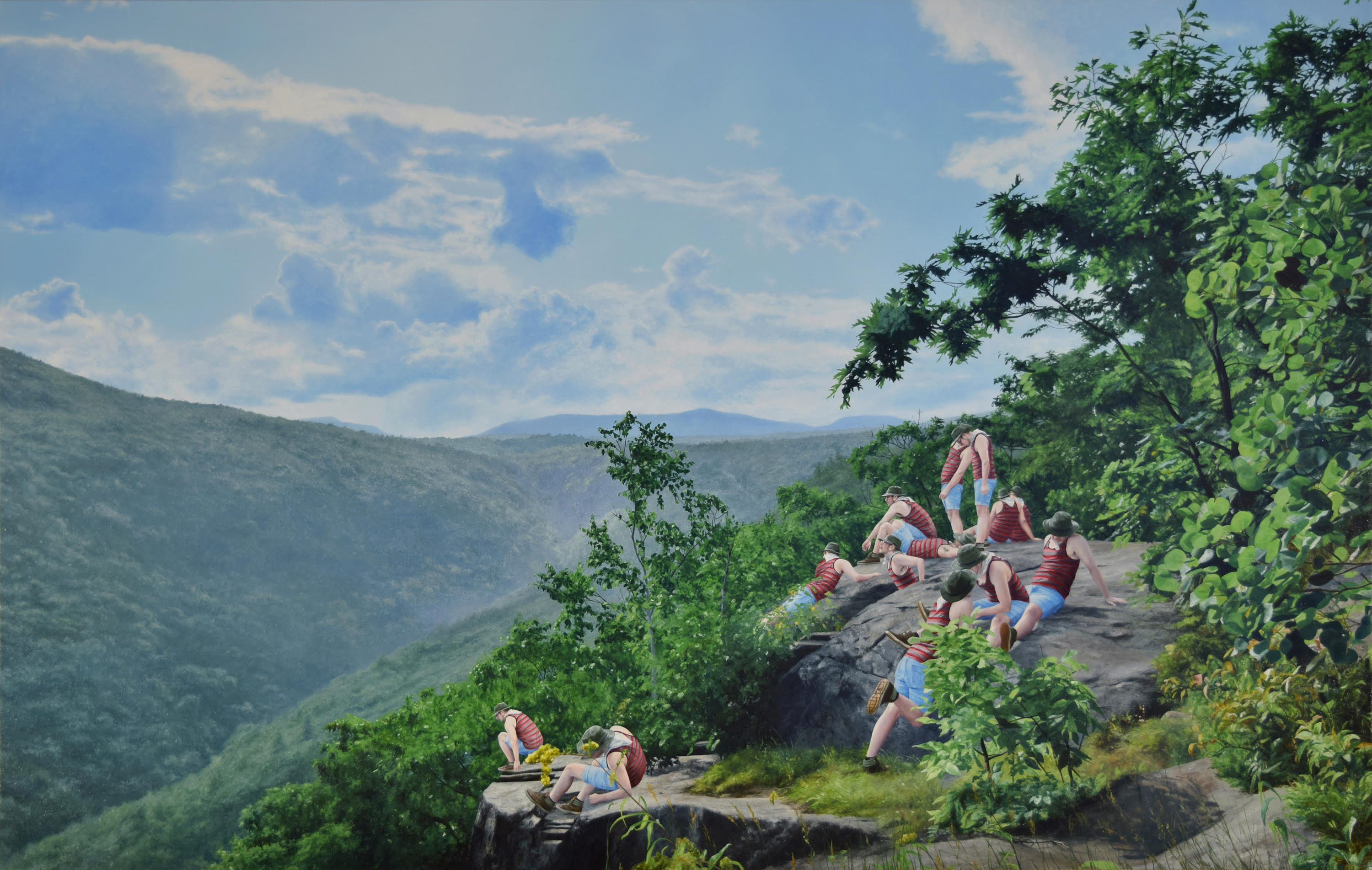 About:
Beautifully painted American landscapes in the tradition of the Hudson River Valley school of painters set the stage for artist Cobi Moules' personal narrative relating to his queer and transgender identity.
Related Events:
Artist Talk with Cobi Moules
Thursday, Feb. 20, 6 p.m.
Iron Front Event Space, 434 Market St. Lewisburg PA
Artist Cobi Moules will speak about the creative process of his exhibition Bois Just Wanna Have Fun and how his strict religious upbringing and his queer and transgender identity intermixed to inspire his artwork.
Curatorial Text:
Bois Just Wanna Have Fun
Artist Cobi Moules grew up in rural California enveloped by the expansive western landscape by his family's strict religious teachings. Moules found an outlet in art; painting pictures on his grandmother's porch. In art school, Moules encountered the Hudson River Valley school of painting whose depictions of an omnipotent and sublime natural world seemed to echo his family's religious beliefs.
The grand landscapes and romantic style of the Hudson River school became part of an early American narrative of natural purity and limitless expansion. Moules chose this painting tradition as a backdrop to tell his own story as a queer and trans individual. His paintings invoke this tradition as a foil, substituting exalted certainty with nuanced questions. Moules describes the series of paintings presented here as, "fantastical, playful and sometimes humorous scenes as a way to reflect on and renegotiate my relationship with a fraught aspect of my own history."
Hudson River painters often depicted tiny figures in a vast landscape to visually underscore the overwhelming majesty of nature. Moules' spirited figures – duplicate versions of the artist – occupy and overrun these "limitless" landscapes. These bois (a bit of genderqueer slang) replace solemn spirituality with playful mischievousness. Moules reflects, "Both complete Isolation and being amongst a large queer community bring a sense of safety and freedom." These paintings combine both; one figure alone, together in their multiplicity.
These bois do not seem to reject nature or fear the sublime; they appear at home in these reimagined landscapes. Their playful innocence invites us to revisit old assumptions and ask what is "natural"? Who is pure? And whose stories get to be told on history's walls?
Exhibited Works:
Untitled (White Mountains), 2018
Oil on canvas
Courtesy of Kirk Wilhelmus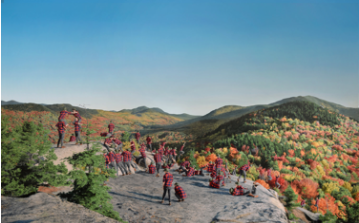 Untitled (Catskill 2), 2018
Oil on canvas
Courtesy of S. Wade Taylor, Boston, MA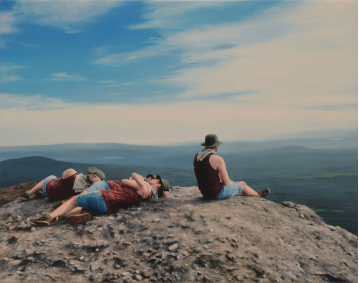 Untitled (White Mountains 2), 2018
Oil on canvas
Courtesy of Julia and Will Kohane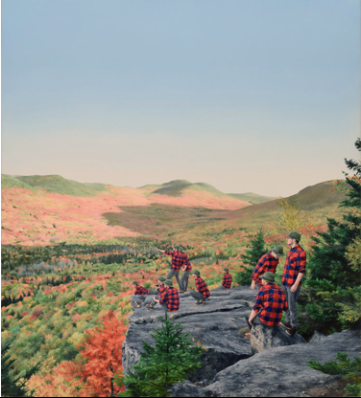 Untitled (Rocky Coast of Maine II), 2019
Oil on canvas
Courtesy of the artist and Lyons Wier Gallery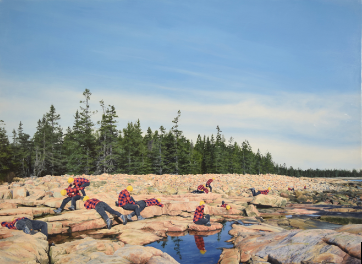 Untitled (Fallen Tree Near La Verkin Creek I), 2013
Oil on canvas
Private Collection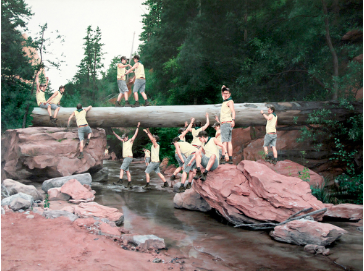 Untitled (Herring Cove Beach), 2019
Oil on canvas
Collection of Alan Dinsfriend
Untitled (Lonely Lake), 2018
Oil on canvas
Collection of Alan Dinsfriend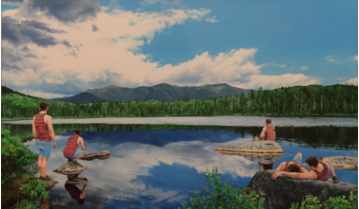 Untitled (Rocky Coast of Maine I), 2019
Oil on canvas
Courtesy of the artist and Lyons Wier Gallery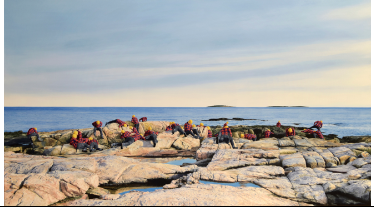 Untitled (Ship Harbor), 2019
Oil on canvas
Courtesy of the artist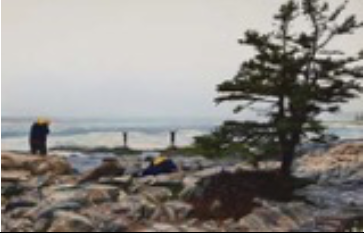 Untitled (Kaaterskill Clove), 2019
Oil on canvas
Private Collection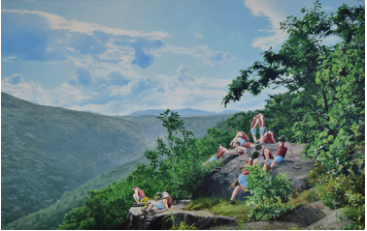 Untitled (Dune at Herring Cove), 2019
Oil on canvas
Courtesy of S. Wade Taylor, Boston, MA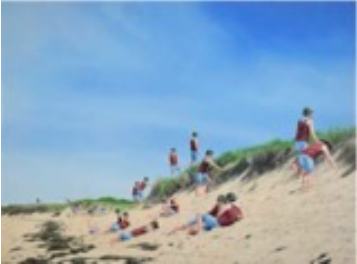 Installation Images: