We have some heavy hitters for Day 5 – Modern Prints!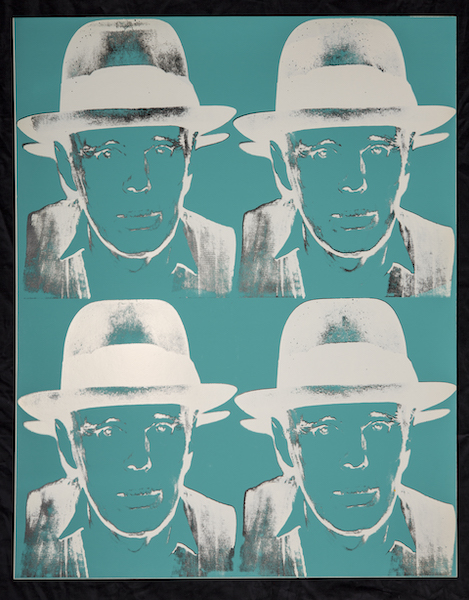 Andy Warhol
Joseph Beuys,​ 1980-1983
Screenprint on Lenox Museum Board
Gift of The Andy Warhol Foundation for the Visual Arts, Inc.
Samek Art Museum Collection,
2014.1.5
Andy Warhol, a Pop artist inspired by the visual language of advertising and pop culture is one of the most famous artists of the 20th century. From the beginning of his career as an illustrator, Warhol was enamored by creating multiples, leading him to invent a drawing technique that utilized some printmaking elements so that he could quickly reproduce his drawings. Later, this led to his interest in printmaking and repeating the same image multiple times in a single artwork. This print repeats a portrait of Joseph Beuys, a fellow artist, and friend of Warhol's. The Samek Art Museum received this print, along with 161 other artworks by Warhol, from the Andy Warhol Foundation in 2014.


Guerrilla Girls
Do Women Have to be Naked to Get Into the Met. Museum?,​ 1989
Offset lithograph on paper
University Purchase
Samek Art Museum Collection,
2000.1.3
Perhaps a familiar work to those who saw the Samek's recent exhibition, this print is by the feminist art group the Guerrilla Girls. The Guerrilla Girls formed in 1985 in response to the sexism of the art world. The anonymous members wear gorilla masks – a play on the similarity to the word guerrilla – and take on pseudonyms of dead female artists. Their work is bold and inspired by protest posters. Many of their works are created to be handed out, posted on walls, or made for billboards. This work, ​Do Women Have to be Naked to Get Into the Met. Museum​, was originally produced as a billboard and refers to the discrepancy between female nudes as subject matter in the Met's collection and the number of female artists' works in the collection.
And the Winner is Do Women Have to be Naked to Get Into the Met. Museum?