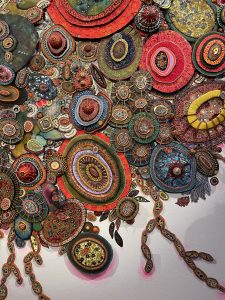 About:
The biomorphic art of Amie Esslinger draws the viewer into a miniature world of images that evoke microbes, cells, and viruses. Esslinger's artistic process mimics the planned chaos of organic processes and takes the form of abstract, richly layered assemblages crafted from diverse materials, including felt, eyelashes, burnt elk leather, glitter, resin, and more.
Related Events:
Expanding Inward: How art and science Intersect
Tuesday, September 20, 7 p.m.
Iron Front Event Space
434 Market St #301, Lewisburg, PA 17837
Amie Esslinger, Expanding Inward exhibition artist, will speak about how the world of microbiology inspires her artwork alongside Bucknell University Professor of Biology Marie C. Pizzorno, who will explain the science behind how cells and viruses function within our bodies. A reception will follow next door at the Samek's Downtown Gallery.
Curatorial Text:
Expanding Inward
As scientific methods increase our knowledge of the world, they concurrently expose the vastness of our ignorance; deeper knowledge yields deeper mystery. Nature reveals that which appears orderly is deeply chaotic, while deterministic laws of nature yield diversity and uncertainty. By exploring and expanding upon the hidden elements of the physical world, I attempt to illuminate the apparent contradictions between order and disorder, observable and unobservable, beauty and monstrosity. In doing so, I hope to emphasize the richness, potential, beauty and threat of the physical.
Using motifs from microbiology, I experiment with material, scale, and replication to create abstract biomorphs of vivid color, hyper-texture, and dedicated detail in my installations. I stress the physicality of the world through a labor-intensive process of painting, drawing, cutting, stacking, and aggregating a variety of materials. By mimicking cellular and microbial structures and processes, my practice traverses randomness and mutation, order and life-generation. I attempt to generate an aesthetic that echoes the complexity inherent in natural systems, while creating new mysterious organisms, both alluring and repelling.
Exhibited Works:
Amie Esslinger
Oh, My Battlefield, 2022
Mixed Media
Courtesy of the Artist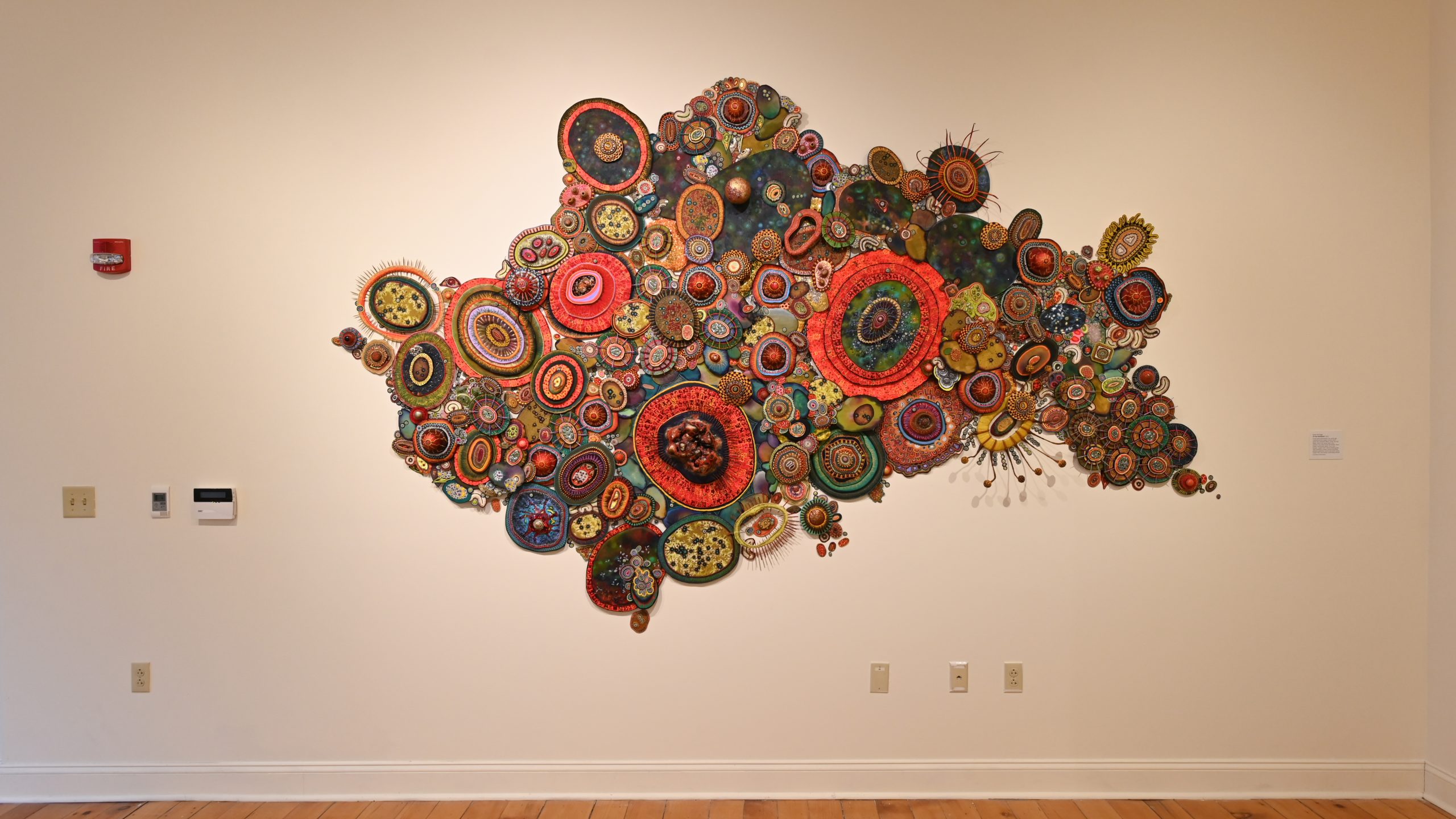 Amie Esslinger
Before the Hit, 2022
Mixed Media
Courtesy of the Artist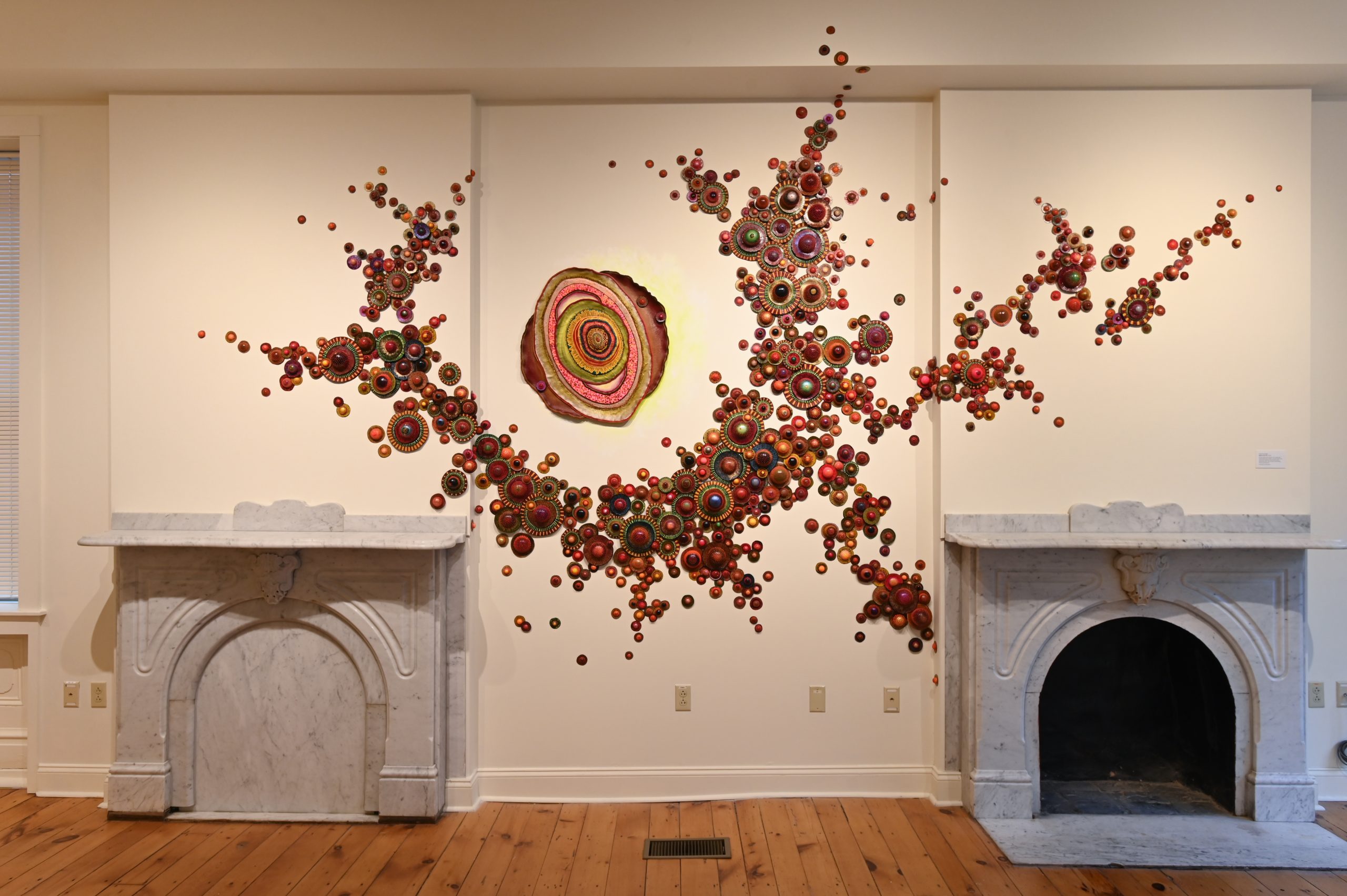 Amie Esslinger
Family Virus, 2016
Mixed Media
Courtesy of the Artist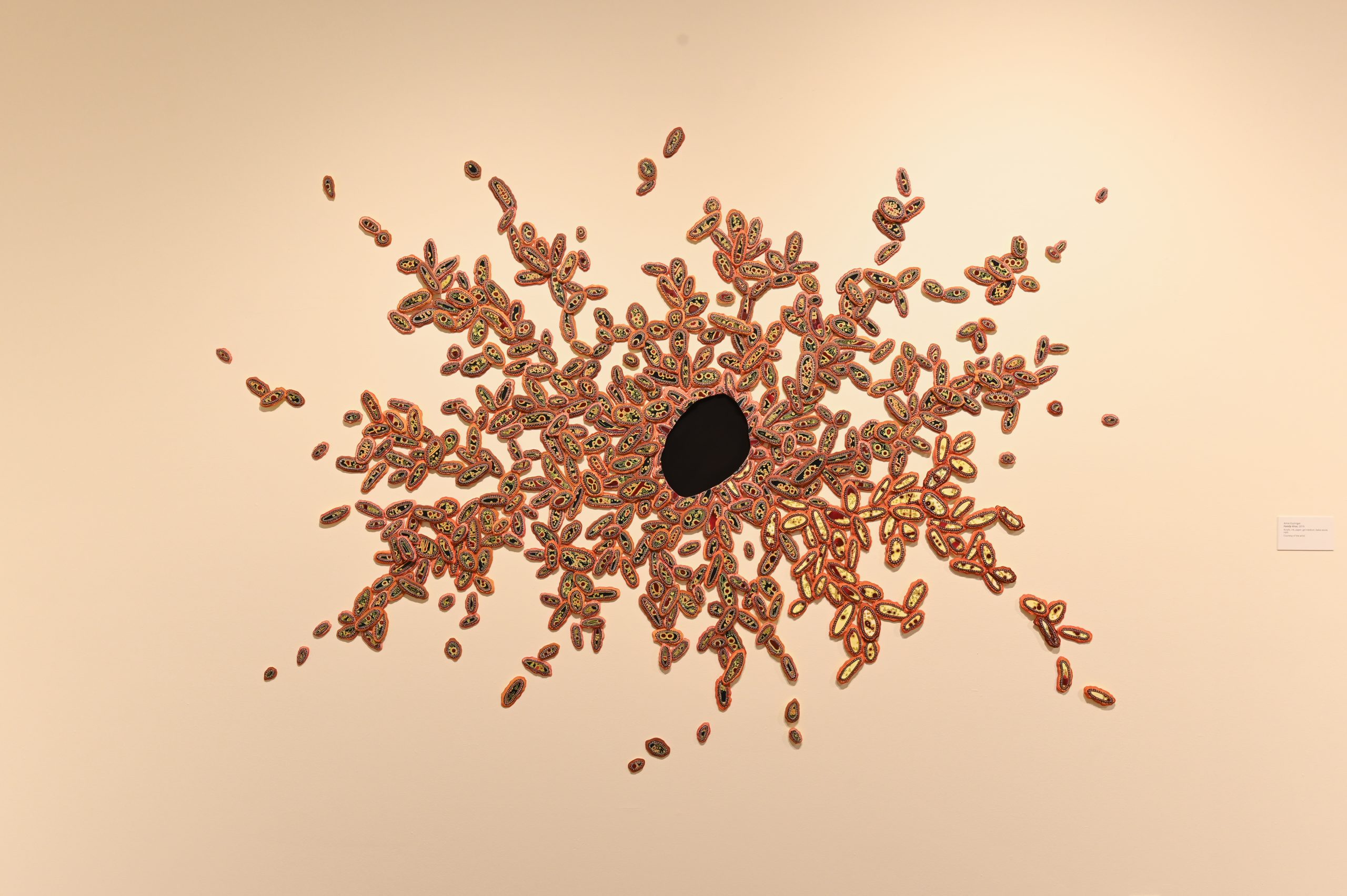 Amie Esslinger
Pile Up, Pile On, It Never Ends, 2021
Mixed Media
Courtesy of the Artist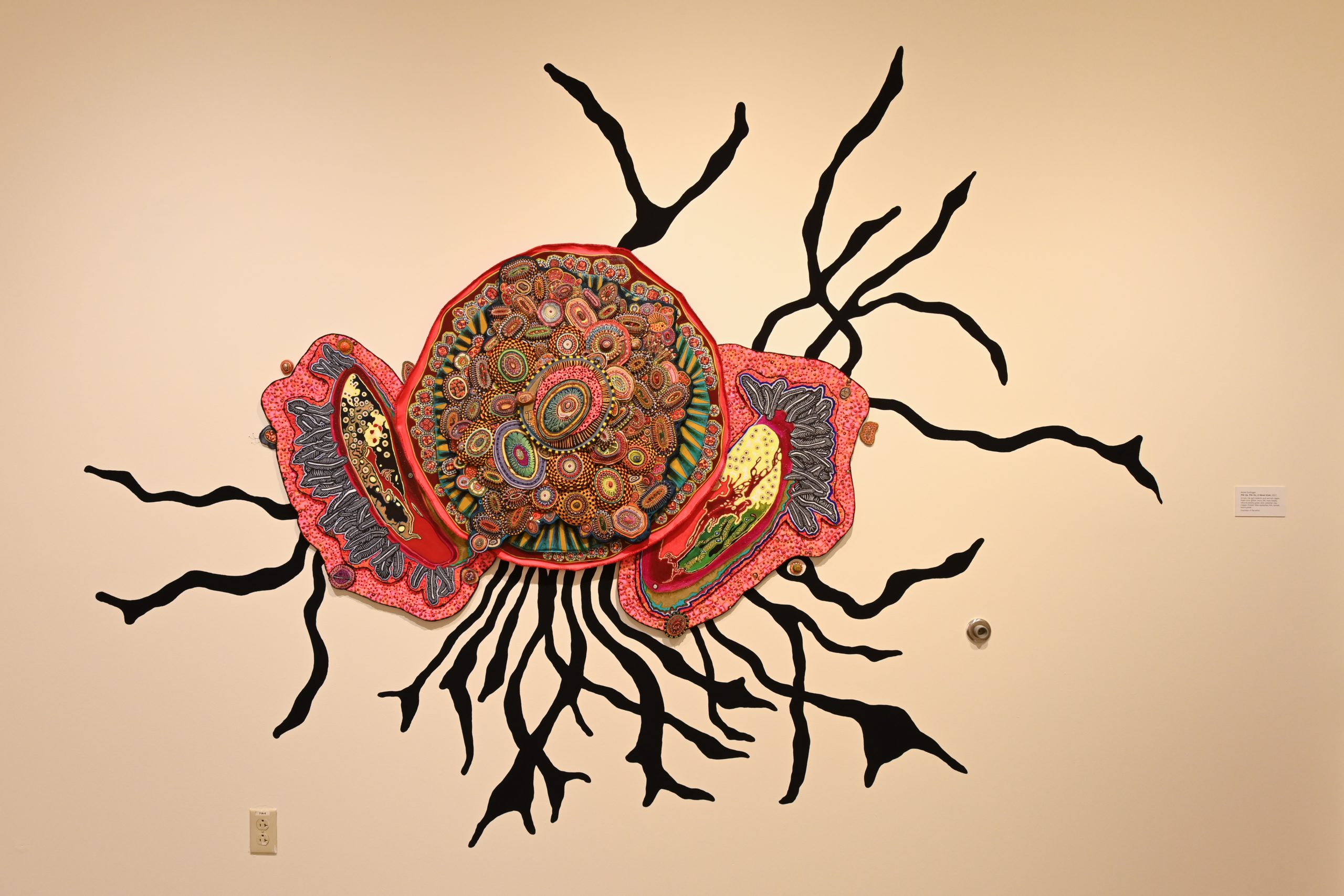 Amie Esslinger
Cell Grid (Brown), 2019
Mixed Media
Courtesy of the Artist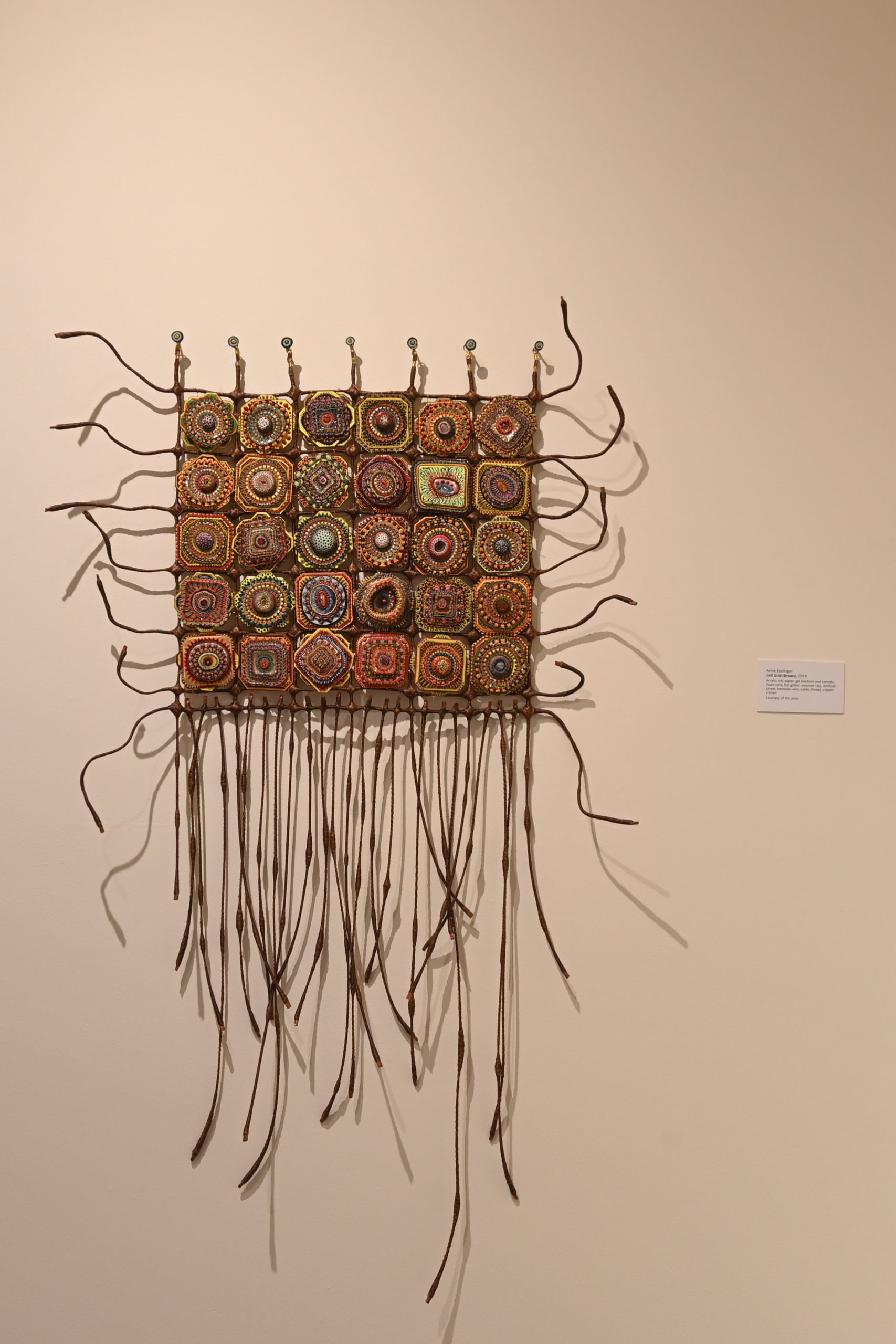 Installation Images: