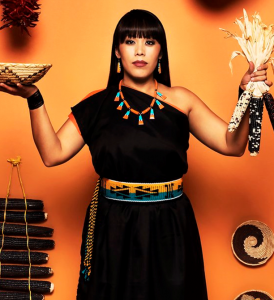 About:
Commodification and fetishization can turn people and cultures into something that can be purchased and owned. This creates generalizations and strips people of their individuality, histories and cultures. The artists in this exhibition question popular misconceptions surrounding Indigeneity by challenging stereotypes of Native identity, cultures and artistic production.
Related Events:
Why It Matters
Tuesday, March 28, 7 p.m.
Iron Front #301, 434 Market Street, Lewisburg, PA
Join the Samek Art Museum for an evening of conversation with co-curators Sarah Hixson and Sierra Nizhonii Pete (Diné) of What You Think You Know to discuss the exhibition's topic and why it matters in society today. There will be a reception following the event at our Downtown Gallery.
Curatorial Text:
Allegheny, Catawissa, Chillisquaque, Juniata, Lackawanna, Lycoming, Muncy, Nanticoke, Pocono, Punxsutawney, Shamokin, Shenandoah, Susquehanna, Tulpehocken, Tunkhannock, Wyoming…these are all places in present-day Pennsylvania that come from the Algonquin language-family spoken by thousands of Indigenous peoples before colonization. These landmarks are named for the Native tribes and nations that once lived here; some Native tribes and nations still do. From these place names to mascots, vehicle models to logos, we are surrounded by the attempts of cultural genocide and erasure of Indigenous peoples. What couldn't be erased was transformed into something consumable by non-Native people – in the form of western films, dreamcatchers, feathered headdresses, sage smudging, Pocahontas and the "Indian Princess," beaded moccasins, and tomahawk chops.
To reduce a culture or group of people to consumable and profitable products is commodification; obsessing over singular elements of someone's identity transforms fascination into fetishization. The combination of the two creates generalizations and strips people of their individuality, histories, and cultures. The artists in this exhibition combat these generalizations and stereotypes by displaying the diversity of Native cultures and artistic traditions, reclaiming iconography, and using humor to challenge what we think we know about Indigeneity.
Curated by Museum Fellow Sarah N. Hixson, MA & Sierra Nizhonii Pete (Diné)
Collaboration with the classroom:
THE PUBLIC PAST:
THE REPRESENTATION OF CENTRAL PENNSYLVANIA'S INDIGENOUS HISTORY ON STATE HISTORICAL MARKERS
Final project for ENLS 397 – Indigenous Literature
Central Pennsylvania has a deep and complex Indigenous history stretching back thousands of years. Yet, this history is largely absent from most accounts of the region's past. Indigenous peoples, when they do figure in Central Pennsylvania stories, are typically presented as a singular community, regardless of tribe, engaged in acts of violence against white settlers. These narratives tend to omit the causes of violent conflict — namely, settler encroachment on Indigenous land.
Professor Ted Hamilton's Indigenous Literature course visited the exhibition this past semester. For their final project, students were tasked with recontextualizing roadside Pennsylvania state historical markers from Union, Snyder, and Northumberland counties. These markers, written in the mid-1900s, focus on notable sites, events, and individuals. This project seeks to promote a more nuanced understanding of Central Pennsylvania's Indigenous history and colonist-Indigenous relations. It's intended neither to tell Indigenous stories on behalf of Indigenous peoples nor to deny the enduring significance of the sites, events, and individuals under consideration to the people of Central Pennsylvania. Rather, the students' annotations are meant to interrogate the way in which history is told, and to highlight what is missed and forgotten when important historical details are erased. Their hope is that this is the first step in a larger project of advancing and deepening public understanding of the region's past.
Written by Ted Hamilton | Edited by Sarah N. Hixson
Research was conducted by Mona Chahfe, '23 (English, Political Science); Katie Cutler, '23 (English, Psychology); Juliette Gaggini, '22 (English, Environmental Studies); Julius Hansen, German exchange student; and Dehlia Rotchford, '22 (English, Film/Media Studies).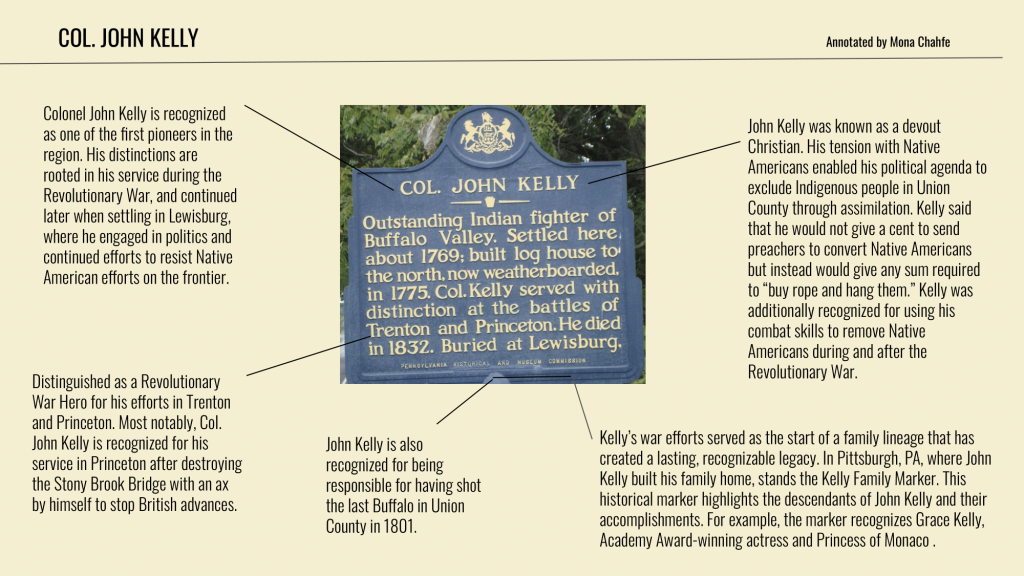 Installation Images: