June 20 – August 27, 2023
Downtown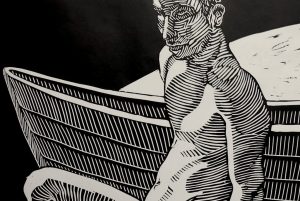 Related Events:
The Reality Within Us Reception
Friday, June 23, 7 p.m.
Downtown Location, 416 Market Street, Lewisburg, PA
The Samek Art Museum invites you to the opening reception of our exhibition, The Reality Within Us, artwork by local artist John McKaig. Enjoy light refreshments and hear remarks from the artist.
Curatorial Text:
"To hold our tongues when everyone is gossiping; to smile without hostility at people and institutions; to compensate for the shortage of love in the world with more love in small private matters; to be more faithful in our work; to show greater patience; to forgo the cheap revenge obtainable from mockery and criticism – All these things are things we should do."
– Hermann Hesse
My work is a way to figure out how to do "these things," as Hesse says in the quote at left. I create pictures that help me explore ideas of escape, sexuality and ideas of mortality and passage after life, and about how to deal with trauma and healing from that trauma.
An example of this is the combination of figurative elements with nautical imagery, which alludes to how ships, for me, have become related to the idea of escape from "home", as well as return to "home," or to the familiar. This combination of figure and nautical symbols also alludes to the practice of "sending" the body into what comes after life (not the "afterlife") as used by many cultures throughout history. I also explore the idea of "passage" and "journey", not only to communicate ideas of healing and working through trauma, but also to communicate the idea of growing beyond limitations and definitions of being – without the suggestion of irony or cynicism – that is, the body as a vessel and as physical evidence of my experiences and direction in life.
My use of the figure also explores my identity as a queer man that is still expected to justify my experiences and basic human identity. Lastly, I use the human figure in order to communicate essential ideas of how we relate to each other, how we affect each other, and how to move to space that is empowering and encouraging.
– John McKaig, professor of art, Bloomsburg University
Installation Images: