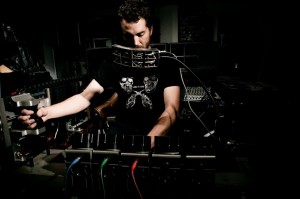 Lawn in front of Elaine Langone Center
August 27, 2011
8:45 PM
Presented by the Samek Art Gallery as part of Bucknell University's Art.Everywhere festival.
Author & Punisher melds performance art, drone metal music, and DIY custom-built industrial kinetic-sound machines with a twinkling of fun. The man behind the curtain is San Diego-based artist Tristan Shone.
Aquarius Records said of Author & Punisher, "The music becomes more than a chunk of industrial metal, it becomes a heaving metallic monster MADE from industrial metal, the various gears and servos emitting strange buzzes and whirrs, its thunderous footsteps the booming beat, the speaker rattling low end it's guttural growl, and the howling vox, the man that commands this beast, and instructs it to do his bidding, a futuristic steampunk, post industrial robotic doom metal dirge, that we just can't get enough of!"
One night only. It's all you can handle. Trust us.
Richard Rinehart
Director, Samek Art Gallery